Design & Decor Ideas from Customers
The XIAO WEI Buffet Sideboard with Handmade Natural Rattan Door features MDF wood and handmade natural rattan, giving it the perfect bohemian vibe. It has two large storage cabinets offering sufficient room for storing essentials while doubling as an aesthetic furniture addition.
Interior Design Styles To Pair With
The XIAO WEI Buffet Sideboard is ideal for bohemian interiors. The boho style focuses on natural materials, found in the form of wood and rattan in the sideboard. The use of rattan also meets boho interiors' textural requirements. Its warm color palette is perfectly compatible with the style, too.
For similar reasons, this piece pairs well with mid-century modern interiors. Its classic design and wooden forms make it an optimal addition to traditional and rustic interiors, too. Finally, if you wish to add warmth and textures to the contemporary interior design style, this sideboard will be the right addition.
Popular Amazon Reviews
"I love this product! It is more gorgeous than it appears on the photos. I looked into several sideboards and decided to purchase 3 of these and put them together! It was easy to assemble and I have been receiving so many compliments. Only downside is that door knobs don't line up perfectly. I have to level the legs which helped a bit. However, this is a good trade for the unbeatable price and design" – EC (Source: Amazon)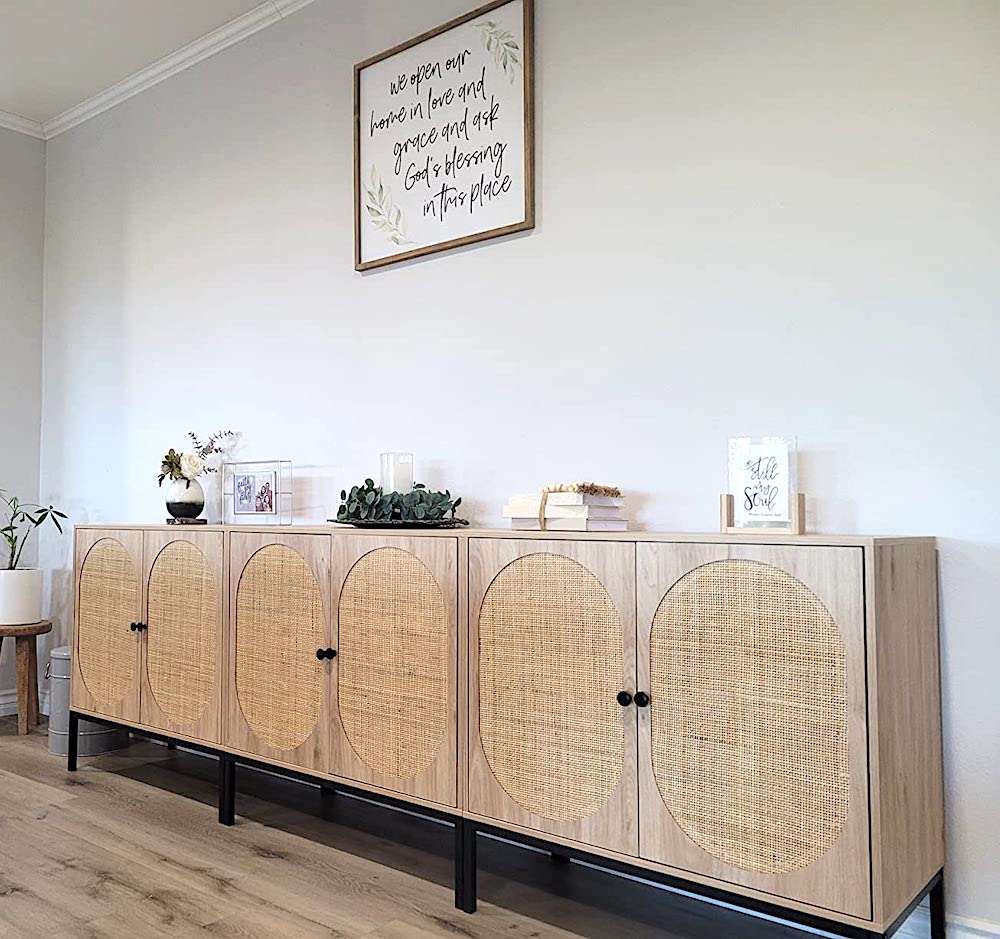 "it is a cost-effective cabinet, I recommend you to buy it. It took me about two to three hours to instal l for two, and the instructions were also very simple and easy to understand. Finally, the installation effect is very good. Love it. very recommend." – Steven Wu (Source: Amazon)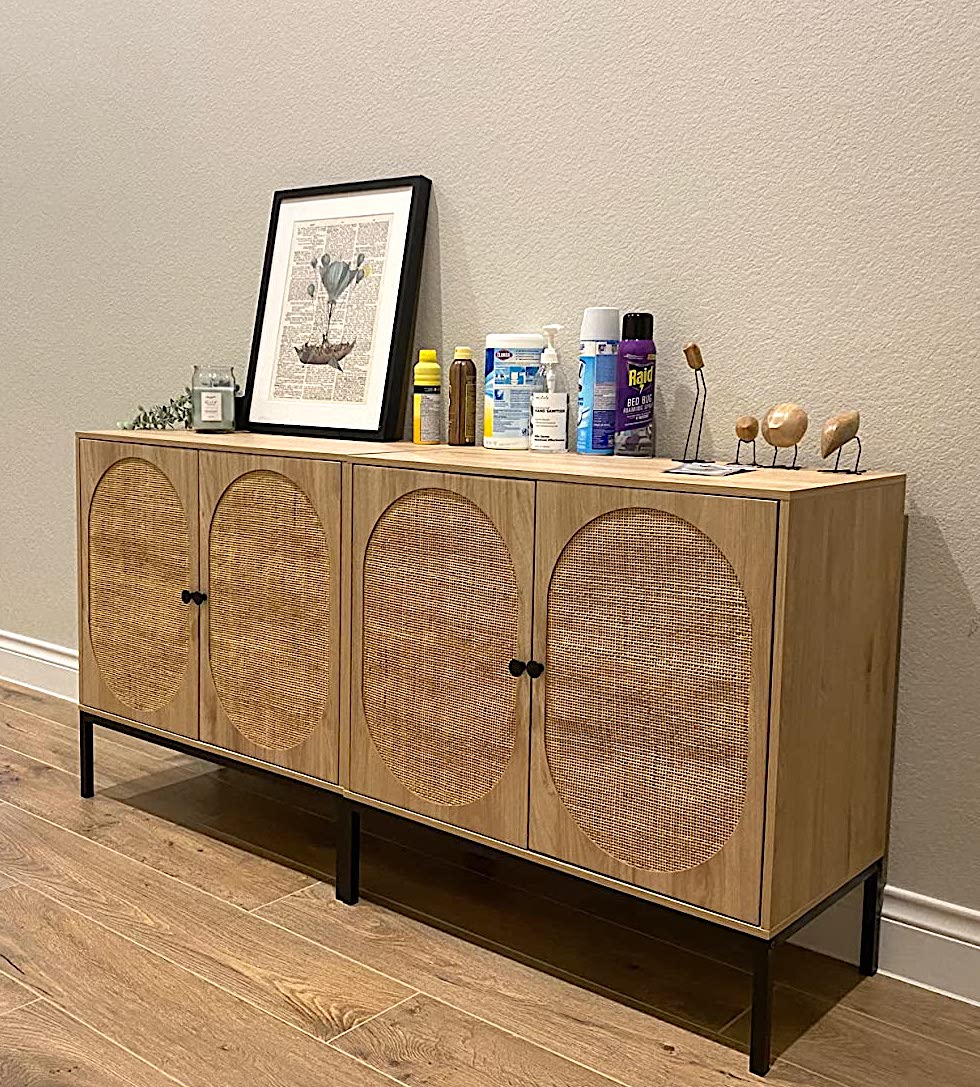 "I really loved this beautiful cabinet as an entry table its so stylish and perfect for my house thats modern style. You can style it with anything and inside is big Its worth every penny. I wanna buy more of this for my bedroom and I cant wait to style it again.. i've seen a lof of this style thats wayy to pricey but this one is absolutely beautiful piece." – mary magtanong (Source: Amazon)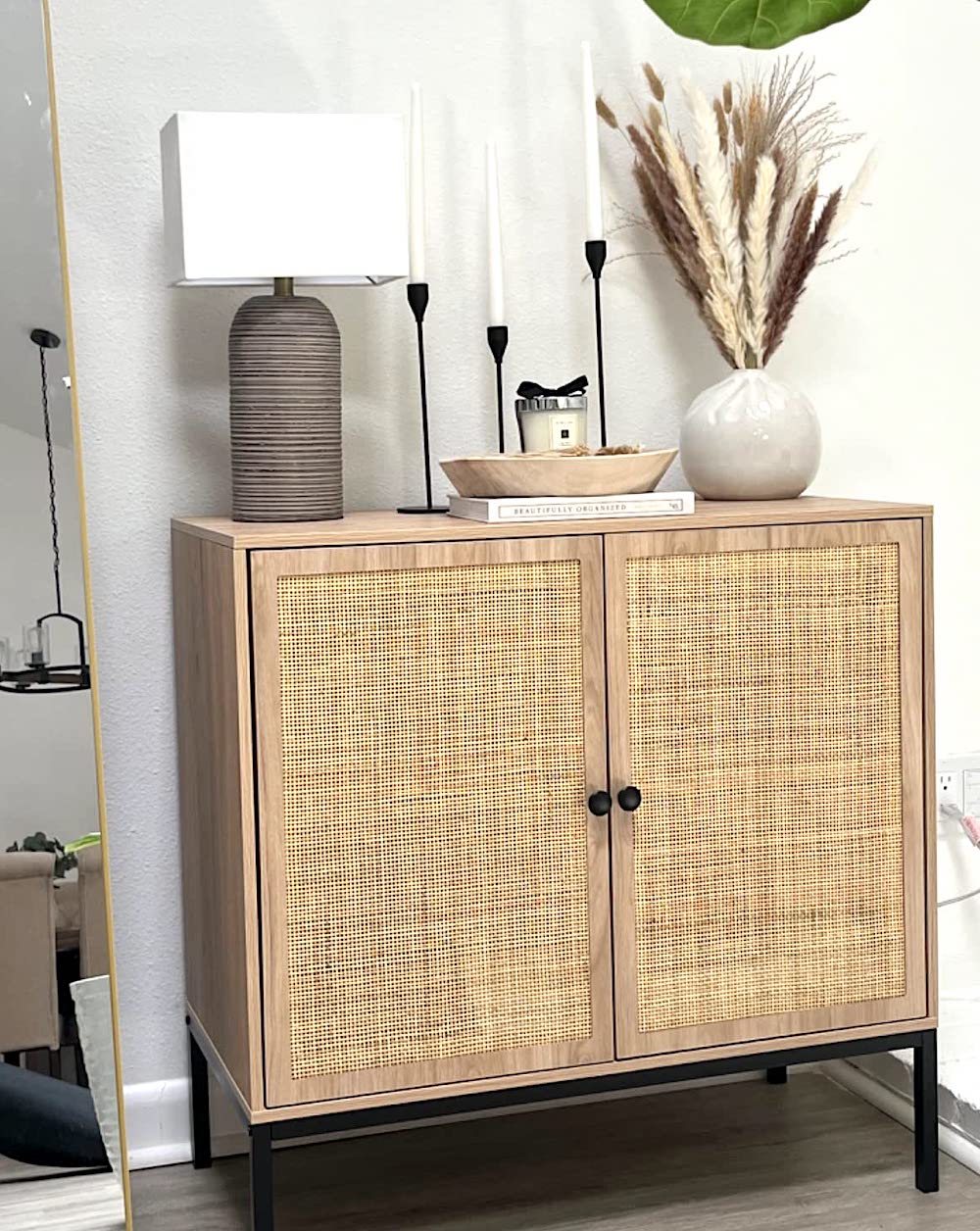 Ways To Decorate The Space With The XIAO WEI Sideboard
You can use the XIAO WEI Sideboard in different parts of your home — and decorate it in several ways. Our top design ideas are listed below.
Serve Dishes In The Dining Room – Place the buffet table against a wall in your dining room. Top it with dishes that can do without being placed on the dining table, storing cutlery and other essentials in the cabinetry below. When you're not entertaining guests, use it to display a statement piece of art to make it the focal point of the space.
Create A DIY Coffee Station – Place the buffet sideboard in your kitchen to create a DIY coffee station. Top it with your coffee maker and pods, as well as other essentials, such as creamers, whipping cream, and other toppings. Displaying two to three of each would be enough; store the rest (and your coffee mugs) in the cabinets below.
Place It In The Foyer – Place a flower vase, flameless candles, and other miscellaneous decor items on the sideboard to create a welcoming foyer table. Bonus points if you mount picture frames and curate a fun gallery wall on the wall behind it.
Use It As A Dresser Table – If you're looking for a fun dresser table idea, place this sideboard in your bedroom, and pair it with a wall-mounted mirror above. There is plenty of room to store your makeup and organizing baskets in the cabinets below.