Design & Decor Ideas from Customers
Built with polypropylene resin panels, this shed is a durable choice for the outdoors. Its heavy-duty floor is designed to withstand abuse, making it ideal for machinery, such as lawnmowers and tractors. Additionally, it features a padlock hasp, allowing you to lock the doors when needed. Whether you have a garden full of flowers or one covered in gravel and rock, this storage shed will complement every style! Its neutral-hued exterior makes for a great addition to any outdoor space — and goes well with any home exterior.
Popular Amazon Reviews
"I'm 100 percent satisfied with this shed. I built an 8×10 deck waiting on shipment, shed arrived on time, put it together in about six hours by myself. I followed the directions step by step." – S (Source: Amazon)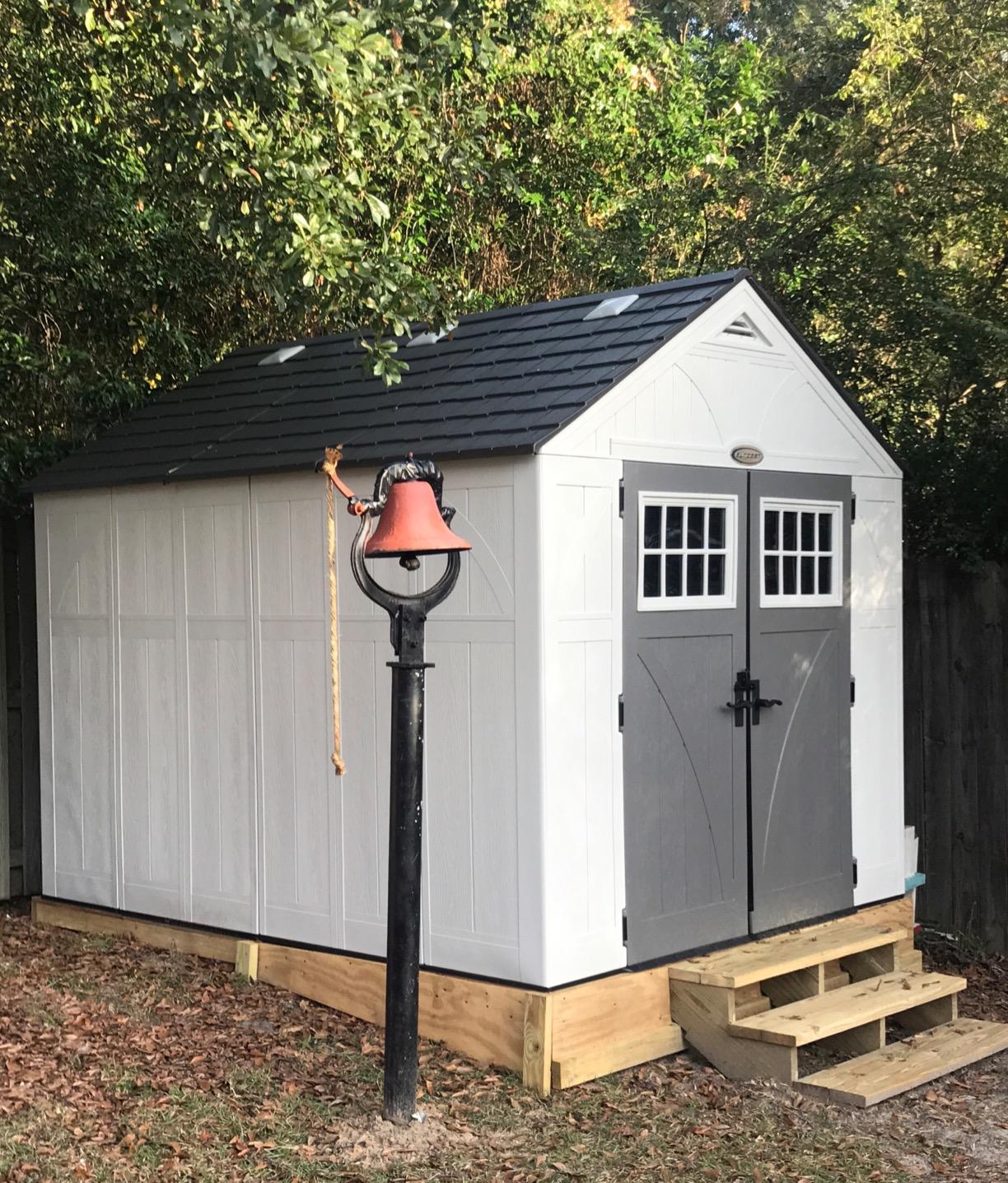 "This is a great little shed. It was very easy to assemble and I did it without any help. The directions and other reviews said you needed 2 people, but it is very doable with just 1. Rubber mallet is also not needed, everything went together smoothly without it." – Trent Woodward (Source: Amazon)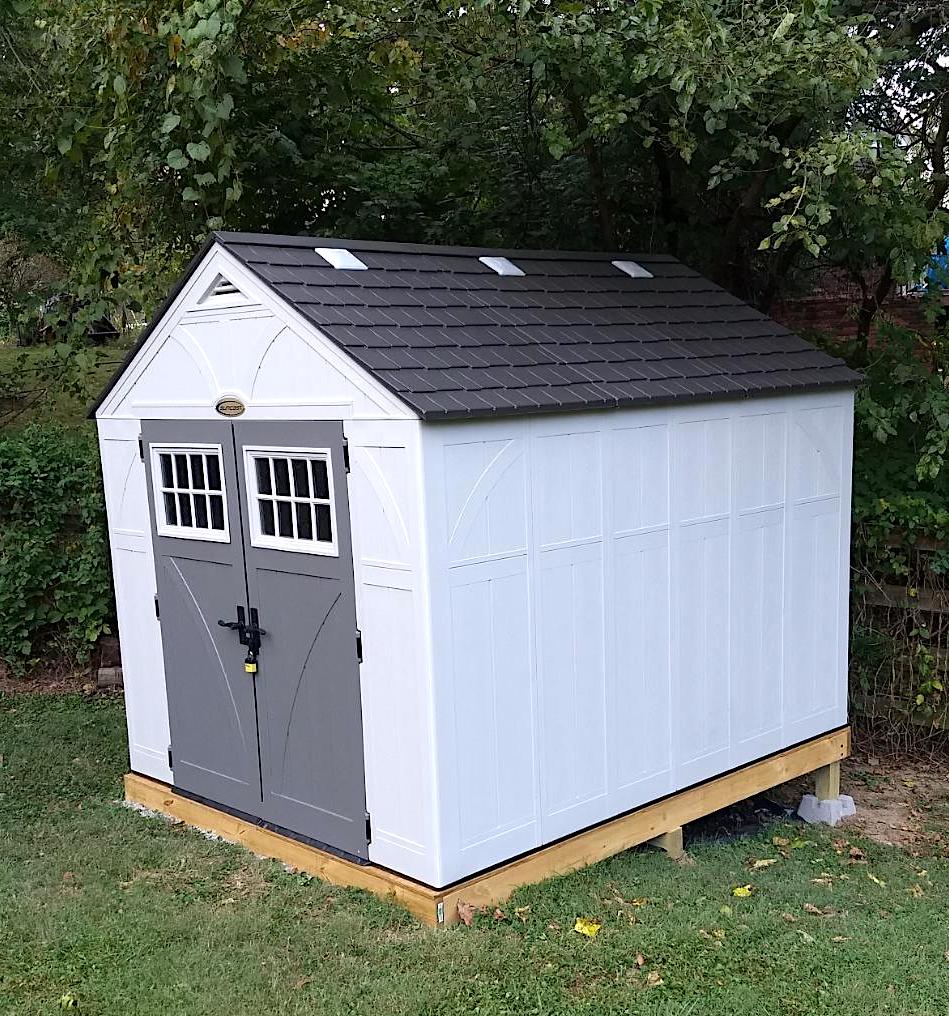 "The people who reviewed this low and complained must be because you have to clue how to build this or cant follow instructions.This shed was EASY TO PUT UP.3 afternoons after work for about 3 hours each afternoon and half a day Saturday and done.Everything matched up great. Those who complain next time pay someone who knows how.Excellent product. Very happy I got it." – Goose (Source: Amazon)
"I was at first hesitant about getting a plastic shed but after reading the reviews I ordered it. This shed is really nice. It is a 2 man job, would have been kind of difficult by myself. I did it in 3 phases. 1st day we got the foundation put together. We used concrete half pads (8" x 16") under 2×6 pressure treated runners. I framed it all together like others had done on Suncast's website. I put 1/2" plywood down over the 2x 6 runners. Next I anchored the floor down and then put all inside metal supports and door hardware together. Then I had my friend and me put it all together. Have everything laid out so you can see the lettered parts. I even labeled all the screws so I knew what page and where they go. I thought it was easy to put together. It's strong and well engendered. The instructions are very straight forward. I reread through the whole instruction booklet a couple of times so I wouldn't miss anything. I love my shed." – David J Serada (Source: Amazon)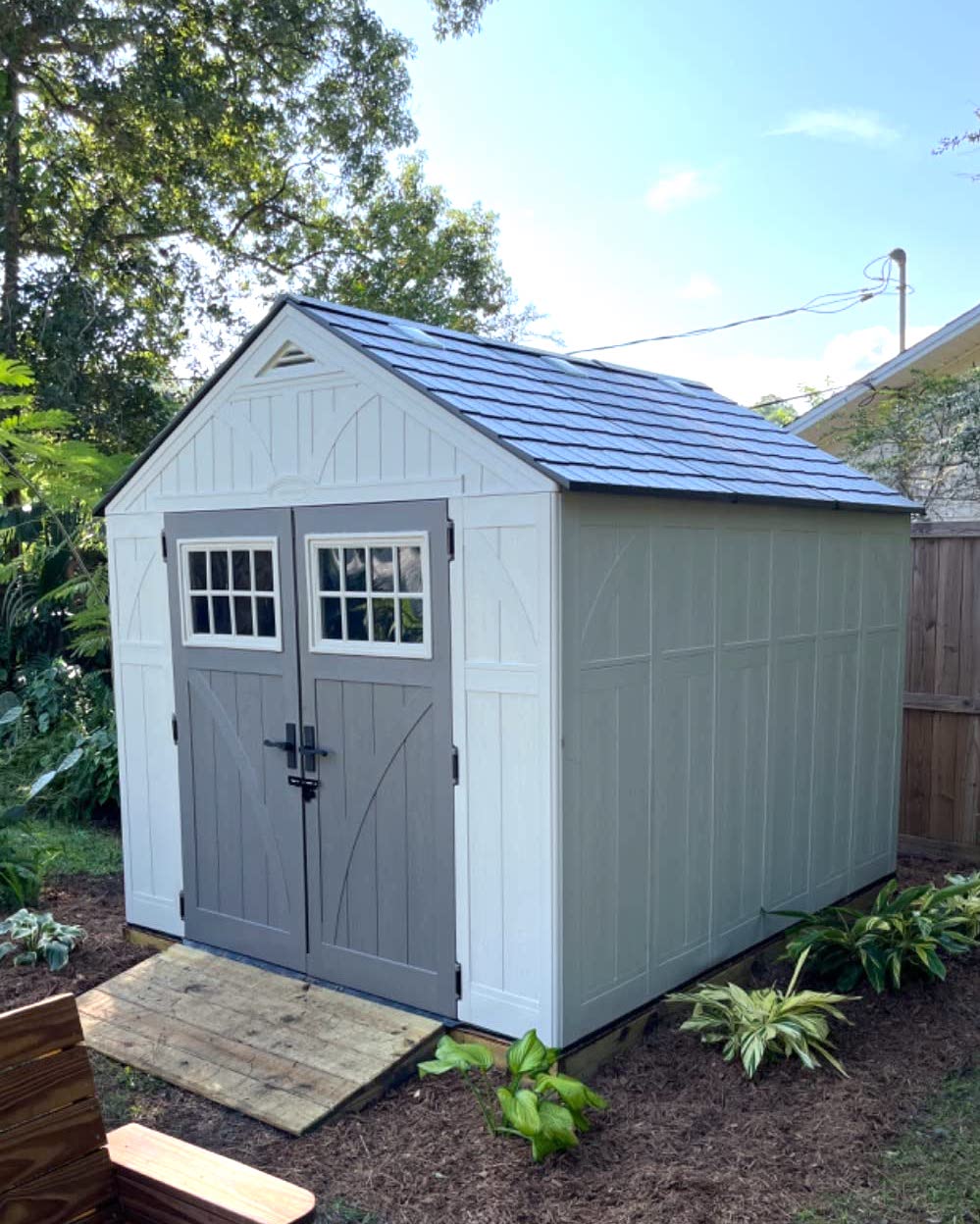 "Make sure you construct on a flat surface. Watch the video before you start. Follow the instructions in order and it will go right together. I love it for working in and my 4 foot LED tube lights hang from the metal roof supports. Looks nice and works great. Remember: flat surface." – Rudi (Source: Amazon)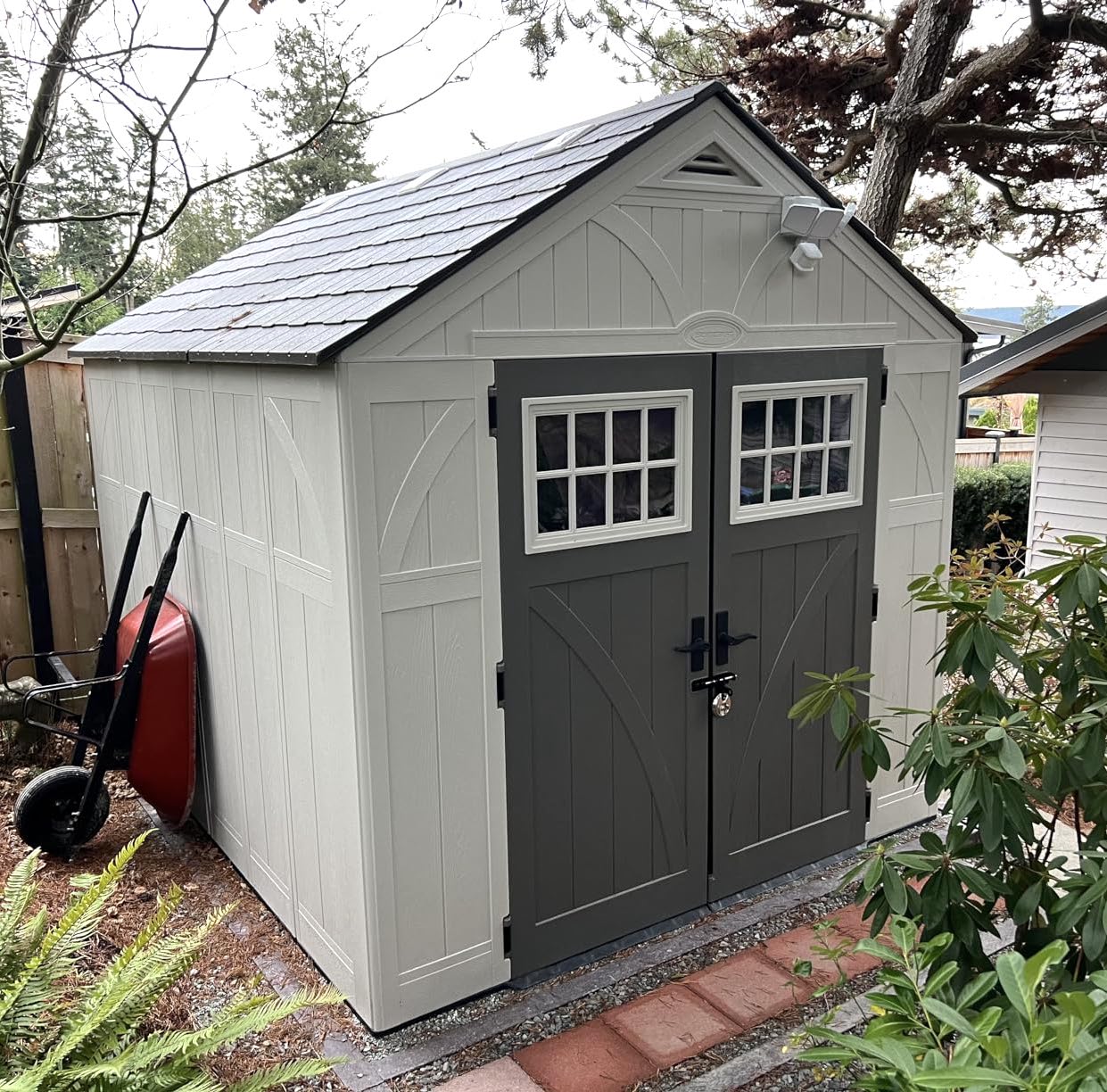 Ways To Decorate With The Storage Shed
The interior of the shed is primarily meant for storing machinery and other outdoor essentials. You can organize these using bins, jars, floating shelves, wooden crates, and plastic tubs. You may even decorate the interior — think plenty of greenery, wood, black hardware, and leather furnishings. A chunky knit blanket, vintage table, or rustic lighting fixture can balance and further enhance the space. You can also decorate the exterior to make the shed add to the visual aesthetics of your outdoor space too. Here are a few ways to decorate your space with the shed:
Add stone (or shiplap) to the shed's front and sides.
Mount traditional farmhouse sconces onto the exterior.
Hang seasonal wreaths on the door.
Flank the door with floor vases full of flowers or potted plants.
During the summer season, you can even repurpose your shed into a living space. Keep the doors open and place a comfortable outdoor couch with plenty of cushions inside the shed. You can also continue placing pieces of furniture outside of the shed, creating both covered and uncovered seating areas to entertain guests.
Things To Watch Out For
When installing your shed, be sure to pay heed to the location. Watch out for trees' branches obstructing the roof — or possibly too many leaves falling on it. You also want to ensure relatively leveled ground (or make suitable arrangements for unleveled ground) and make sure there is optimal drainage around the area.