Design & Decor Ideas from Customers
The Signature Design by Ashley Bolanburg Farmhouse TV Stand is a classic furniture piece. It is finished in a two-tone, gently distressed effect in the hues of weathered oak and antique white. The TV stand features 3 cabinets and 6 adjustable shelves.
Interior Design Styles To Pair With
The Ashley Bolanburg TV  stand is a versatile piece that can complement a variety of design styles. The woodwork in the stand, paired with the black accent cabinet knobs, makes it suitable for the traditional interior design style. At the same time, it features a sleek and minimalist build and largely-neutral color palette. This, paired with its traditional vibe, means the TV stand can complement farmhouse and modern farmhouse styles. You may also use the piece in rustic and bohemian interiors, owing to the sleek ornamentation and stunning, elaborate style of the piece.
Popular Amazon Reviews
"Really happy with this product. Took a while to get the top on as some pieces needed finagling to fit correctly but looks great, heavy wear kids can't too oh over, and so much storage!" – Carly (Source: Amazon)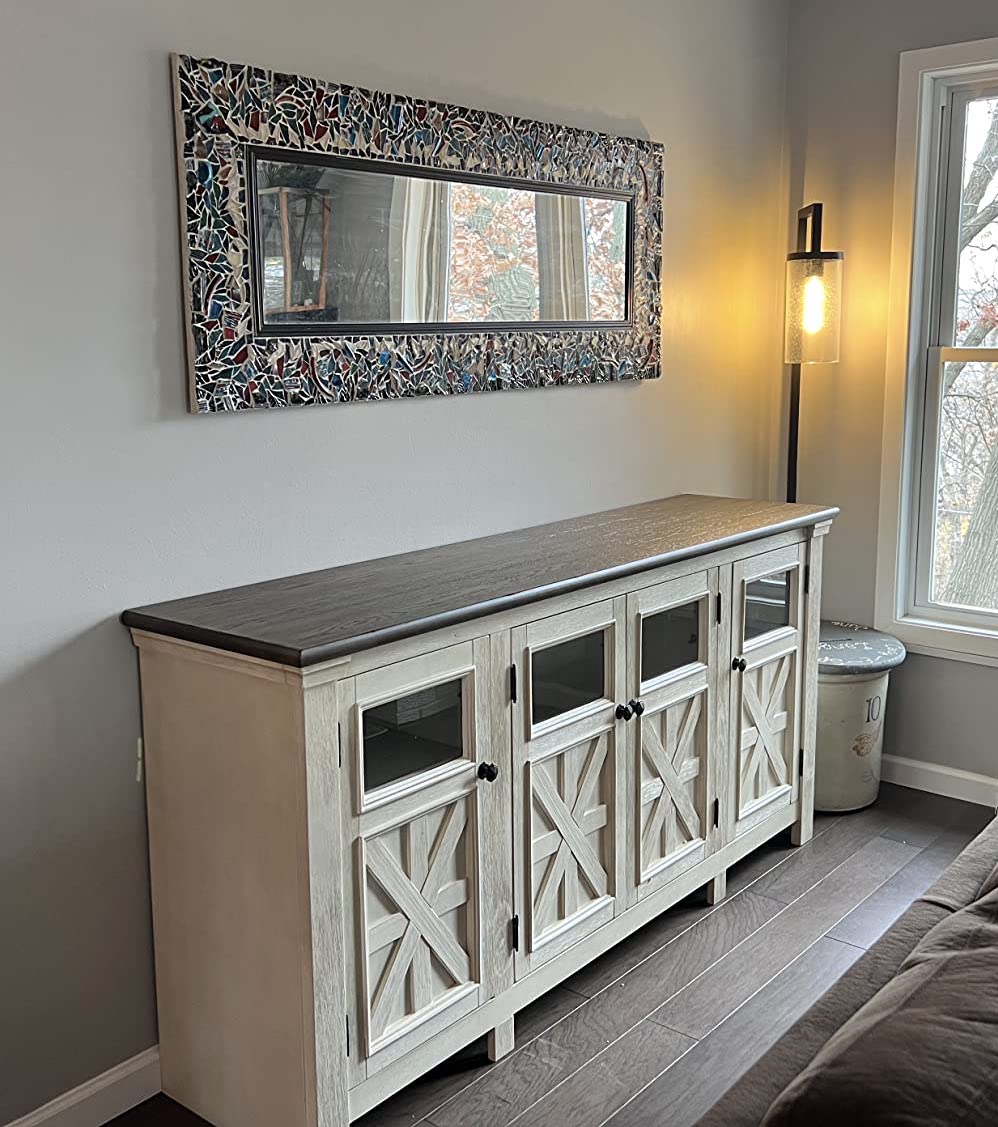 "This is a beautiful cabinet, great accent for our home, the only complaint I have is that some hardware was missing and had to do a quick run to Lowe's to replace it, and that is the reason for my four star review." – Aldo Josephe (Source: Amazon)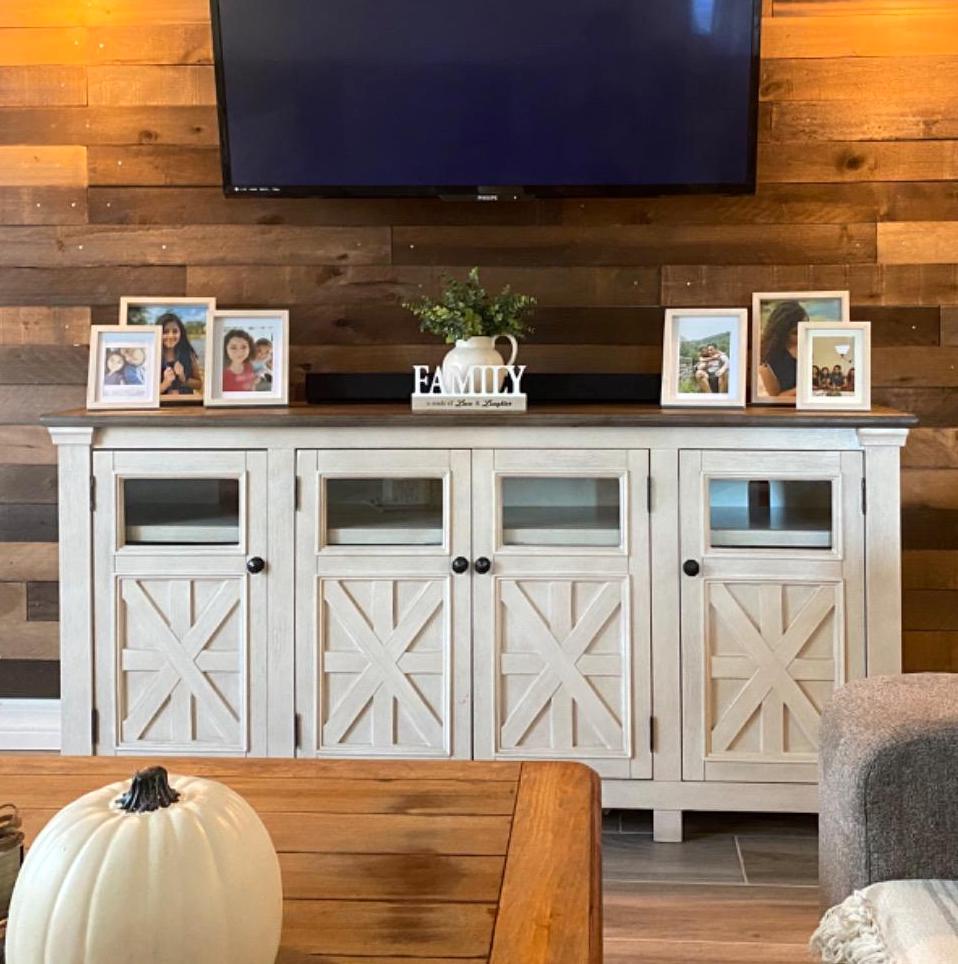 "We love this piece, we added foggy contact paper to the inside of the glass the hide all the toys we store in here for my kiddos. Lots of room and and great price such a big piece!" – Brendan (Source: Amazon)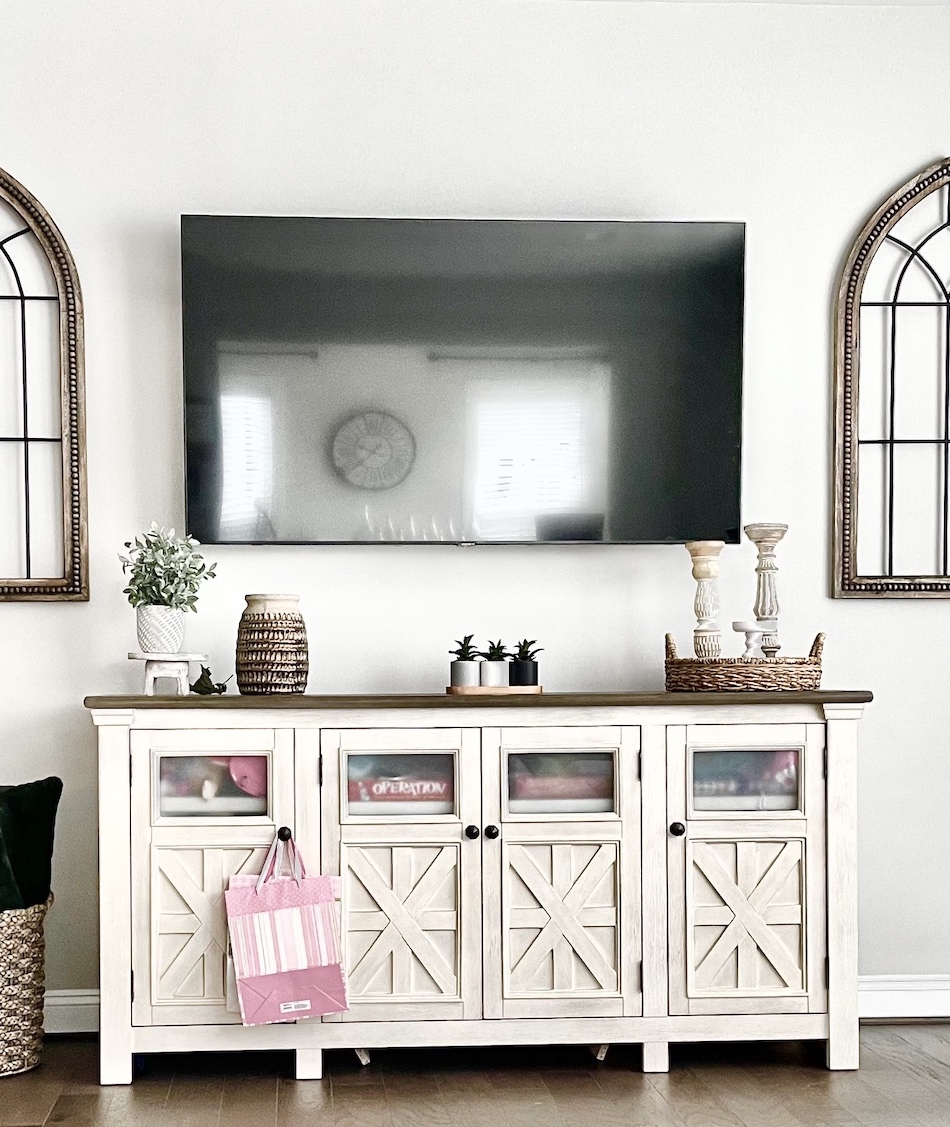 "I was lucky enough to grab this while it was on sale and I could not love it more!! It is perfect. The color is off white without having a yellow or green tint. You'll love it!! And I was able to assemble it myself" – Jessica Gray (Source: Amazon)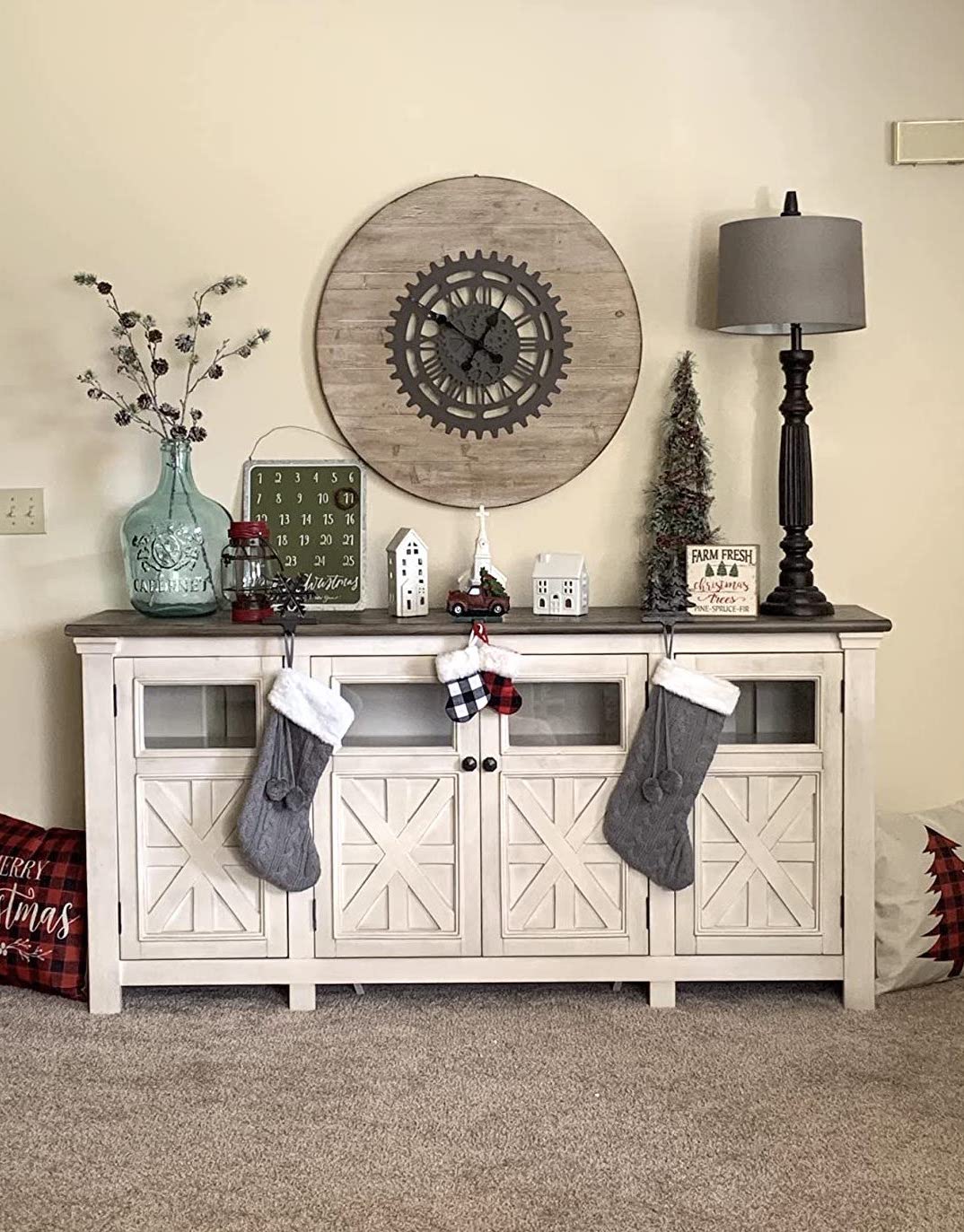 "We just put together this beautiful TV console (Best to have 2 people). As you can see it is very appealing in syle and color. It is the best size in width height and depth for any large TV (65 inch in the pic). Has a large storage area inside with 6 adjustable shelves. Color is perfect not stark white but has a hint of Cream. It is very well constructed and will probably last a good Long time. Has large parts but come togerther very easily. The only thing I would advise is in the final step when you put the top on make sure everything is square esp make sure the two vertical inside panels are pushed forward in place. Otherwise ENJOY you will love this console!" – 35100 (Source: Amazon)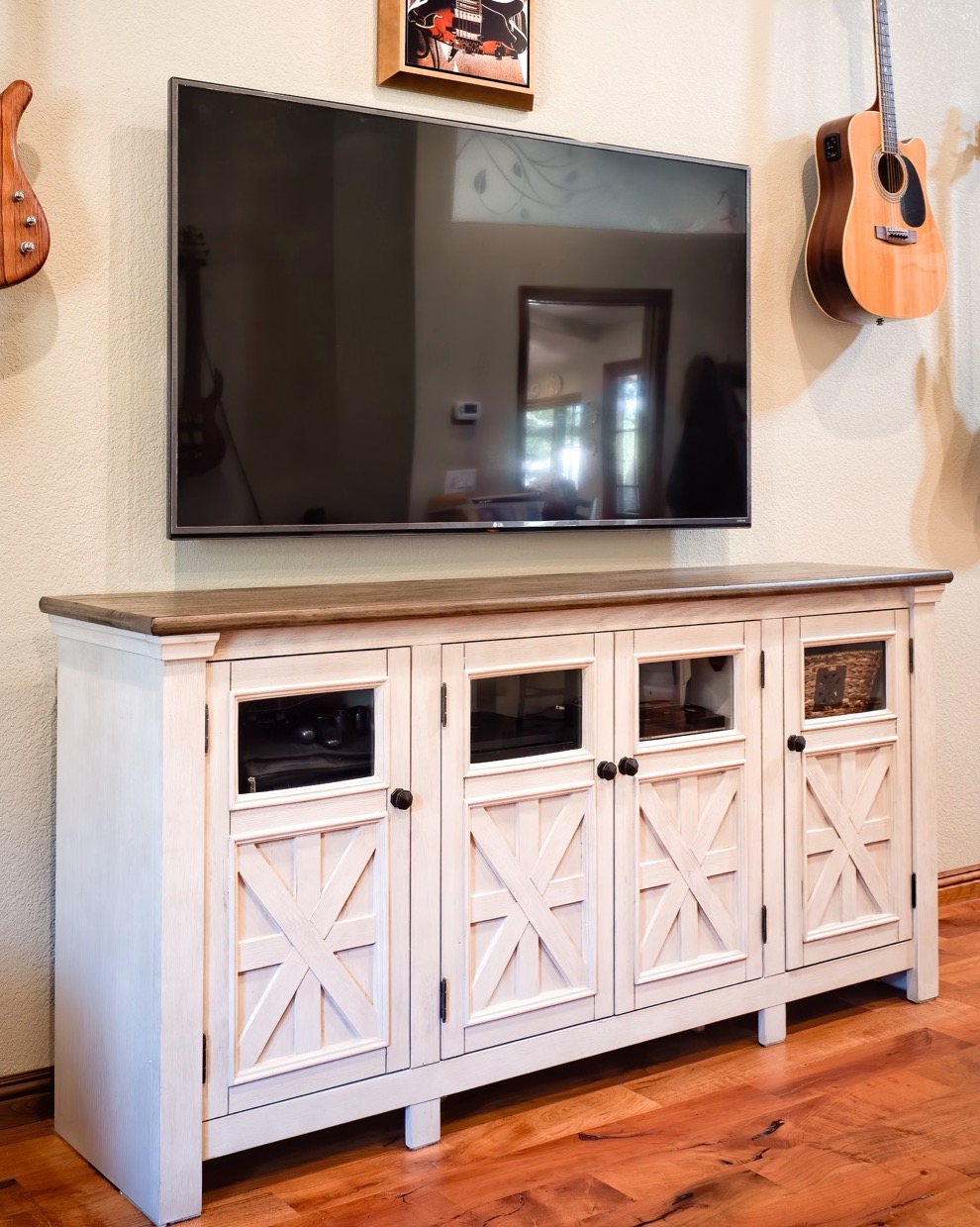 "Pretty easy to assemble. A few tricky tight spots. There is a door I can't get to close all the way. Love the colors and the windows in the cabinets." – Julie (Source: Amazon)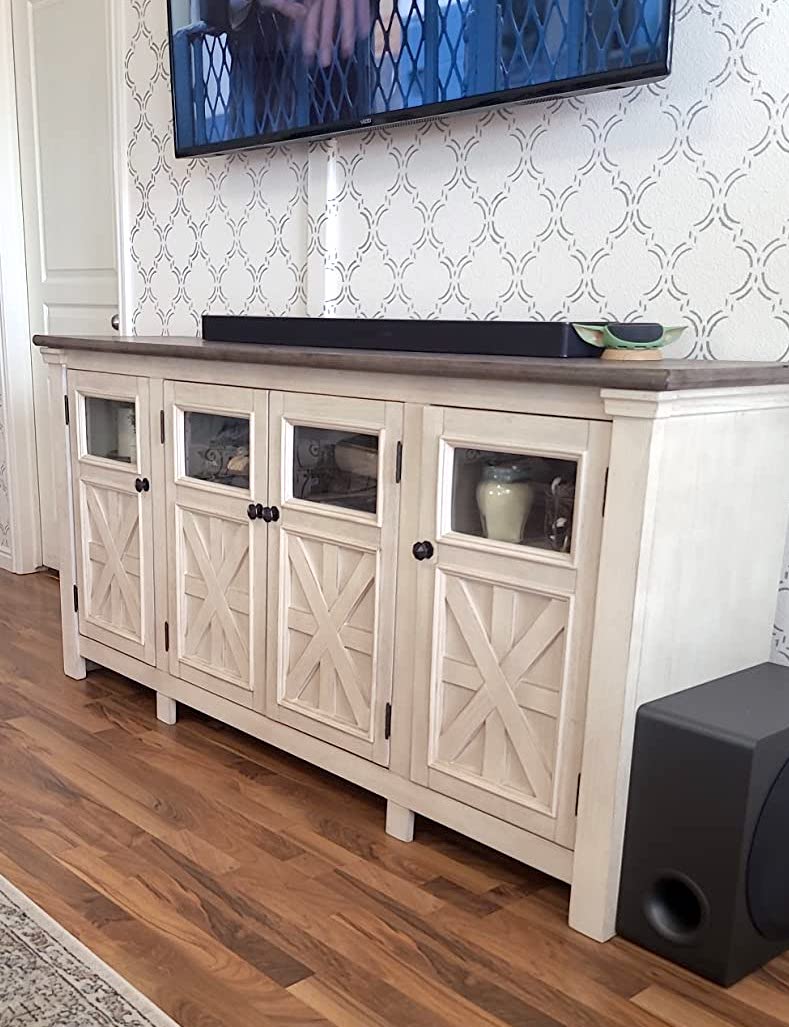 Ways To Decorate The Room With The TV Stand
You can use the TV stand in your interior in a plethora of ways. Below are listed the top ideas for inspiration.
Use It As Your Entertainment Complex – Replace your regular entertainment center with this Ashley Bolanburg TV stand. The television will sit on the top surface, with plenty of storage space for gadgets and other electronics in the cabinetry below.
Pair It With A Floor Vase – Place a sleek floor vase on one end of the TV stand to enhance its decorative presence. You may even fill it with dried twigs for a rustic effect. For a pop of color, consider adding peacock feathers.
Set It As A Foyer Table – Place the TV stand in your foyer to create a welcoming first impression. Top the setting with a wall-mounted mirror, potted plant, and some coffee table books. The cabinetry will provide plenty of room to store essentials you may need while stepping out of the door.
Use It For Seasonal Decor – You can also use the exterior of the TV stand as an opportunity to decorate for different seasons. Consider setting an idyllic holiday scene on the upper surface with gingerbread-like houses and candlesticks for Christmas and a flowery garland for spring. You may also opt for decor that works year-round, for example, lanterns and scented candles.