Design & Decor Ideas from Customers
Achieving an elegant and sleek living space is easy if you use suitable furniture that blends well with your interior. Installing full grain, pure-aniline leather Napa sectional sofa might be a great way to start creating a relaxed space that helps you unwind and revitalize. Beautiful Italian tanned leather upholstery gives a distinctive presentation while blending the space's contemporary and natural elements. With its high-density foam and back support, you will get the comfort you need while enjoying the vibe of the elegant design.
Popular Amazon Reviews
"I was super happy that this sectional was delivered within 1.5 weeks. I had to separate the chaise & the rest of the couch from the original box in order to fit through my entryway. Each section of the couch is light enough to move around easily, but don't let that fool you; it seems to be made of high-quality leather, cushioning, and has a sturdy frame. The height of the back support is decent and shouldn't be an issue since I'm 5'5″. I'm also 140 lbs. so the seat cushions seems to hold my weight fairly well. The cushions seem stiff enough where it won't sag easily, but we'll see how long that'll last with a few years of wear & tear. Overall, super impressed with the quality & price of this couch. It fits my needs perfectly!" – Richard (Source: Amazon)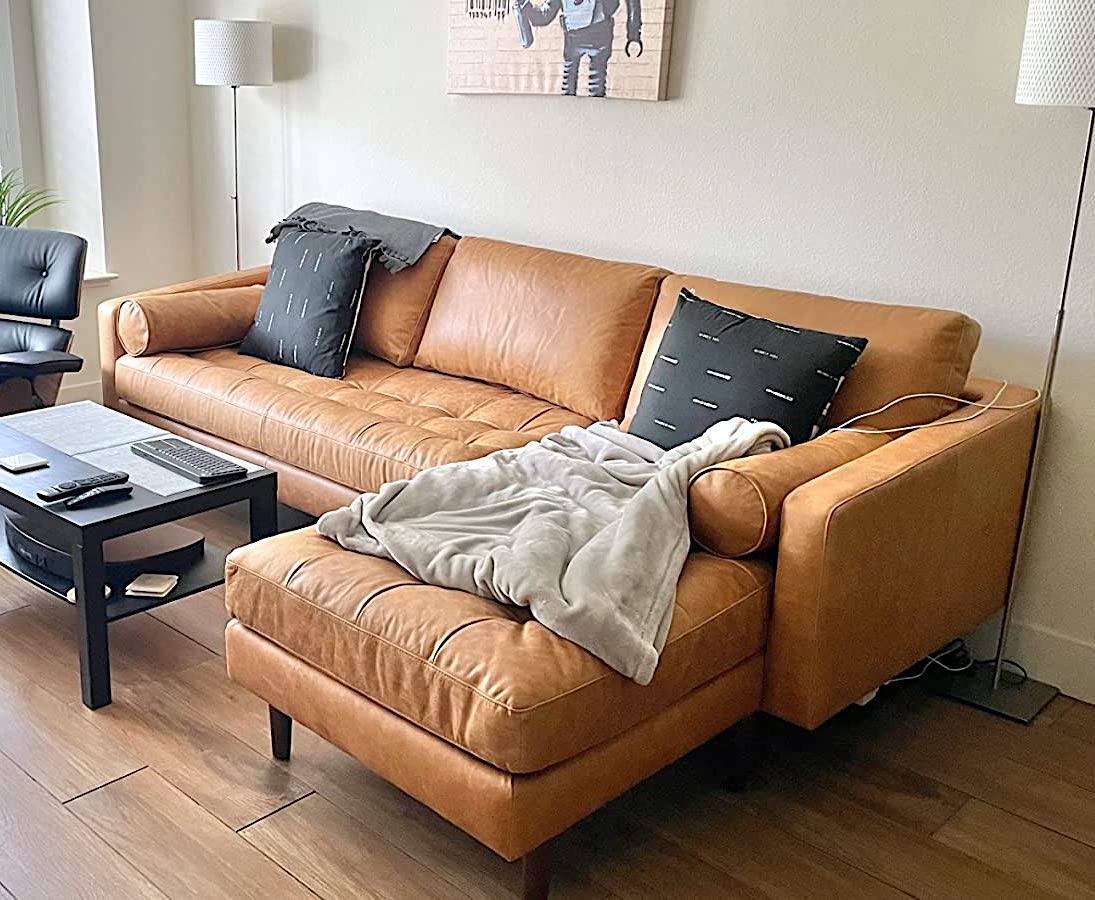 "We love this couch. It is comfortable, and big. The pillows are soft and help for back support. The leather is high quality and it goes so well with our house. The delivery was about 3 hours later than planned, but other than that no complaints!" – Dave Miller (Source: Amazon)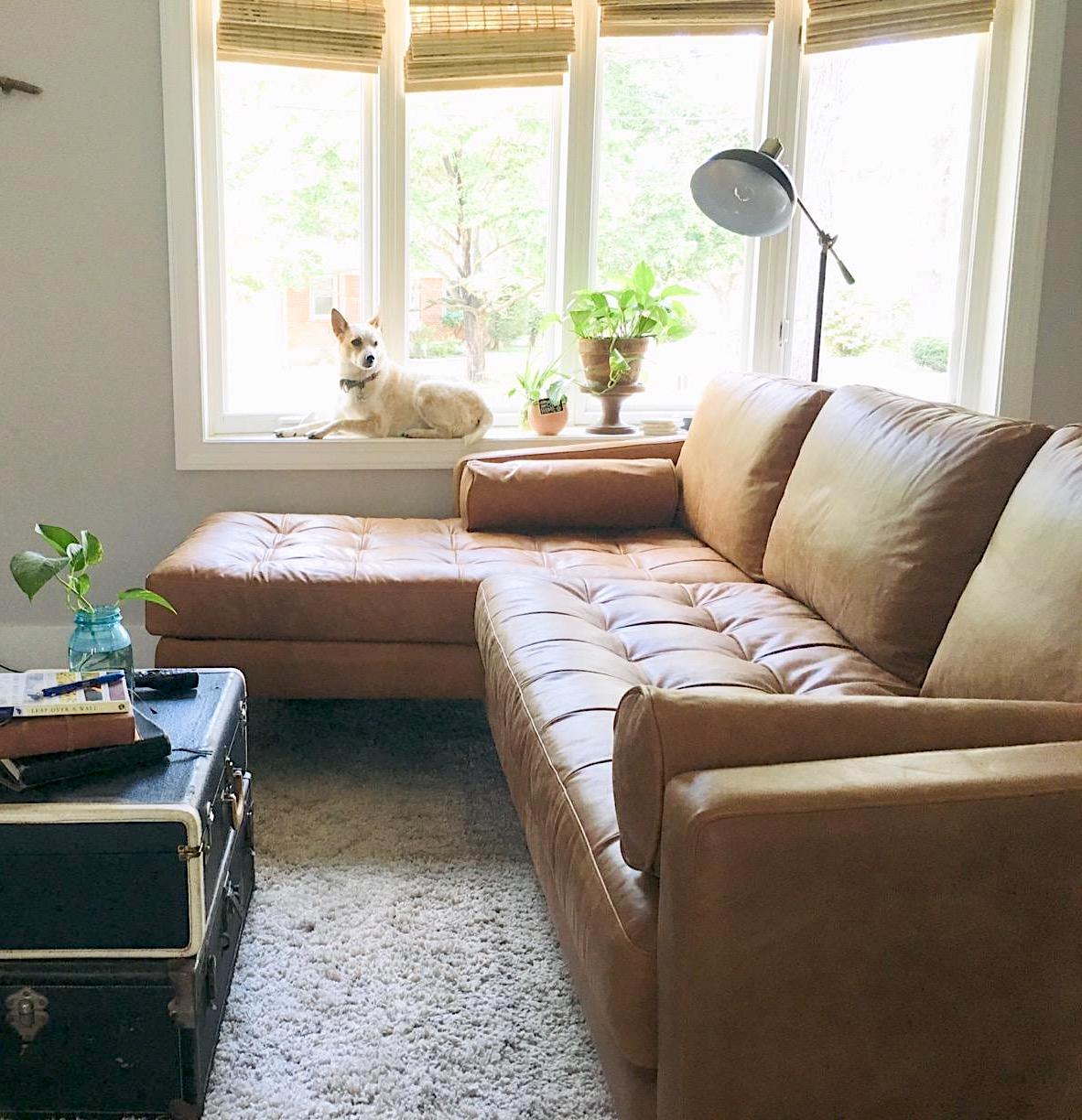 "Super comfortable, yet plenty of support. I was worried about the feel of the leather, but it's super soft and I prefer the aged look of it. I absolutely love this couch. Took a chance on purchasing and have absolutely no regrets. It was packaged incredibly well and was delivered without issue. Super simple to put together….took my husband and I a few minutes to install the legs and hook the 2 pieces together." – Karen S (Source: Amazon)
"For some context, we ordered the joybird Eliot sectional and ended up canceling our order after waiting 5 months with no updates. Decided to take a chance on the poly and bark Napa. We absolutely love it! It looks and feels better than we expected. It's firm but will break in over time I'm sure. Other reviewers did comment on it coming with scratches and scuffs. Ours definitely came with both but I don't mind it. It's going to blend and wear over time. The leather feels high quality and so I'm not too worried about scuffs and scratches. I'll probably condition with oil at some point though. Bottom and back cushions feel very firm. I've heard they lose their volume over time, so well have to see how it ages over time. But, for the price compared to joybird (5k) and article (3.5k), I'm beyond impressed." – Chris (Source: Amazon)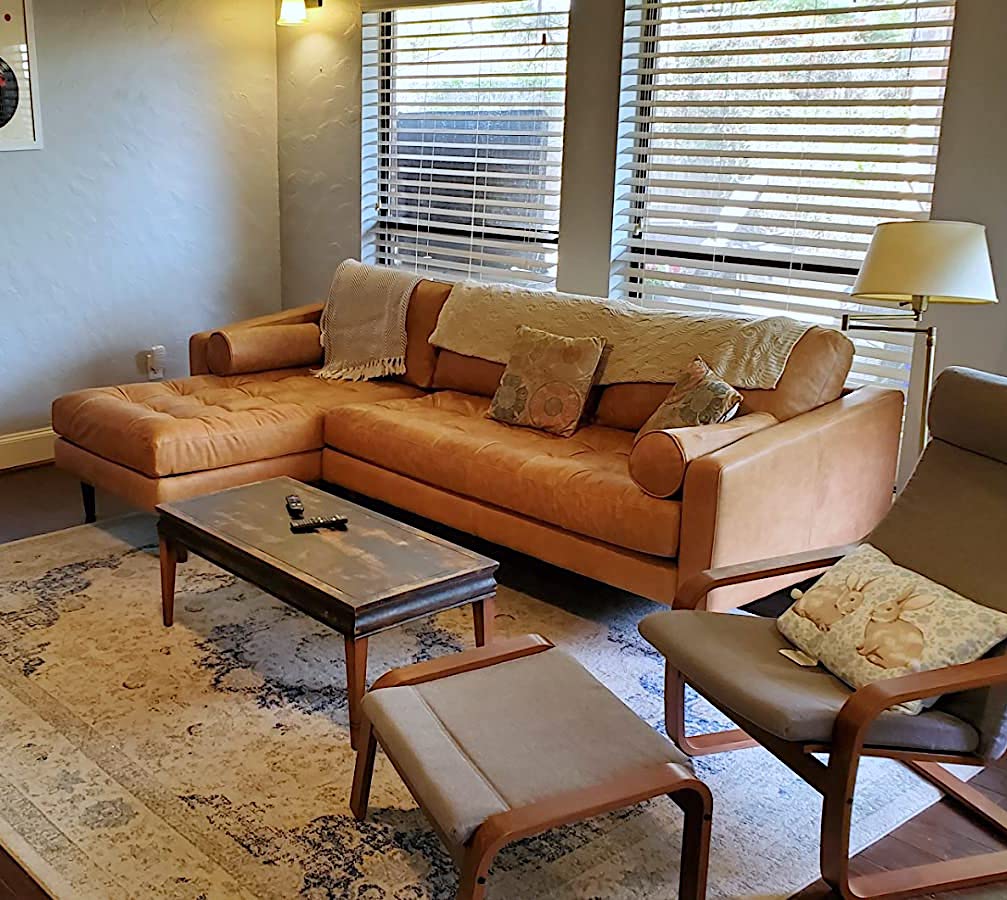 "This couch is everything it is advertised to be. Beautiful, sturdy, easy to assemble, and priced well. It was well packaged in one (very large) box. The couch itself was very easy to get through doorways since it's in two pieces and the cushions and legs are removable. This was so helpful as our last couch was almost impossible to move in and out without dinging walls. Our delivery was scheduled the day before Thanksgiving. We learned around 4pm that it would be delayed until the following Monday. This was a bit of a headache as we'd already removed our old furniture, and made arrangements to be home from work that day to accept delivery. However, with a quick phone call to Amazon, they graciously credited our account a portion of what we paid for the couch, for our troubles. That's customer service, so thank you Amazon. Overall, I would recommend this couch one hundred percent." – Brooke R (Source: Amazon)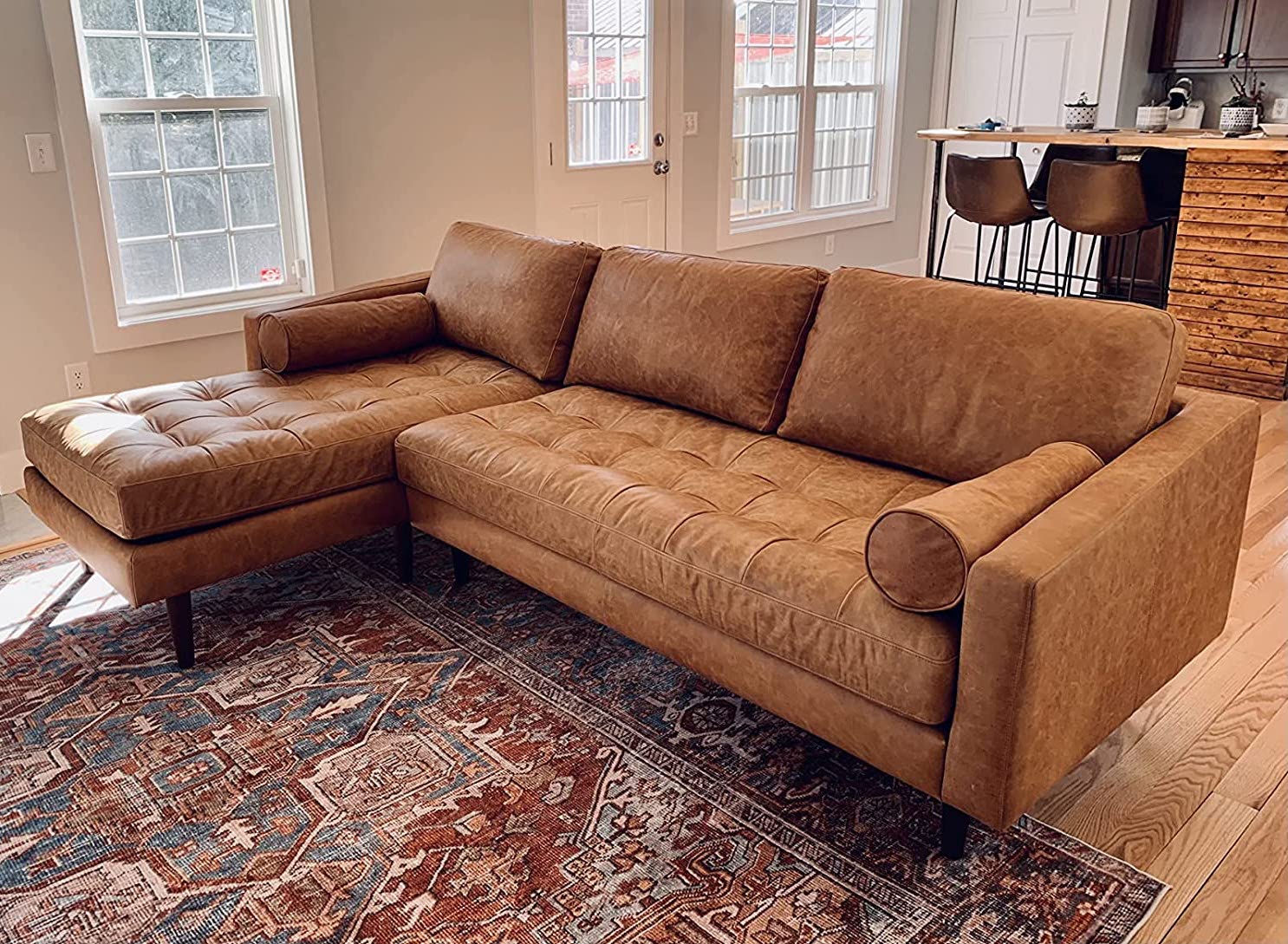 "Perfect! Love everything about this couch thus I ordered the matching chair when it became available!" – Liza (Source: Amazon)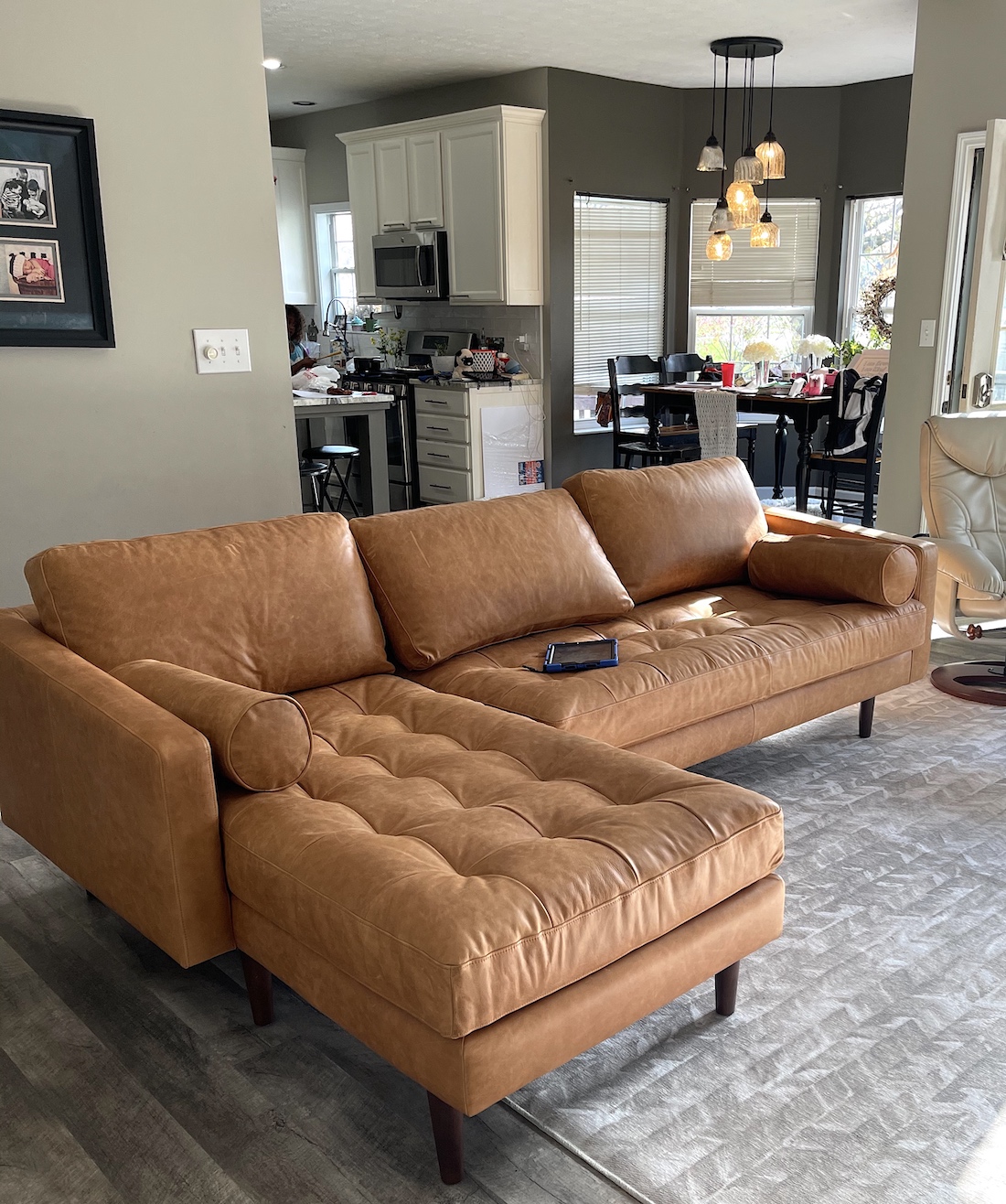 Interior Design Styles that will Blend with POLY & BARK Napa Sectional Sofa
Scandinavian Interior Design – Nothing can go wrong if you aim to add Napa Sectional Sofa to your Scandinavian interior design. A minimalistic aesthetic that combines soft hues and textures is displayed in Scandinavian interior design. Thus, to achieve that vibe, practical and aesthetically pleasing furnishings are used to add a cosy, welcoming feeling. Napa Italian leather Sectional Sofa fits well in the criteria, giving pleasant straight lines without making the area overly congested.
Contemporary – As the contemporary interior emphasizes functionality and comfort, adding Napa Italian leather Sectional Sofa is a great idea to create the space even more popped out. With its simple design and elegant fabric, you can quickly achieve a welcoming living room that will go well with your contemporary interior.
French Industrial Style – This is another interior design style in which you can add a Napa leather sofa without thinking much. This sectional Sofa's sleek design works well with the refined and rustic décor from the French industrial interior style, giving your home a relaxed, elegant inner vibe.
Mid-Century Modern – Clean lines, timeless good looks and organic forms are what a mid-century modern interior looks like. Adding a Napa Italian leather sectional sofa will blend in with the interior well and elevate the already present elements and textures.
Rustic – Rustic interiors aim to promote relaxation by giving each piece a unique individuality shine rather than stressing about clean lines. Napa Italian leather sofa provides a striking yet elegant design and a comfortable place where you can unwind after a long hectic day.
Ways to Decorate Your Room with POLY & BARK Napa Sectional Sofa
Talking about the location of the sectional Sofa, it is advised to push the furniture piece up into the far corner of the space, positioning it in front of the TV or fireplace. This choice maximizes the space for seating without obstructing traffic from the adjacent room. Following are some materials you can add to your room to blend the sofa well with your interior.
Throw Pillows and Blankets – Cover your Napa sectional sofa with blankets and throw pillows for the cosiest appearance. These low-cost design accents will offer warmth and soften the space's overall appearance.
Coffee Tables – Since wood and leather together offer warmth to any environment, rectangular wood tables go particularly well with leather sectional sofas. Coffee tables constructed of wood or metal is ideal for furniture pieces in contemporary living rooms and other sleek interiors.
Fabric Accent Chairs – You might not know that leather sofas go incredibly well with fabric chairs. Choose an accent chair with fabric similar to your Sofa's colour if you want a subtle look. Different textures will increase visual interest, and a consistent colour scheme will maintain calm.
Things to Think of Before Purchase
Leather product maintenance – Although leather is easy to care for, you can ruin the exterior by choosing the wrong cleaning supplies. It is better to avoid solutions like cleaning solvents, varnish, furniture polish, or abrasive cleaners. If you ever come across butter, oil, or grease stains, wipe off excess with a clean, dry cloth, use rubbing alcohol and then leave it alone. The spot will dissipate, giving your Sofa a new and clean look, just like before.
Insurance for your investment – The Amazon Furniture Protection Plan might be a great idea for shoppers looking to purchase large furniture pieces such as this Poly&Bark Napa Leather Sofa, because it helps to protect their investment. The plan offers coverage for accidental damage for up to 5 years after purchase, with no deductible. It also covers normal wear and tear, and provides a replacement or repair in the event of a covered incident. This coverage helps to ensure that shoppers can enjoy their furniture piece for many years to come, without the added burden of worrying about costly repairs or replacements.
Smart budgeting –  When considering purchasing furniture on Amazon, one option to consider is Affirm. While Amazon Rewards Visa Signature Card provides up to 18 months of equal monthly payments, this might still be too tight for some people with large home furnishing projects for their living rooms. Affirm, on the other hand, is able to do up to 48 months instead of 18 months, providing more flexibility in terms of repayment. Additionally, Affirm requires no credit checking, which is ideal for students or people who are still rebuilding their credit scores. This allows more people to access financing for their sofa purchases without worrying about their credit history. Furthermore, Affirm offers low to zero interest and allows early repayment, so customers can save on interest and pay off their loans sooner if they choose to do so.