Design & Decor Ideas from Customers
A sideboard or a buffet table makes an excellent addition to your home. Whether you have one in your entryway, living area, or dining room, they provide storage space and make a fantastic decorative furniture item. They can wonderfully match your dining room set or transition your existing décor, giving it a more modern or eclectic look. Forgot to buy a buffet table with your dining room set? Fret not; add a Cameleon like a mid-century modern sideboard that will go well with any style while bringing a vintage or antique vibe to the space; it would also fit perfectly in a cottage, French country, Scandinavian or farmhouse style home.
Popular Amazon Reviews
"Love the look and the quality is pretty great for the price. Only downside I had was there seemed to be some mildew on a few boards but it wiped right off with a rag. Took some time to put together, there are a lot of parts, but the directions were easy to follow." – Shannon Hubble (Source: Amazon)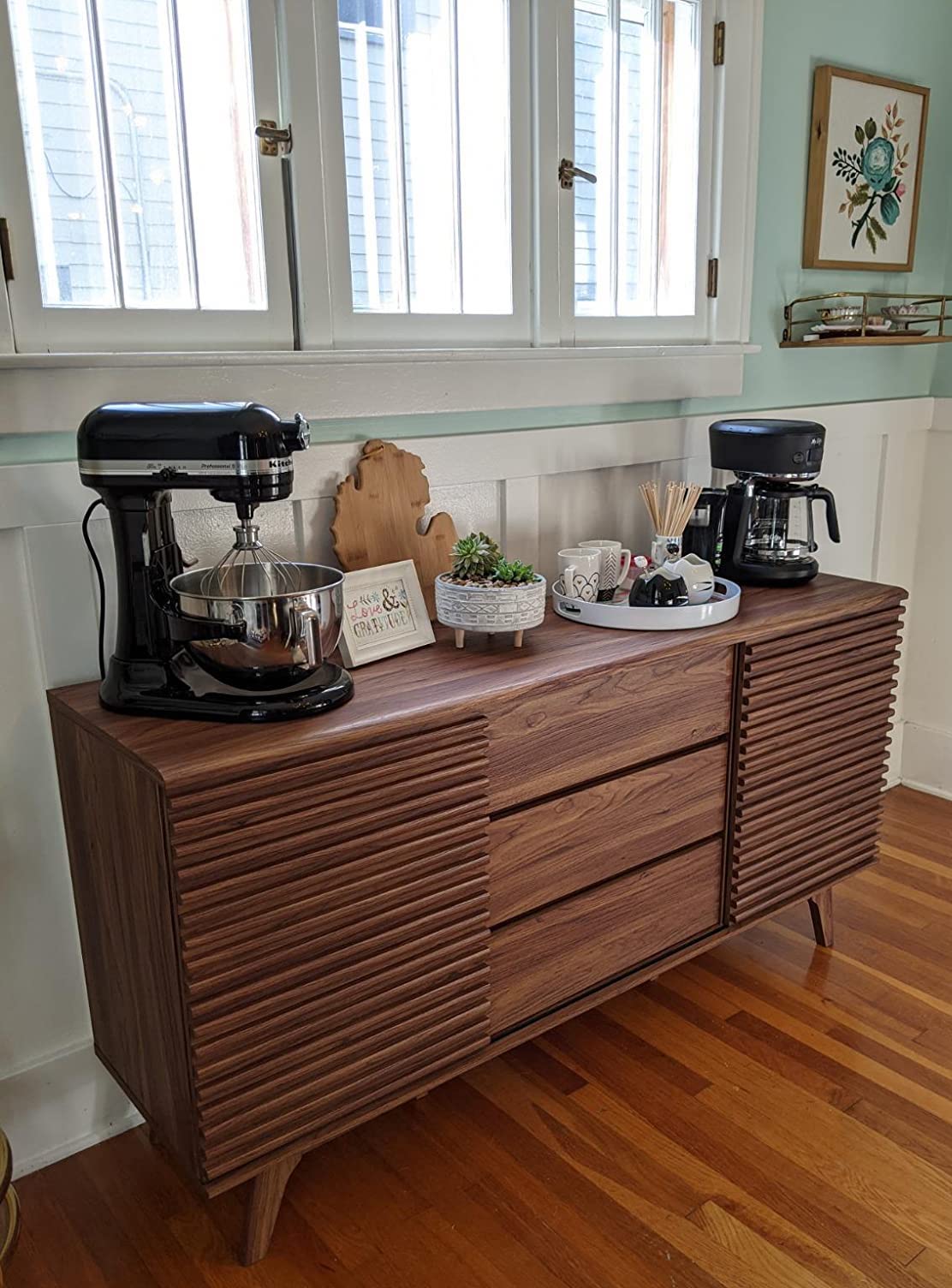 "Just buy it!! I assembled this by myself. Took a few hours. The sliding doors were a pain to get on but finally got them in. Some of the instructions were questionable, but I got through it. It's beautiful!!" – Antonella Guerrieri (Source: Amazon)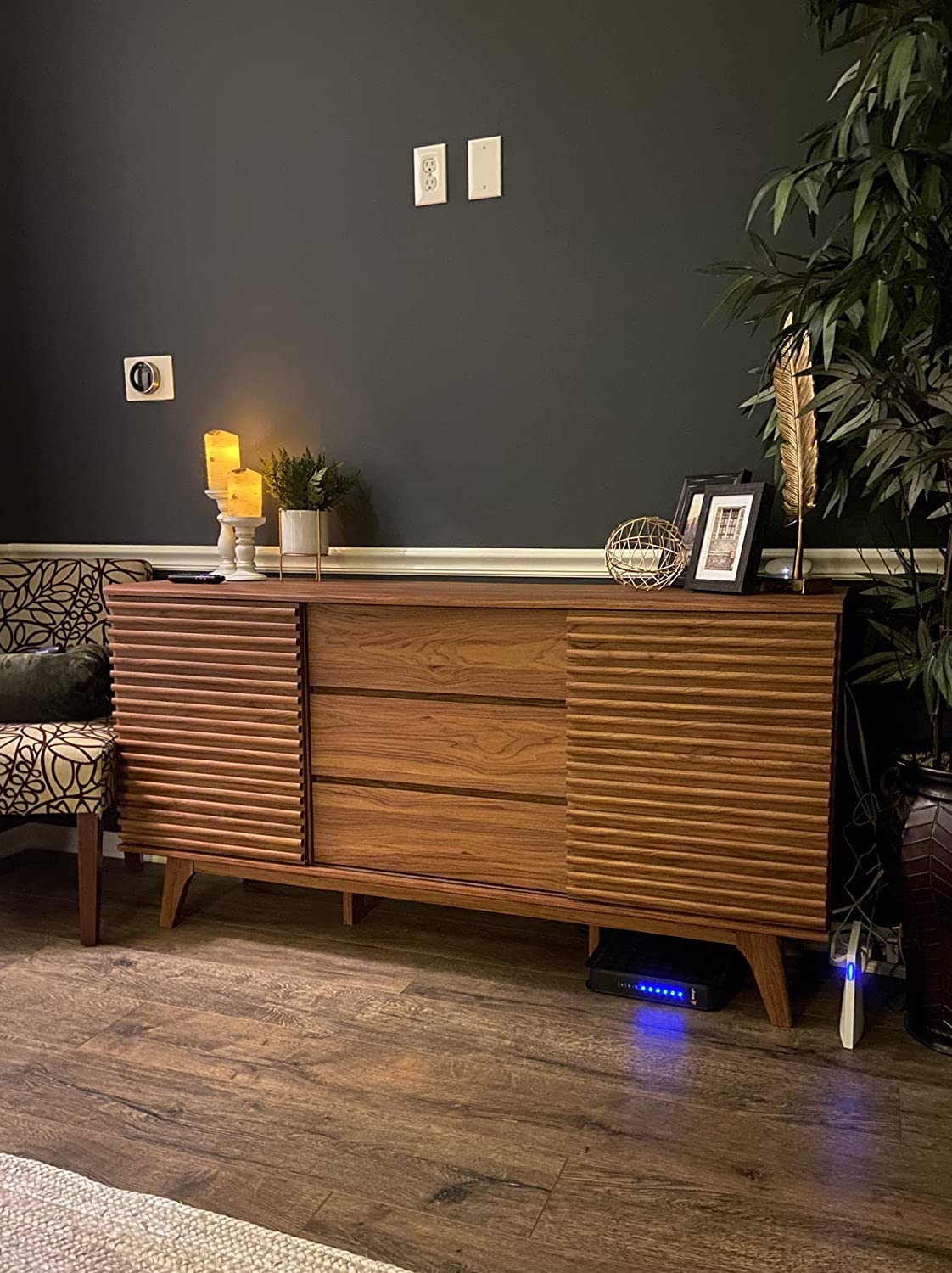 "I was skeptical at first with the pressboard and veneer but was pleasantly surprised by how good this looks. Also, had no problem putting it together and no problem with doors and drawers being level and plumb. Looks just like something you would see in a mid-century shop…." – Mark (Source: Amazon)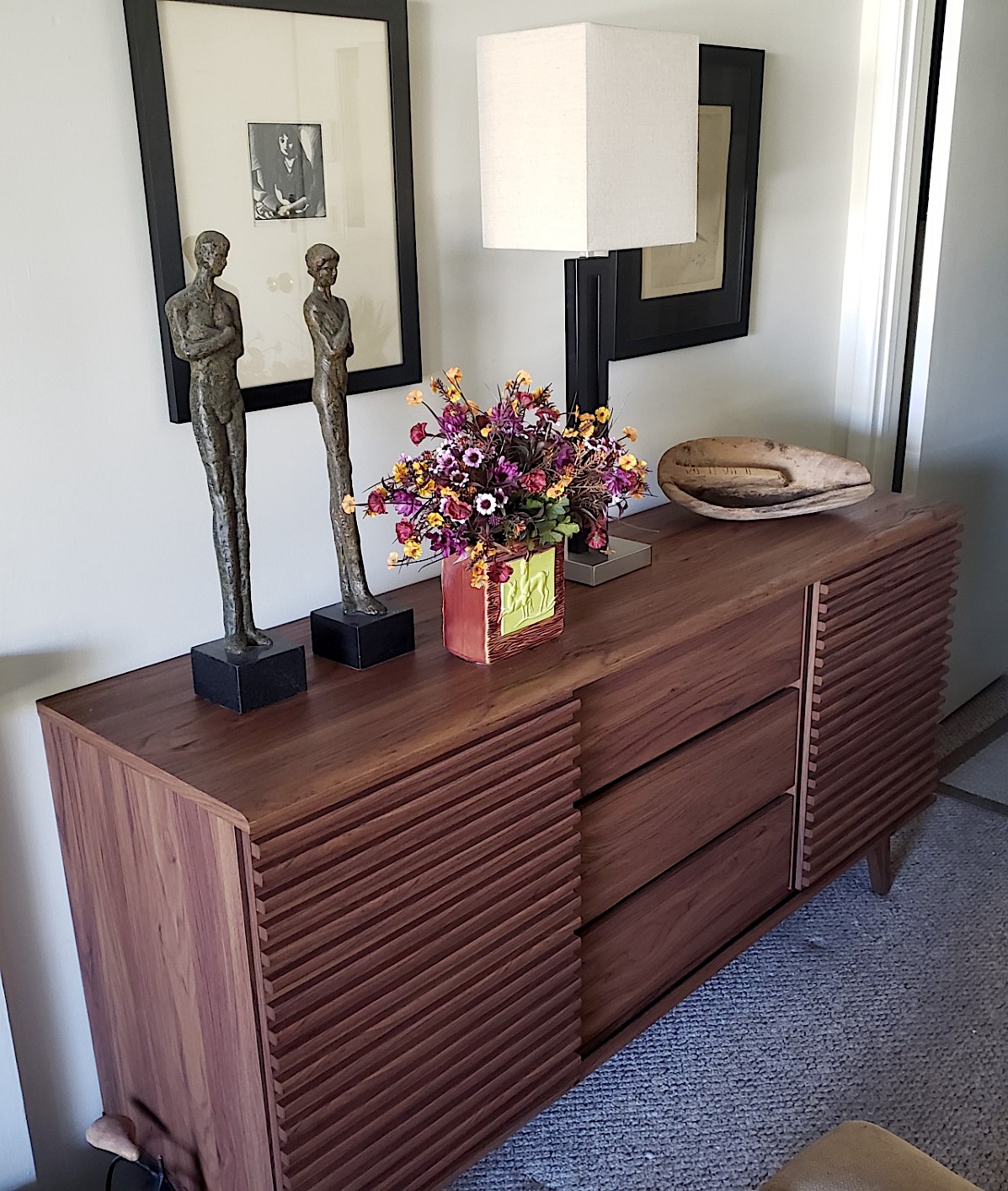 "Love this piece! I was very scared after taking it out of the box as there were a million pieces, but it wasn't THAT bad to put together. Did it myself and it took about 1.5 hours. This thing is super sturdy and heavy, and feels like real wood despite being MDF. Added a gloss coat for polish and durability. Great value, really recommend!" – Emily B (Source: Amazon)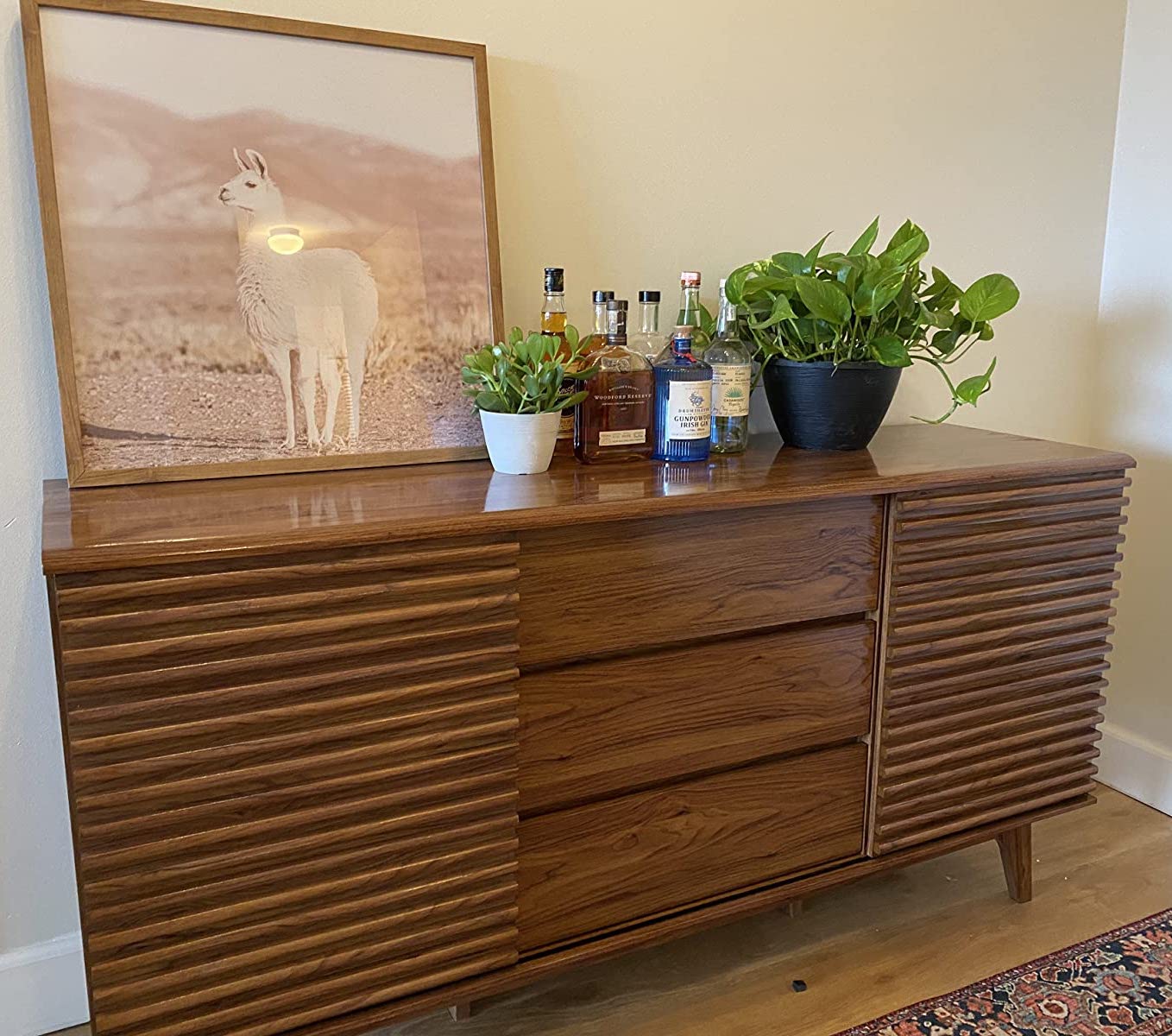 "Bought this one year ago. Difficult to construct, and some pieces (like the back piece) felt flimsy when putting it together. However, once you finish building it, its overall effect appears much more expensive than it actually is. It's also super functional. We hide our printer in the sideboard; we just slide the sideboard open to reveal the printer when we need it, and then slide it back when finished. Works perfectly and hides the unsightly printer. Only issue: the sideboards aren't supposed to slide beyond the dresser itself, but eventually those sideboards bust through the particleboard that's supposed to keep it on track. Not a huge deal to us." – RITA (Source: Amazon)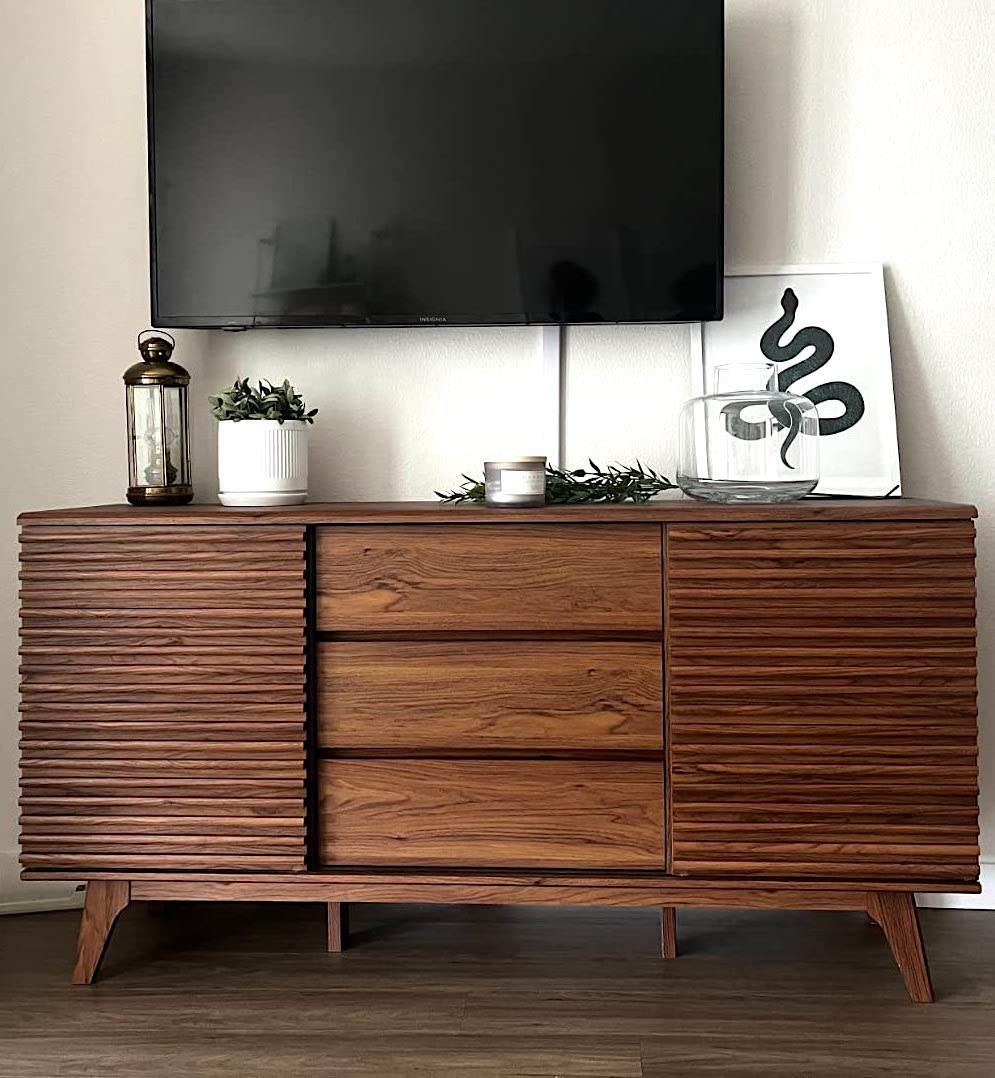 "This thing is SOLID. Heavy and heck when put together, holding up pretty well so far. Doesn't scratch too easily. A bottom support leg did already get pulled loose when moved without picking up the piece (sliding it on the hardwood floor) so I don't recommend sliding without lifting on any floor. I do recommend this piece though. So many ways to display the shelves/drawers or hide them, lots of storage space." – JessHaymaker (Source: Amazon)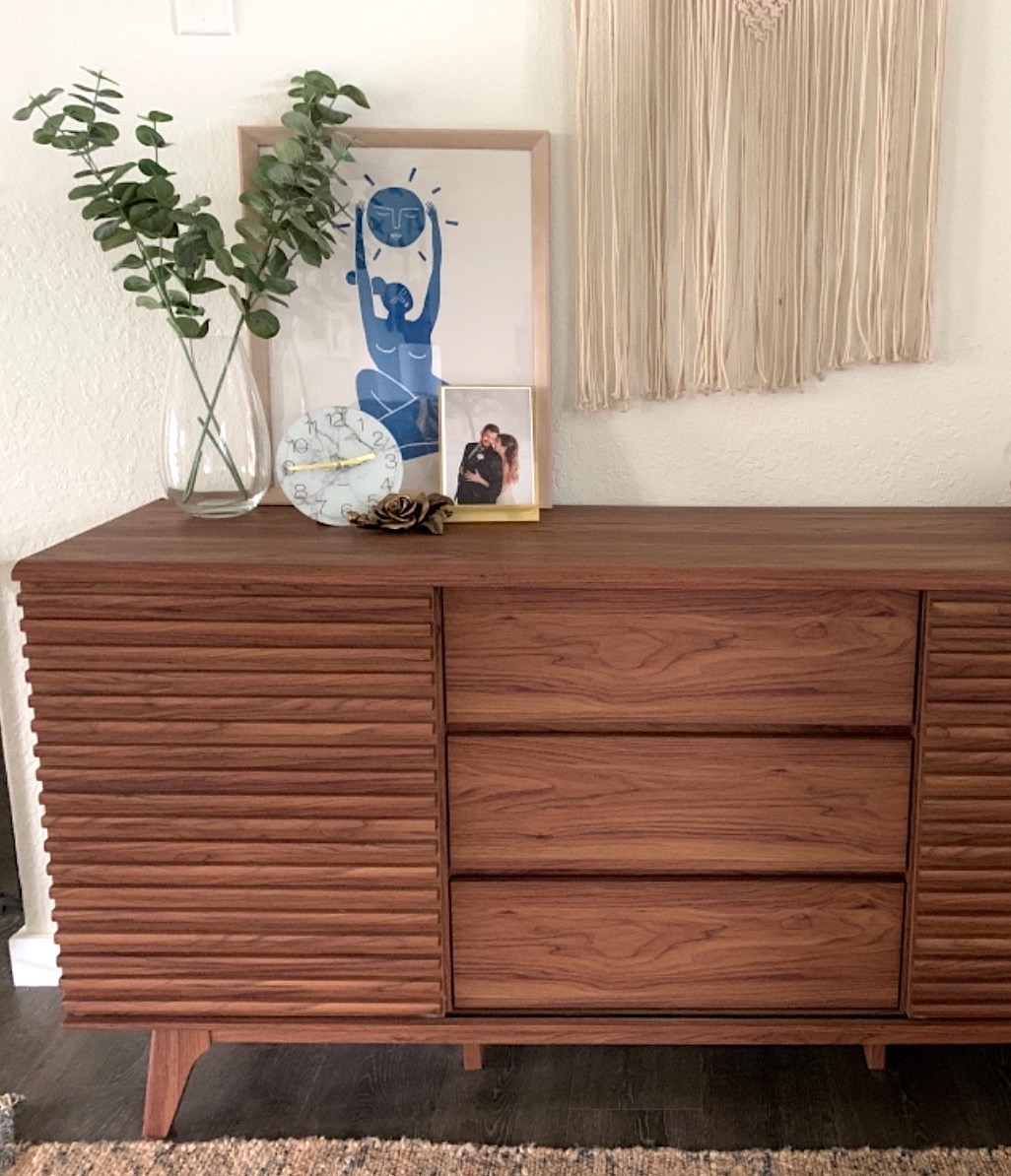 "It was pretty easy to put together, definitely need two people. It looks fantastic and is exactly what I wanted/expected. It's sturdy and looks like it was more than what I paid. The only thing to be mindful of is that it comes in two boxes and the smaller one is HEAVY." – Kristen Bennett (Source: Amazon)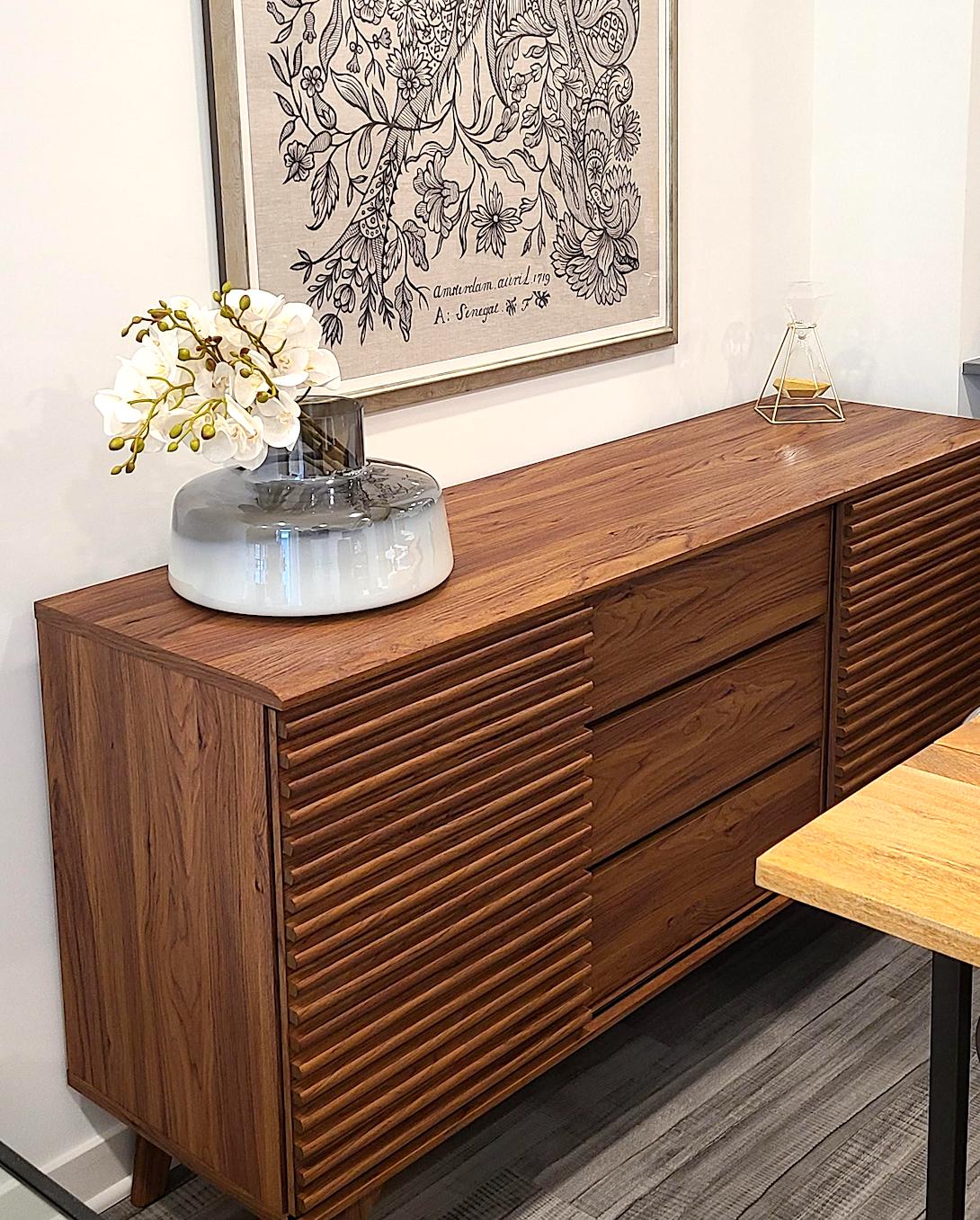 Decor Ideas for Your Modway Buffet Table
Make it beautiful yet functional – Your buffet table provides an excellent spot to display decorative items while giving you additional storage space. The gliding drawers with sliding doors provide a chic view and make your small dining space look less crowded by keeping all the extra stuff hidden in its cabinets, which otherwise might have been lying around on your dining table. Keep your china or cutlery in its storage space when not in use, and make the table look clutter-free.
Consider the wall behind – Consider a dining room wall that adds drama to the overall space — an asymmetrical wall mirror is the best find for your dining room (it helps convert your space into a transitional style). The added benefit you get from installing such a mirror is that it doubles the impact of your sideboard decoration, especially if you have a smaller or dark space.
Highlight with lighting – If you feel you need more lighting in your dining room, add a lamp to your buffet table. In addition to creating soft pools of low lighting, it will illuminate your buffet table decoration, making your dining room look more welcoming.
Use the overlapping method – Make your buffet table décor look more curated by letting your objects and anchor pieces overlap. Put a lamp slightly beside your artwork, or let dry twigs, foliage, or cut flowers spread across the central piece, which could be an artwork or a mirror; this will make your final look feel more cohesive and interactive instead of static and dull.
Employ the rule of three – The rule of three instills perfect balance when it comes to styling your buffet table. A classic design trick involves grouping three pieces ( small, medium, and large) to create a pleasant aesthetic while avoiding going over the board. If you feel your sideboard is large, divide it into 3 sections, keeping the rule of three in view. However, if you want more than three elements to incorporate, consider sticking to an odd number like 5 or 7; this will help you follow a theme that is easy to put together.
Other Things to Think of
Think twice about your finances – This Render Buffet Table from Modway might be quite affordable for your budget but If you're planning to make a large purchase on Amazon involving many other furniture pieces for your home furnishing project, you may want to consider using Affirm to finance it. One advantage of using Affirm is that they offer financing for up to 48 months, which is much longer than the 18 month monthly payments offered by the Amazon Rewards Visa Signature Card. Additionally, Affirm requires no credit checking, making it a good option for students or people who are still rebuilding their credit scores too. And because Affirm offers low to zero interest and allows early repayment, it can be a more flexible and affordable option than other forms of financing.