Design & Decor Ideas from Customers
"I read many reviews on this product. I built the shed with a coworker in 4 1/2 hours. I believe that all the reviewers who complained about the instructions and assembly difficulties are most likely the type of people who should have paid someone handy to put it together. If you are a tradesman or are handy with tools and working with your hands you should have no problems. My only complaint is that many pieces such as the roof truss should be assembled at the factory and save an hour or two's worth of labor. It is a good quality shed and should last for many years.Had they assembled the tedious roof structure pieces at the factory I would have given it five stars." – RCNY (Source: Amazon)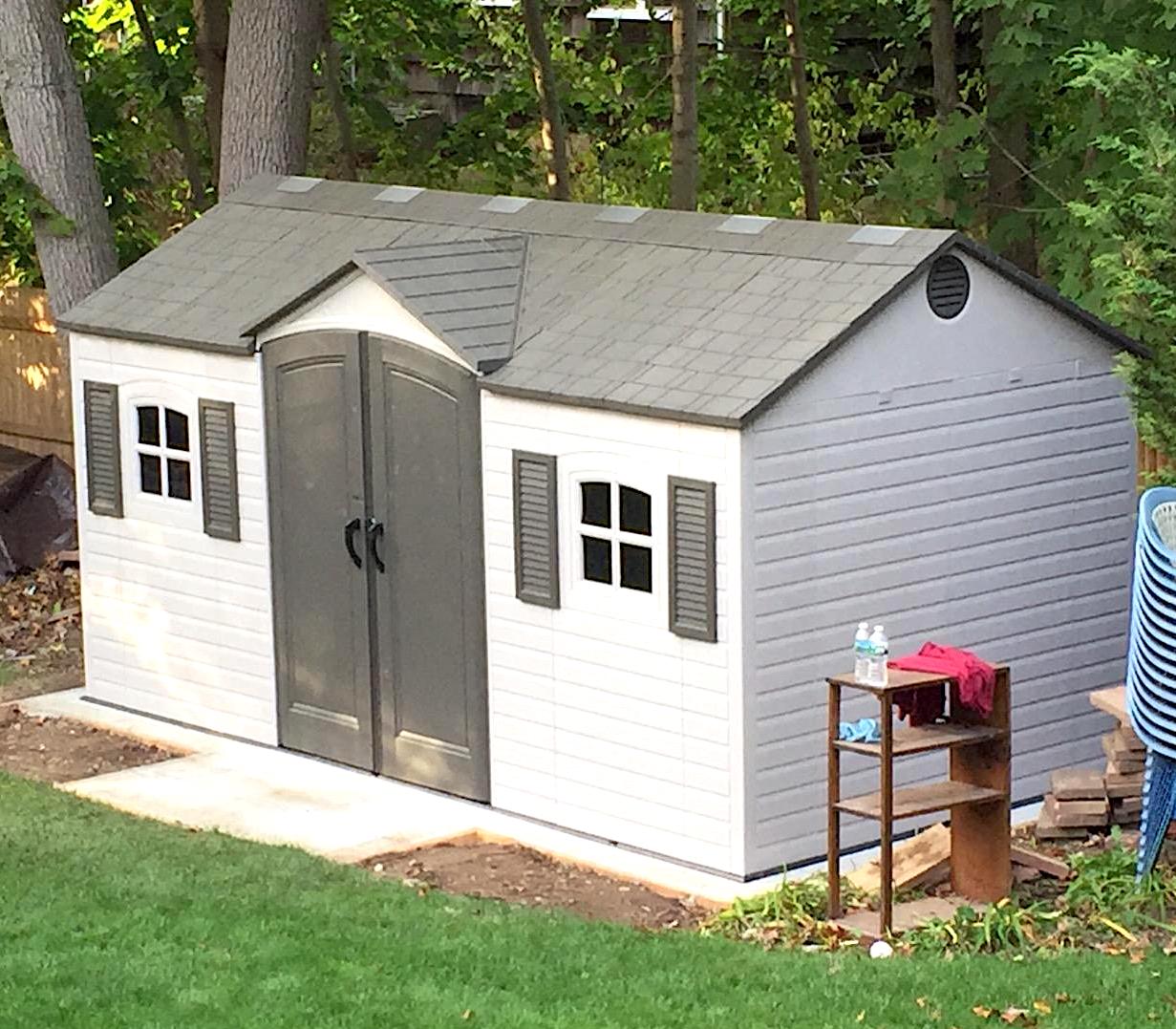 "After reading all the bad reviews I knew 2 things for certain. Make sure the foundation was concrete and use a professional. I did both. After looking for this type of shed to be installed properly the lowest price I was quoted was 12k. Key in the Amazon search because I wasn't paying that! Purchased this shed on Prime Day. Paid 5k for a concrete pad installation which required bobcat, fancy tool to transport the concrete, concrete and labor. Then $500 for assembly. Money well spent! Has held up great over the past two months with no issues. Great investment!" – Karla4257 (Source: Amazon)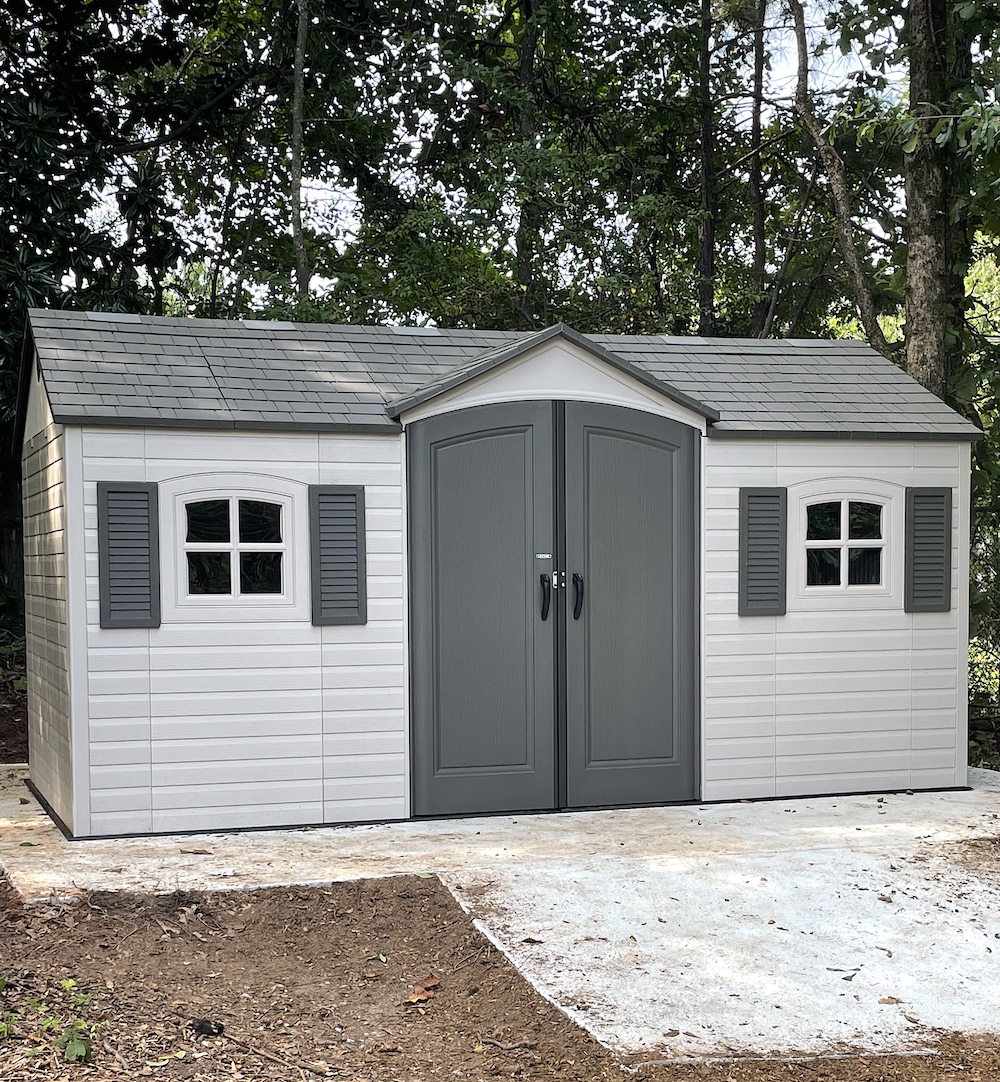 "The instructions are OK but not great. I had to call customer service one time for a question about parts because the pictures are a bit convoluted. Once that got cleared up, I started to realized a lot of this can be built ahead of time.- So if you're one person, build the trusses ahead of time. This can be done inside and definitely doesn't require time outside if you have allergies.- Be wary of small details in the instructions. If you have doubts, you have them for a good reason.- Don't build this on a windy day. If you're one person, mounting the gables and screwing them in is MUCH easier when the wind isn't smacking you in the face.- When aligning the wall panels to mount them to the floor, be sure all of the tabs are in the floor before shifting it into place.- Get all of the small plastic packages organized ahead of time so it's easy to find them when referenced in the instructions." – r3t1awr3yd (Source: Amazon)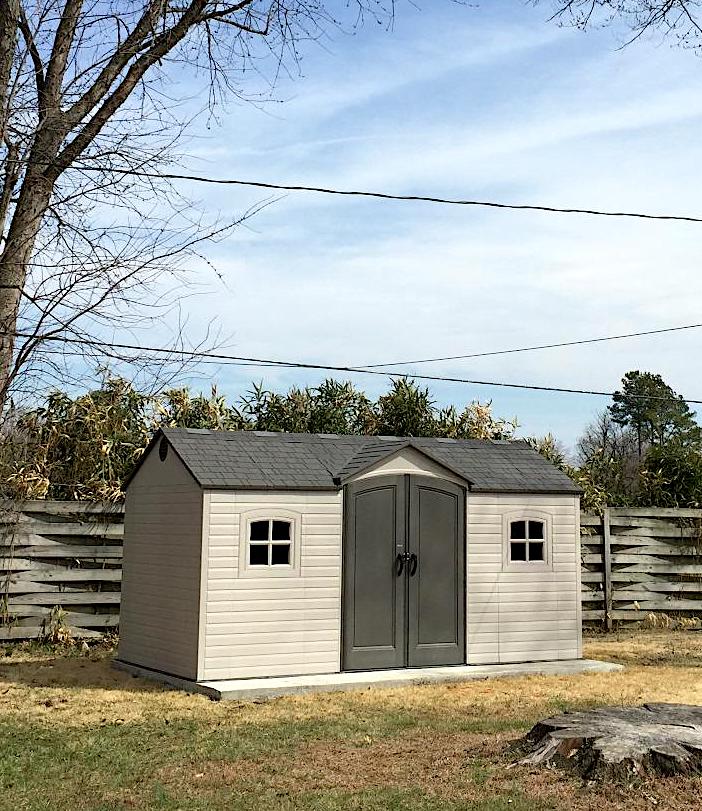 "I needed a shed in my back yard and wanted it to be low-maintenance, and to block a street sighting (a specific request to my household), so I wanted it to be at least 15 ft wide and 8 feet tall. This shed is a perfect match, on paper.After doing all research, I was sure this is what I wanted, and started looking for deals. Amazon at the time was offering it @ $1650, which was a bit too much, so I waited. Finally one day it dropped to $1470, then I bought it. The delivery was excellent. I live in MA, the delivery company send a truck and laid down all four packages exactly where I wanted them to, saving me a tons of time/energy.I agreed with other reviewers, it is not a one day job for sure. I hired 2 handymen, plus myself, and it was like 1st day, foundation, (the place I want to place it was not leveled), 2nd day, assembly, 3rd day (actually a half day), also assembly. So if your base is flat, I would guess it's going to cost you somewhere between one day and two.The shed looks very good, however I did have a water leaking near the joints of front door roof frame, but not too bad. After the rain stopped, I caulked them, now it's completely dry inside since then. Talking about the leaks, I am not sure if we missed anything, but again now the problem was solved by caulking. The door lock is useless, but I wouldn't trust the door lock anyways. Those two things are the reason why I gave it 4 stars.A lot of reviewers had complained the instruction is awful." – Yunner (Source: Amazon)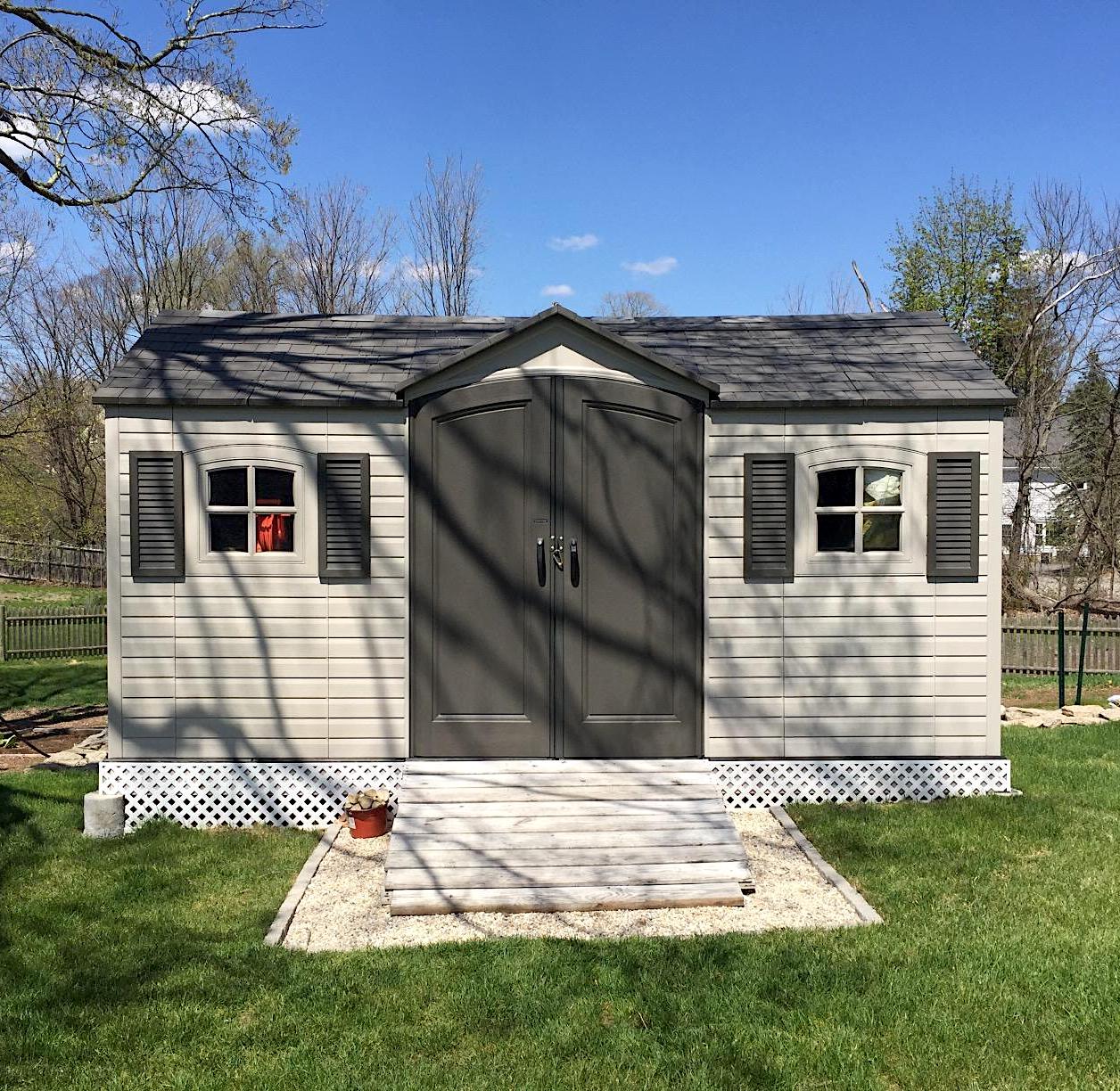 "I poured a 4" thick concrete slab for the shed to sit on. I then anchored it after assembly with 3/8" x2" anchor bolts in each corner. Assembly took me two full days, you need a helper particularly on the roof parts. If you assemble the truss sections first you could probably assemble the entire thing in one full day. Make sure you follow the instruction manual. There are also some good YouTube videos if you get stuck. If you follow the manual and don't jump ahead you shouldn't encounter any problems. I give the instruction manual a C grade, black and white photos would be much more helpful than their diagrams, some don't look anything like the actual pieces going together, but after a few head scratching sessions I was able to work through any problems. If you are putting a riding mower in it make sure you measure the door with vs. your mower deck, mine barely fits through the doors. The shed looks great and is water tight. It seems very durable and not flimsy. Time will tell if it holds up but pleased so far." – Ryan. R (Source: Amazon)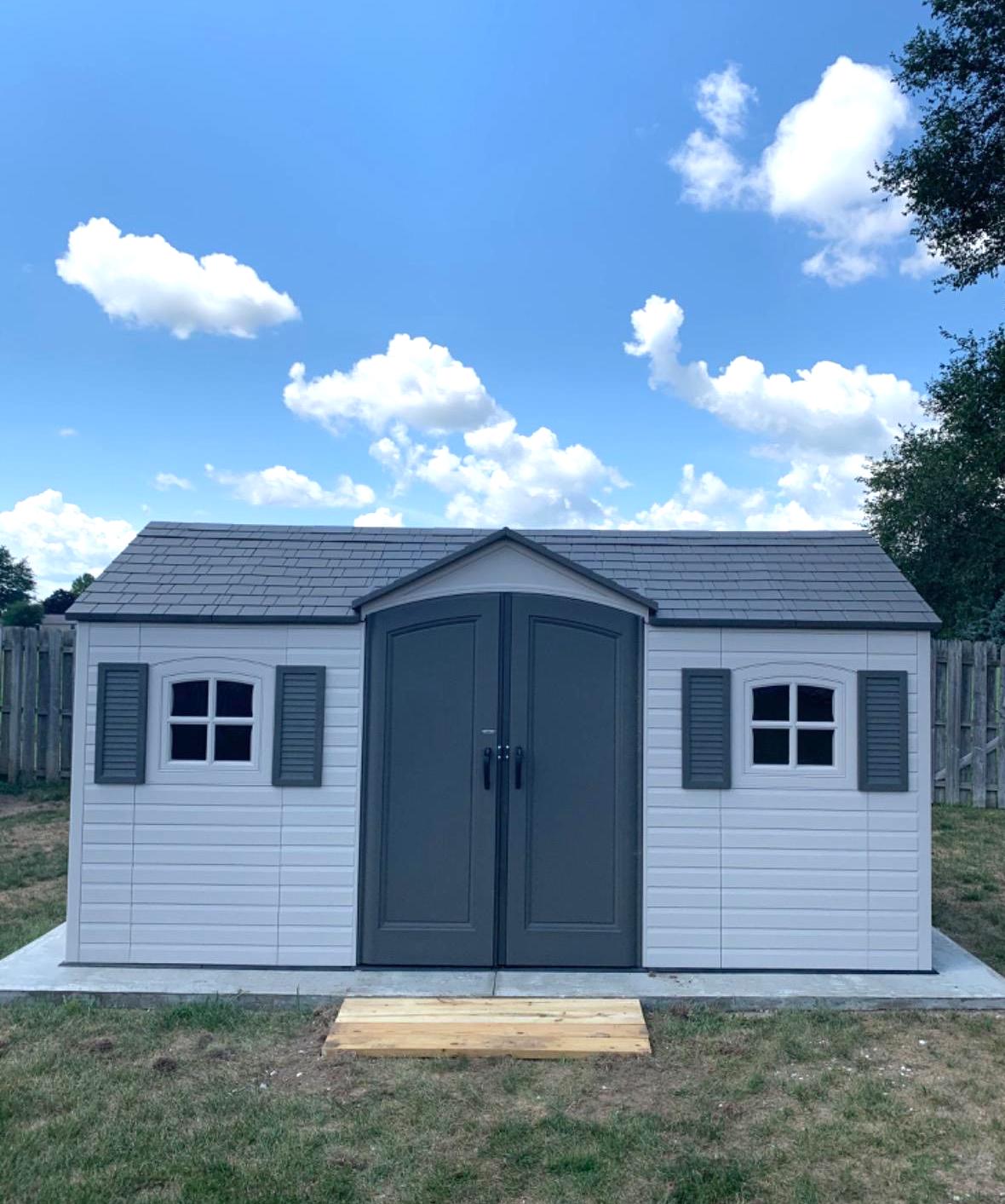 Landscaping Ideas
Pathway and Entrance:

Create a pathway leading to the shed using pavers, stepping stones, or gravel. This can define a clear entrance and make the space more accessible.

Planting Beds:

Install planting beds along the sides of the shed. Choose a variety of plants such as flowering shrubs, perennials, and ornamental grasses for a diverse and attractive look.

Container Gardens:

Place large decorative pots or containers near the entrance of the shed. Fill them with colorful flowers or greenery to add a touch of vibrancy.

Vertical Gardens:

Install vertical garden structures on the shed walls to grow climbing plants like ivy or flowering vines. This can soften the appearance of the shed and add a natural touch.

Mulch and Ground Cover:

Use mulch or decorative stones around the shed to create a neat and clean look. Consider ground cover plants like creeping thyme or sedum to add texture and reduce maintenance.

Outdoor Lighting:

Install solar-powered lights along the pathway or around the shed to illuminate the area at night. This not only adds a practical aspect but also enhances the visual appeal.