Design & Decor Ideas from Customers
A mini home outside your home, the Lifetime 6402 Outdoor Storage Shed is perfect for storing everything you wouldn't want to keep indoors, especially dirty equipment and lawn maintenance supplies. It has a strong and durable design, a UV-protected body, and steel-reinforced roof and doors.
Exterior Design Styles To Pair With
The Lifetime Outdoor Storage Shed pairs with multiple exterior design styles. Considering its gable roof and overall design, it wonderfully complements mid-century bungalows and cottage homes, both with brick-like patterns. The touch of vintage to the storage shed makes it a remarkable addition to farmhouse-design houses featuring porches and dormer windows, too.
Its pared-back color palette of white and grey also makes it ideal to use outside contemporary and modern homes. In fact, you can mold the storage shed according to your home by decorating it the right way, with a few fun ideas given below.
Popular Amazon Reviews
"My husband and I put up both sheds (and raised platforms/decks) in September 2017 and love them! (we ordered both sheds from our local hardware chain, which is why you don't see "verified" here, but I've attached photos).We did the raised platforms ourselves with plans my husband created and using supplies from our local hardware chain store (all screws/NO nails). This process was actually the hardest part….from clearing the ground of tree roots, weeds, etc. to digging holes for the cement supports, and making sure all of it was level from all sides. Note: the wood beams do fill in all the way, as in photo #3, we just temporarily removed them to lay the landscape cloth and gravelWe're no longer wasting $200 a month at an off-site storage facility to store our cr*p! And because the combined under-roof square footage is under 200 sq ft, we didn't need a permit, but we built the raised decks to exceed local guidelines with plenty of solid cement supports and sturdy weatherproof framing. We also sealed all exposed wood with Thompson's Water Seal.It's so nice to just walk out to the sheds to grab something we need or to move something to the sheds. Best decision ever!" – California Customer (Source: Amazon)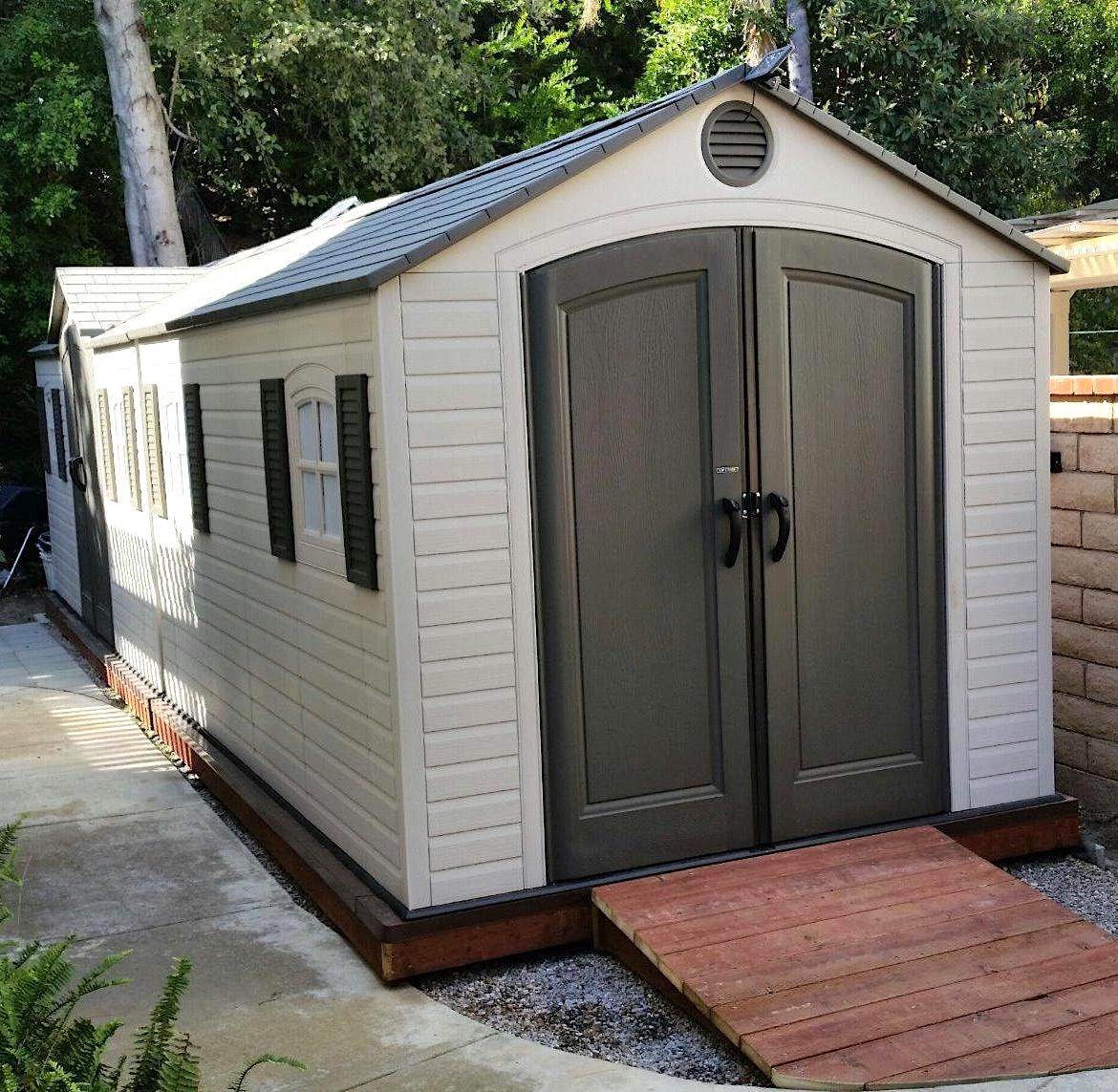 "It wasn't super easy to build, but it wasn't very difficult. Getting all the wall pieces together and perfectly aligned was a challenge. I was able to construct about 95% of the shed by myself. Putting up the doors by myself with even the slightest breeze turned out to be the toughest part. Door fell over before I had a chance to get the top piece in place and the tip-over broke the bushings. I called in and explained and they immediately sent out new bushings. And there was a problem with the doors not shutting properly, but I reported that and it turned out that I got the wrong Door End Channels in the shed kit. I spent more time working on the foundation than anything else but that was time well spent. Make sure the floor is level, above ground, and has good drainage. I've had the shed for about 7 months and I have no complaints." – T. J. B. (Source: Amazon)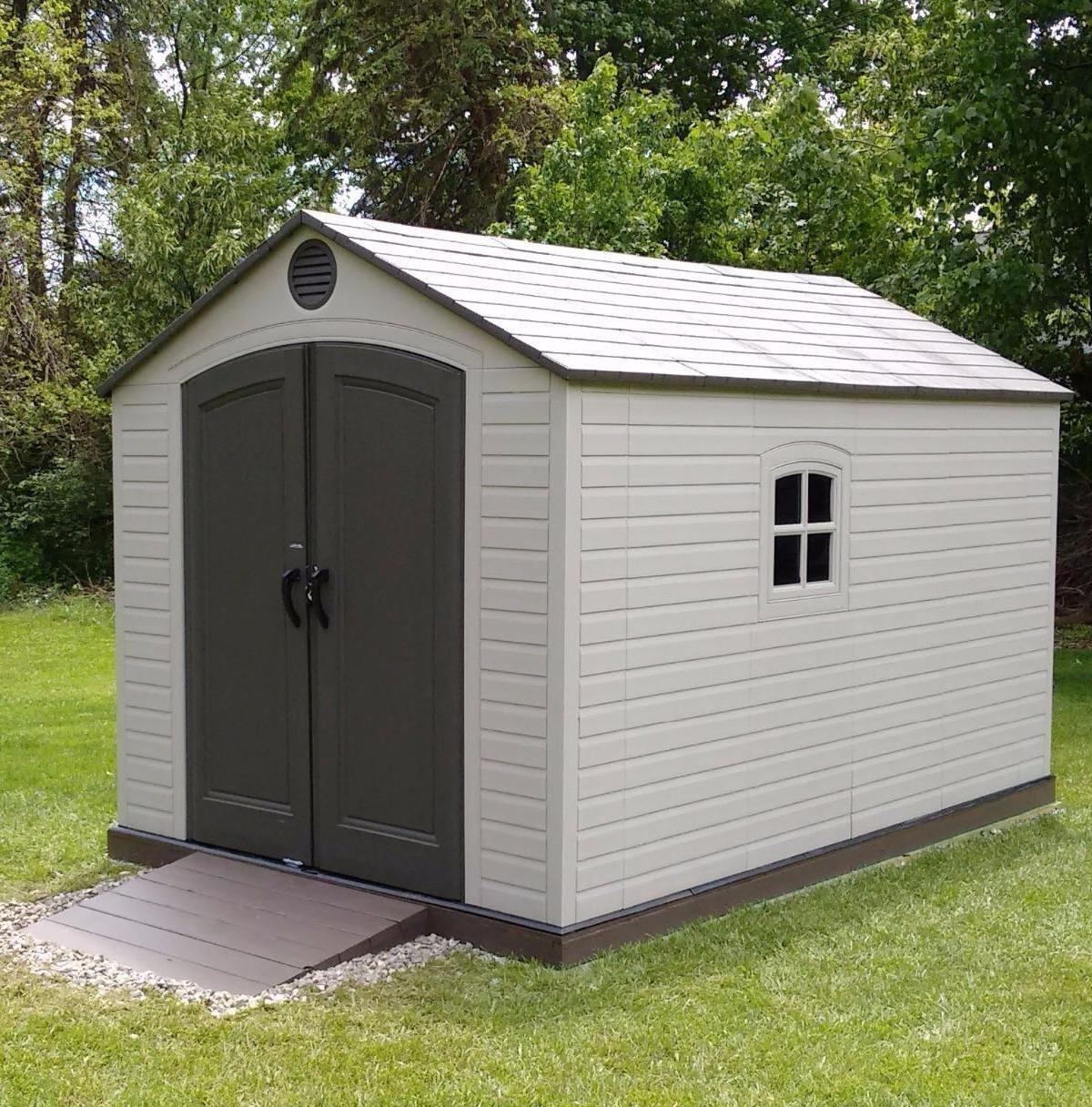 "As good as a plastic shed can be only model allowed at campground" – Ralph Langton (Source: Amazon)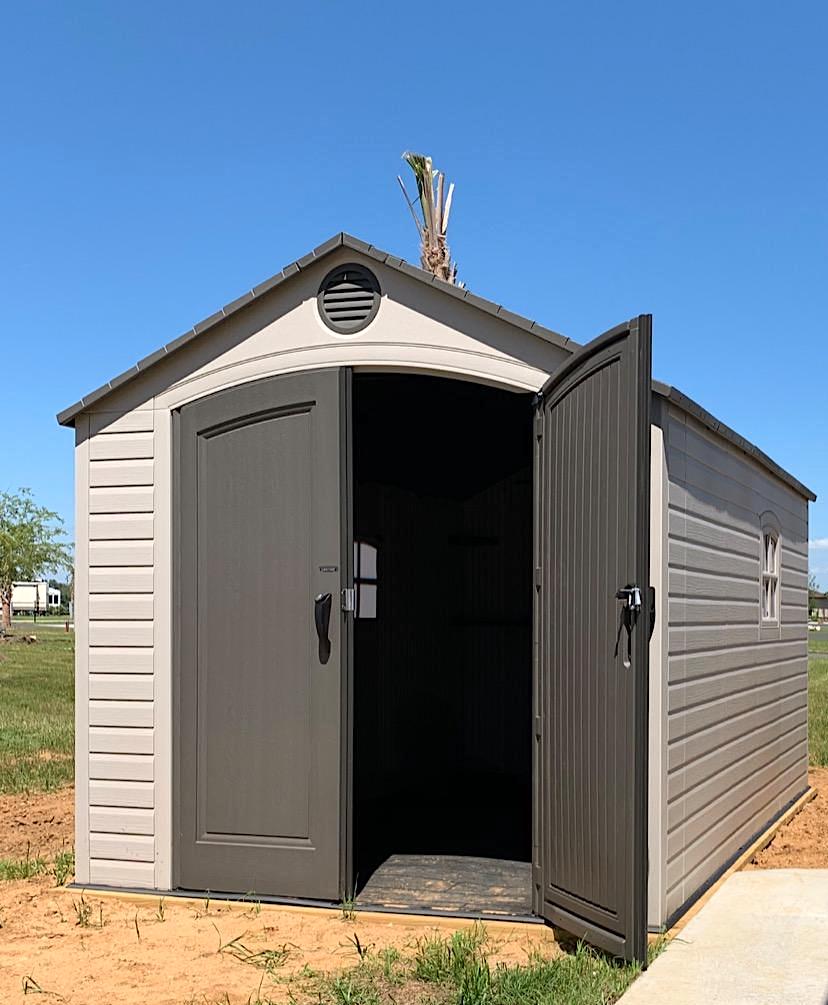 Ways To Decorate With The Lifetime Outdoor Storage Shed
You can make the most of the storage shed by decorating with it in interesting ways:
Mount Artwork Onto The Shed Walls – Artwork isn't only meant for the interior — it can spruce up the exterior of your shed walls, too! Mount decorative plates in a circular fashion on one side of the shed to make it a decorative feature of your garden.
Make It Bright – Make your storage shed festive by adding a dash of color. If you're in for a quick DIY, consider painting the door a happy and bright color.
Display Rustic Possessions – Instead of storing your years-old, antique-like spade and gardening tools inside your shed, consider displaying them on the outside! Drill nails into the shed wall and hang a piece or two for the ultimate rustic vibe.
Add Some Landscaping – Place a trellis next to your shed (you can even mount it onto the wall) to create visual interest while adding landscaping. Bonus points for allowing climbing flowers and vines to grow up the trellis, bringing the ambiance to life.
Light It Up – Sheds can always do with some lighting, especially to add charm during the dark hours. Mount solar-powered lighting fixtures and line the gable roof with LED strips for a cozy view at night.
Things To Watch Out For
The Lifetime Outdoor Storage shed may be delivered in more than one box, and these may arrive separately.