Design & Decor Ideas from Customers
The Lifetime 60012 Extra Large 130 Gallon Deck Box (in desert sand/brown) is an outdoor-rated storage trunk that helps contain clutter in your garden and porch. It is spacious, providing plenty of room to store everything you'll need in an outdoor location. The trunk is weather and UV-resistant, and has a waterproof seal, ensuring your belongings remain dry even when it drizzles.
Exterior Design Styles To Pair With
The Lifetime deck box wonderfully pairs with a variety of exterior design styles. Whether the theme of your outdoor decor is summertime bliss or a vintage dried flowers' heaven, the minimalist build of the Lifetime deck box will complement the ambiance. You can make the most of it by placing it on your porch — or the space you frequently use, so the items stored are close to reach. 
Popular Amazon Reviews
"It's huge! It holds seat and back cushions for 6 chairs. I purchased a winter cover as well. It's on our patio, not directly on the ground. I anticipate it looking good years to come." – FancyThat! (Source: Amazon)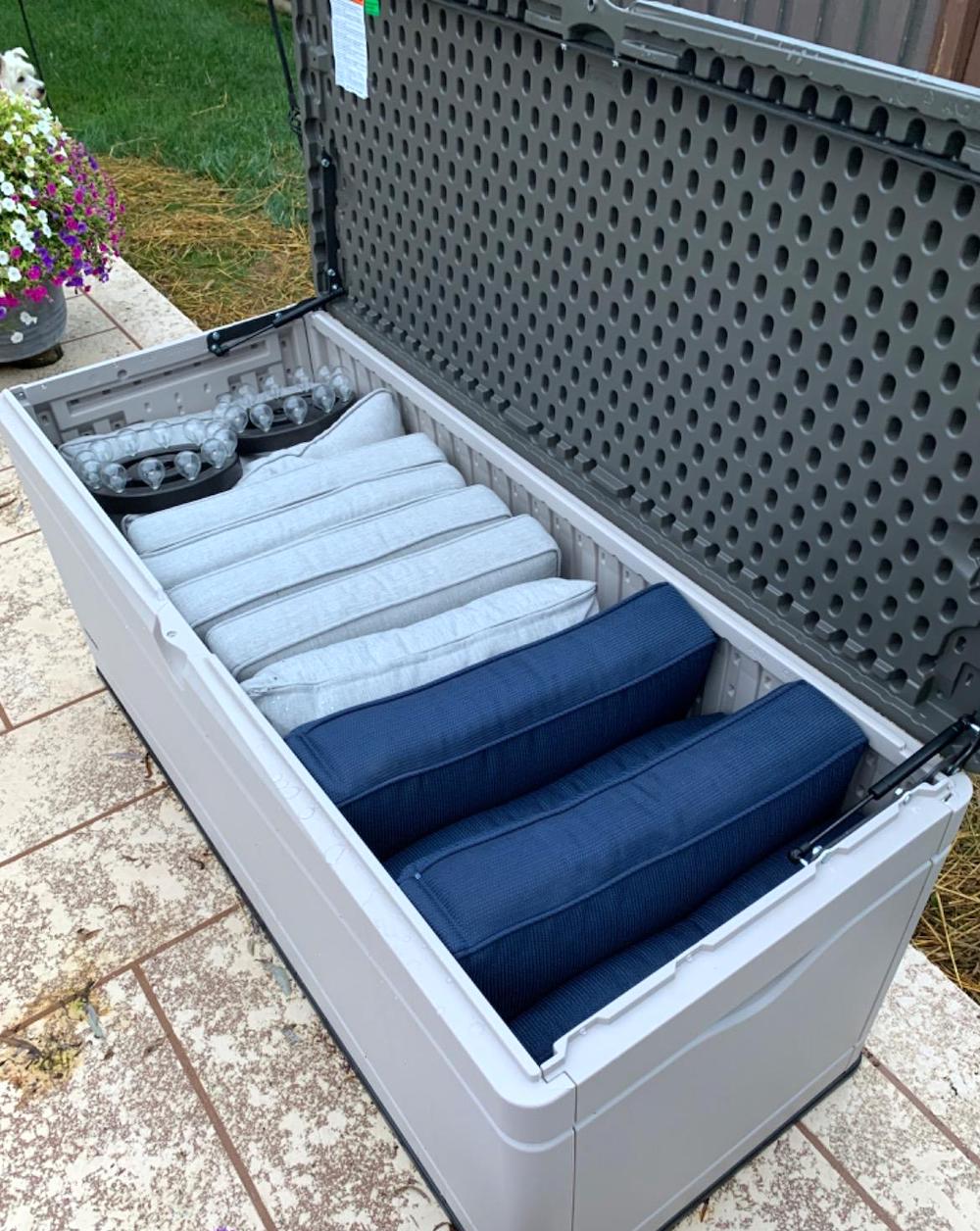 "The product looks and feels strong, has a nice look to it. Assemble is easy but the only comment to it is that the screw that is closer to the back holding the L piece that helps hold the top, is way to close to the bottom of the space so it makes it tight to screw scratching the surface of the box at that point, I am attaching a few pictures to show this, but once you assimilate that you just scratched your brand new box due to the defective design not you, then it is ok.I would recommend it.I also saw a few comments about getting the card box from transport a big damaged, I guess I was lucky, it came perfect." – Alvaro J (Source: Amazon)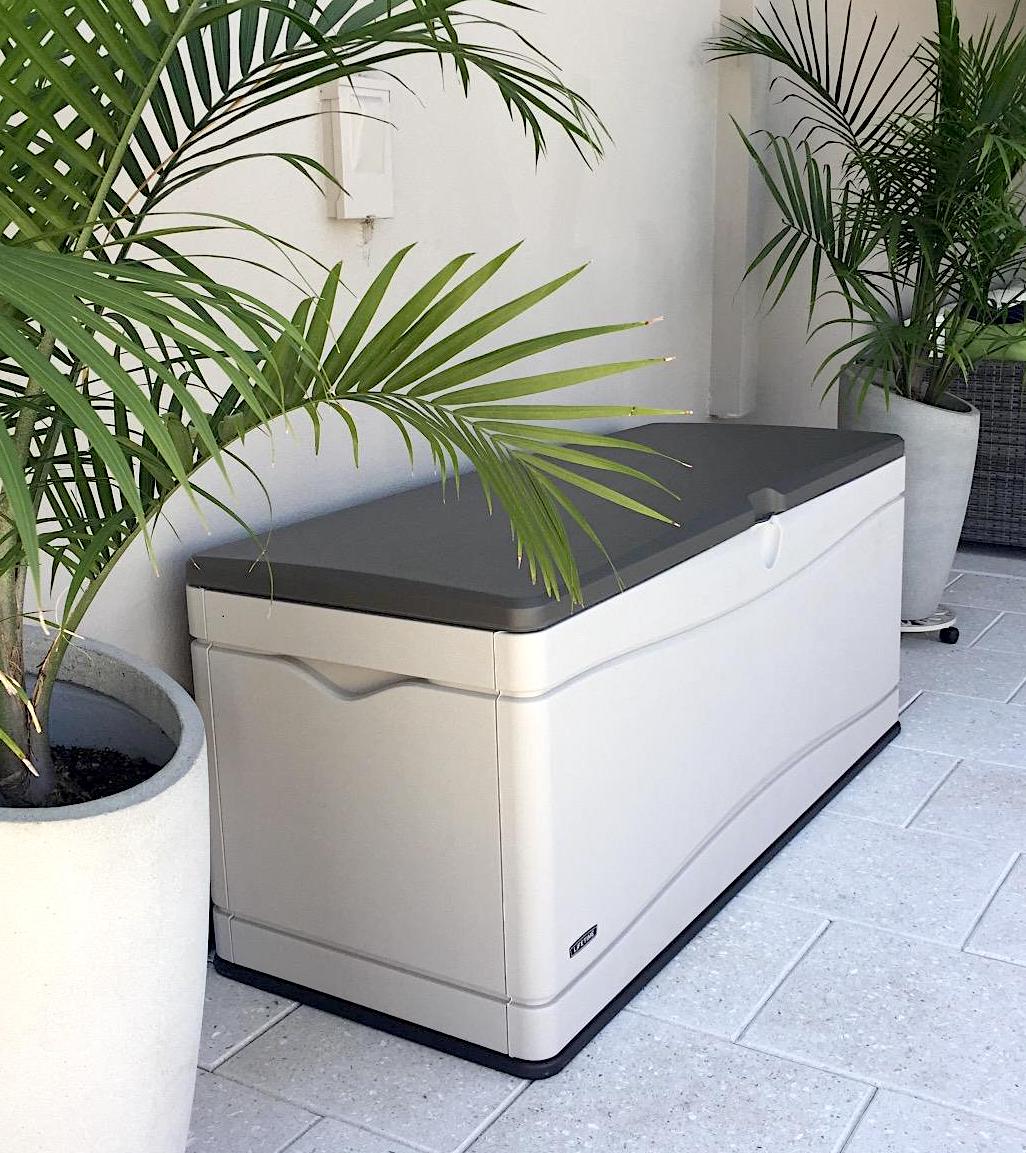 "Good instructions, easy to setup when following manual, Do not use a power drill, looks great" – Zoo2007 (Source: Amazon)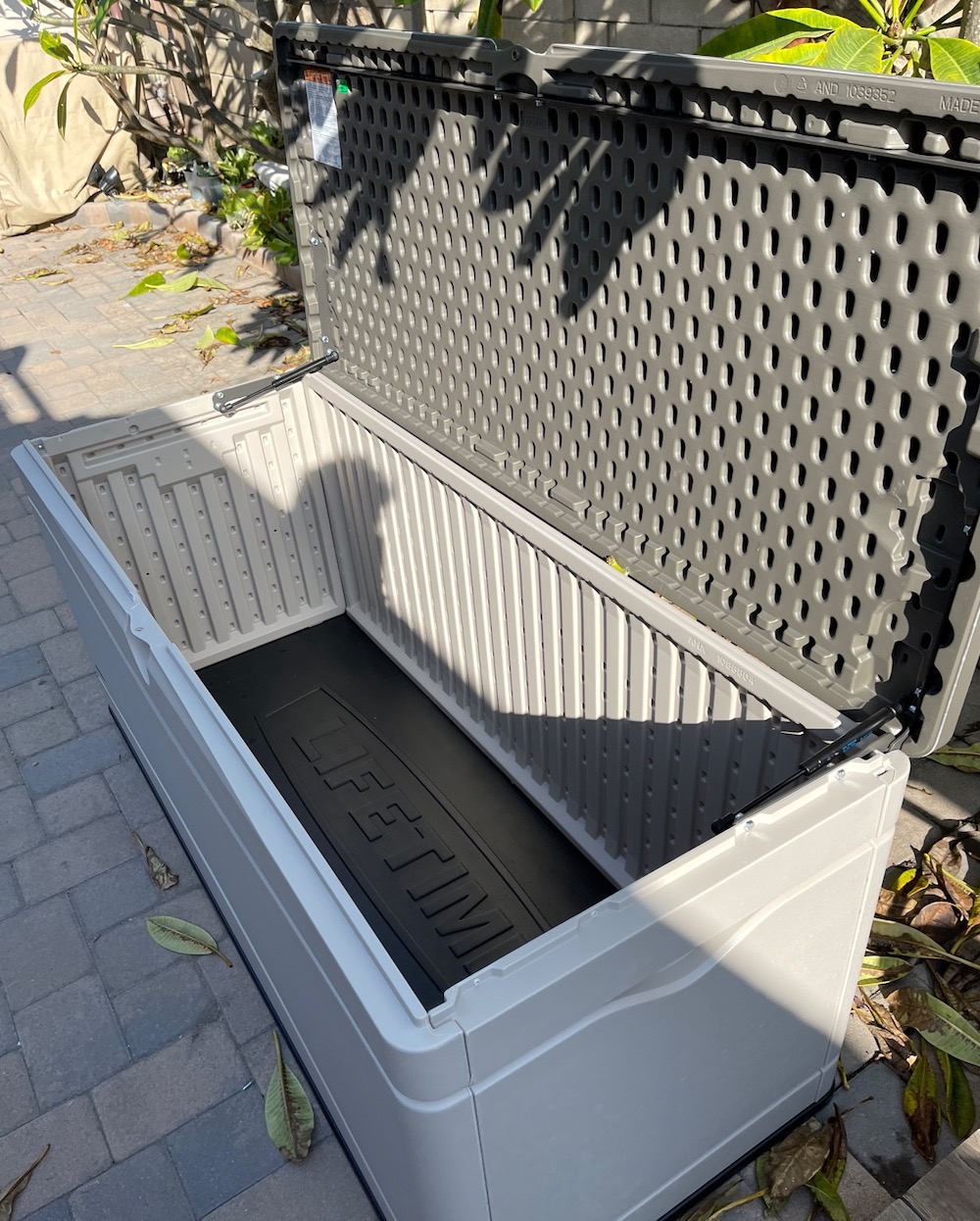 "Really big deck box! Relatively easy to assemble—includes written directions and links to video step-by-step directions. Take your time, read ahead before assembling anything, and watch the videos and you shouldn't have any problems. I took my time and had it completed in under an hour.I've taken a pic to show the interior with four large cushions which cover the seats and backs of our deck chairs. As you can see there's still ample storage remaining. The box is plastic, but seems very sturdy. It will easily support three adults sitting on the lid.I'm very pleased with this purchase." – ADJ (Source: Amazon)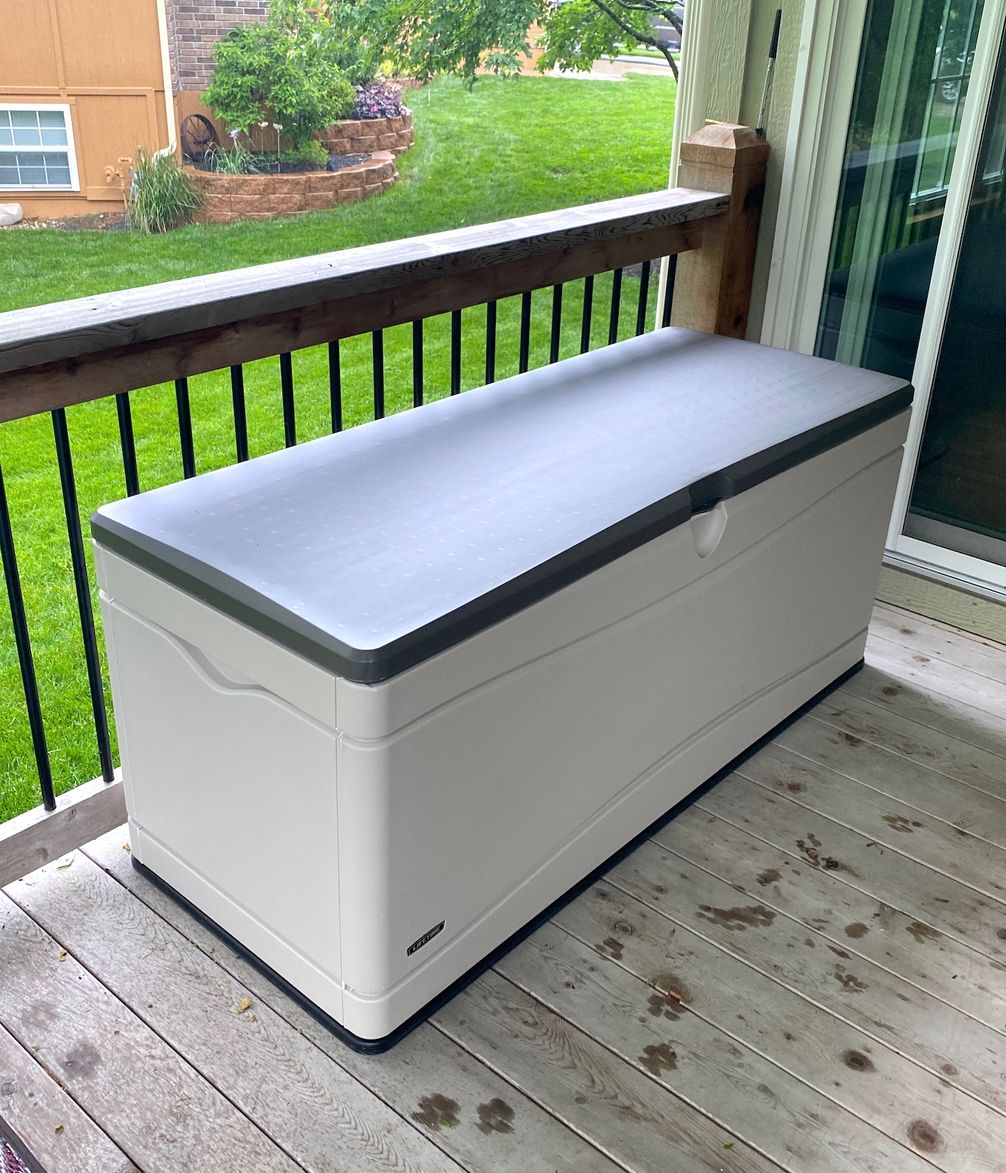 Other Decor Ideas
There are plenty of ways you can leverage the use of the deck box, so it doubles as decor, too.
Lean It Against A Wall & Flank With Plants – Add to the visual aesthetics of your outdoor space by placing the deck box against an outdoor wall. Flank it with potted plants to create an aesthetic set-up — bonus points if you use bright-colored flowers.
Place It Next To Your Barbecue Pit – Place the deck box right next to your barbecue pit. This ensures the stored items are readily accessible — and the deck box also provides extra seating space for enjoying your barbecue snacks!
Utilize It As An Outdoor Coffee Table – If your outdoor sofa setting is lacking a coffee table, place the deck box in the center of the arrangement. Top it with plain linens and a vase of fresh flowers, and voila, you have a new coffee table (that provides secret storage, too).
Use It On The Balcony – Don't have a porch? The Lifetime deck box will come in handy on your balcony! Use it to store your sports gear, children's old toys, and other things you don't have room to keep indoors.
Leverage Its Use Indoors – The Lifetime deck box also offers incredible opportunities for storage indoors. Use it in your attic or laundry to keep essentials organized and out of sight.