Design & Decor Ideas from Customers
"Love this deck box! Took no more than 10 minutes (closer to 5) to put together. Looks great on my deck and a definite improvement over our old, beat up deck box that leaked. I see some here have had leaks…no such issues here. We have had several torrential downpours during the last week including one last night and it's bone dry inside this morning. The only other concern will be if the heat warps the top. If that happens I will come back and update my review but right now I'm really pleased with this box." – JustMyOpinion (Source: Amazon)
"It's plastic resin, but the price is right and the durability and size were right too. Doesn't look too shabby either" – Amazon Customer (Source: Amazon)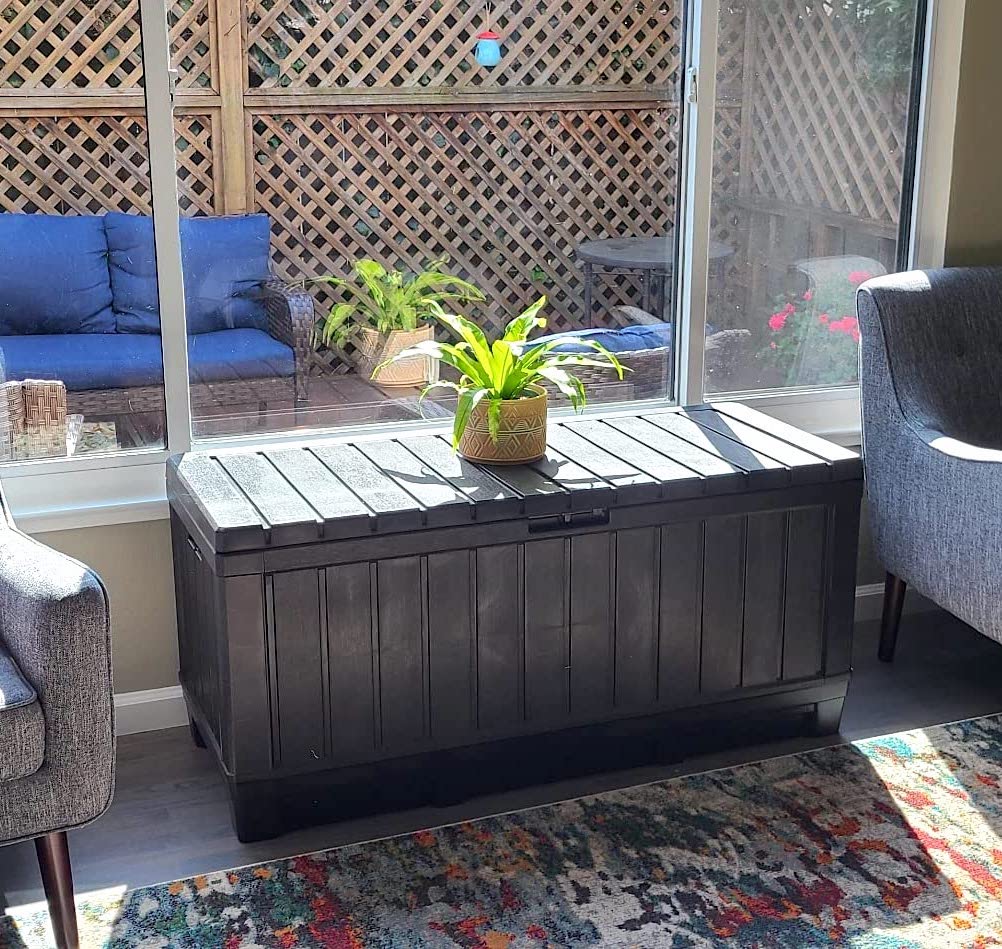 "Started assembling at 10:54am and finished right at 10:59am, AND that includes stopping 3 times for pictures and a quick video! Super simple! Only 11 parts and I assembled with everything snapping together.Not sure about total waterproof, but lid looks like no water can get in and I turned on the sprinklers. If it leaks through the sides in a storm then I'll simply caulk the seems.Says it holds over 500lb on top; I'm 210 and it was very sturdy when I sat on it.This holds all my grilling and smoking accessories, charcoal, and wood; and no longer stored on the back porch but on the side of the house in this awesome box!——For an update, this has been through 2 heavy rains. As Forest Gump would say, I saw it rain sideways. Soon after it stopped raining I checked the charcoal and other items, and everything was perfectly dry." – Evolution (Source: Amazon)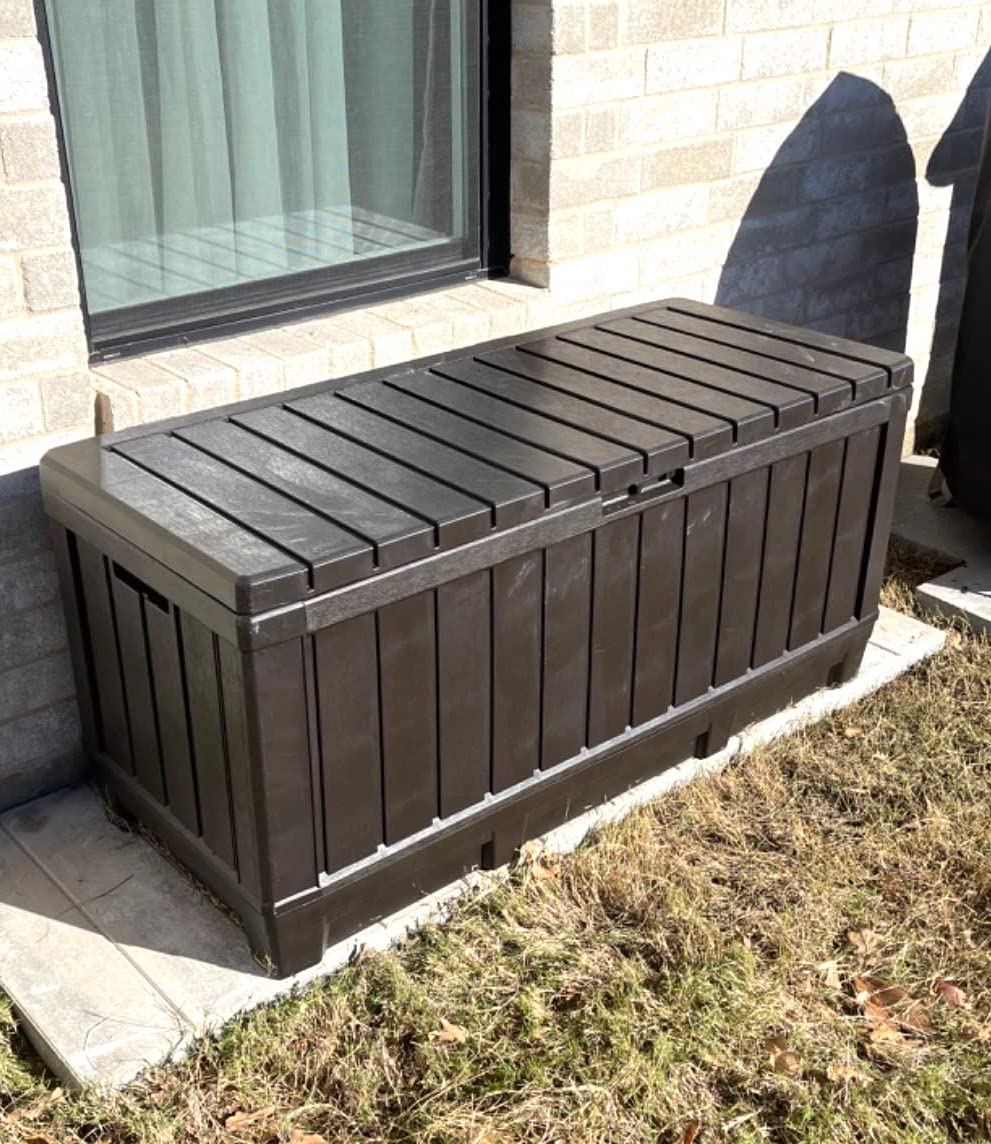 "Our backyard was a mess in the area to the left of the back slider. I had pots, gardening sticks, potting soil, etc,. So I purchased this. It all fit no problem and there's still room for more.We don't get much rain here in California so I can't really speak to being waterproof. The stuff I have in this container doesn't need waterproofing so I'm ok with it the way it is.I'll update if there's any serious issues." – Chevychicky (Source: Amazon)
"Extremely easy to assemble, just snap together the pieces, but make sure you do the walls first, then the bottom. I rushed through without reading the instructions and had to pull it all back apart because the walls need to be done first.I bought cheap replacement doggy door flaps on Amazon and a piece of glass from my local hardware store for a window, which I caulked to seal up the ridges around it. I added foam sheet insulation and dry straw for bedding. I elevated the deck box with a couple of bricks and stuffed straw underneath as an additional insulation. There's enough room inside to fit 3-4 full size cats comfortably.My indoor cats loved playing in it but I haven't seen any outdoor cats go in it yet. One cat checked out the outside but wasn't ready to go inside…… I'm sure when the temps outside drop a little more as we get further into December, somebody will want a warm place to sleep.This project worked out so well the first time that I definitely plan on buying more! 1000%" – Amazon Customer (Source: Amazon)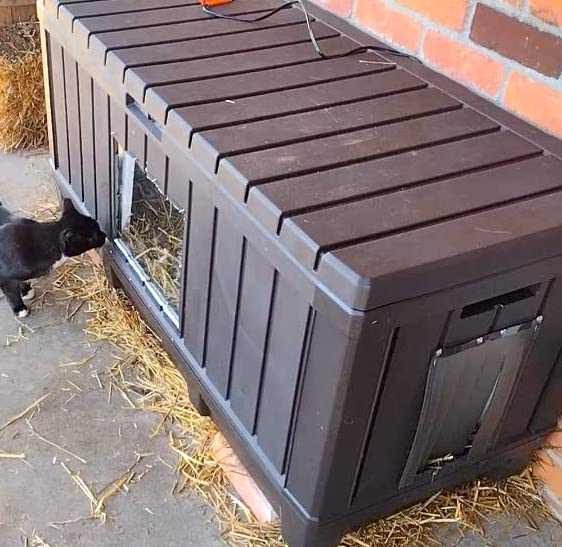 Other Landscaping Ideas
1. Poolside Storage: Use the Keter Kentwood Deck Box beside your pool to store pool toys and cleaning equipment. Not only is it functional, it also adds to the aesthetic appeal of the pool area with its sleek brown design.
2. Patio Corner: Place the deck box in a corner of your patio with some potted plants on top. It can serve as a storage for your outdoor cushions and pillows when not in use and doubles as a surface for your potted plants.
3. Grilling Station: Position your deck box near the grill to store BBQ tools and supplies. It could also function as an additional surface for preparing food and drinks during BBQ parties.
4. Outdoor Cushions and Pillows Storage: Pack away your throw pillows and outdoor cushions in the deck box during harsh weather conditions. Its resin build makes it perfect for outdoor storage as it can withstand different weather conditions.
5. Functional Garden Addition: Place the deck box in your garden area to store gardening tools. Decorate it with few fairy lights and garden gnomes to turn it into an attractive garden feature.
6. Porch Functionality: Use the Keter Kentwood Deck Box on your porch to store seasonal decorations, boots, umbrellas, and other items. Drape a stylish