Design & Decor Ideas from Customers
When it comes to sheds, the possibilities are endless. You can use them for storage, as a workshop, or even as a home office. But no matter what you use your shed for, you want it to look good inside and out. That's where perfect design comes in. There are many different design styles, and deciding which is right for your 8×11 Foot Large Resin Outdoor Shed can take time. 
To help you out, we've compiled a list of popular interior design styles and how they can create a stylish and functional shed. Also, we will give you some out-of-the-box ideas to decorate your house with an outdoor shed. So let's get into it.
Popular Amazon Reviews
"I got those to store our deck furniture in over the winter. My husband has snuck some other items into it in the mean time. It's very nice quality. The double doors will open all the way, has a pin at the top and bottom of one door to keep it shut unless you unlock them.l, came with 2 shelves and the flooring is nice as well. My husband put this together by himself. It took him most of an entire afternoon. He doesn't do things like this often. I was impressed. He did a good job and it looks nice and it is sturdy. Would totally recommend." – Amazon Customer (Source: Amazon)
"Ok so I waited a few months to post so I could post a thorough review. We bought this shed because we downsized and have zero storage for our things inside this house. It arrived without issue and my 19 year old son and his friend assembled the whole thing in one afternoon. We live in Florida and within a month we were under hurricane warnings. We just poured cement into 4 holes and secured some tie down hooks in them ( see pics). Then we used rope to hold it down during 2 hurricanes . The thing never leaked or moved at all. This was worth every penny." – Sometimes I Shop (Source: Amazon)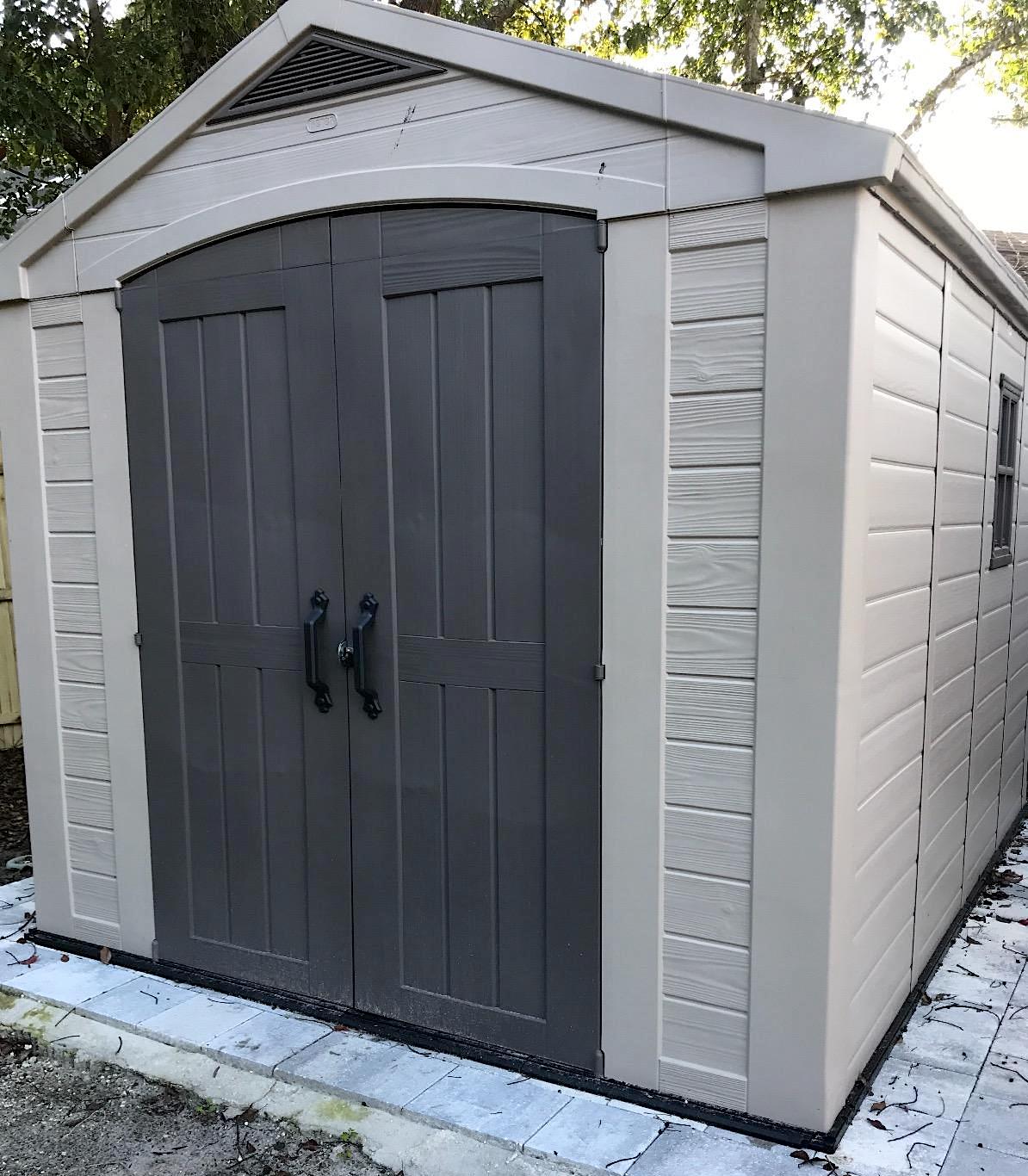 "Awesome product!! Good bang for your buck!! Just make sure you have someone that is a handyman close by. For the most part pretty straight forward installation." – hugh519 (Source: Amazon)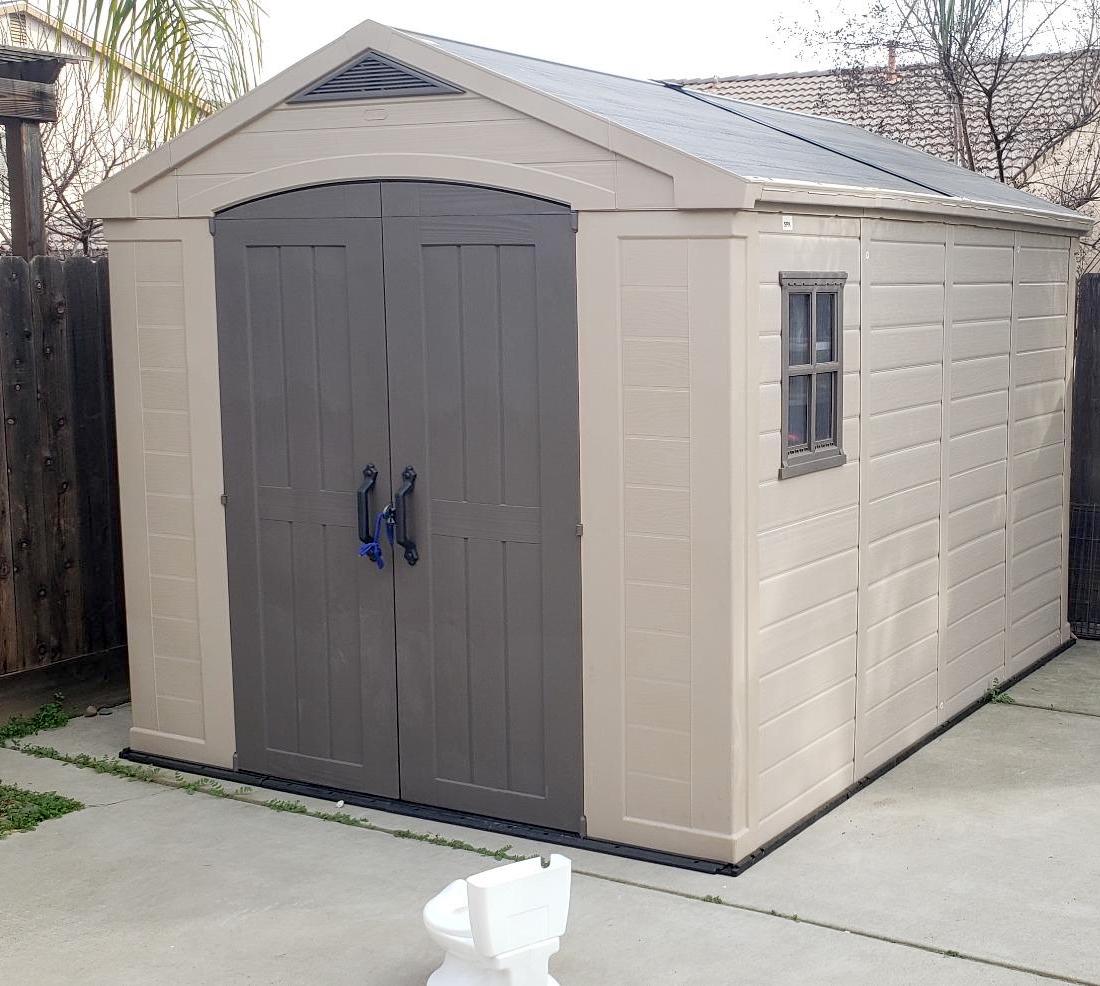 "bought this from Costco as they had it on sale for 999.99 and free shipping. I think these reviews are mixed together for all sizes but I purchased the 8 x 11. once we got the base built, it wasn't too difficult to build but you DEFINITELY need more than 1 person. Anyone that said they did it themselves is clearly lying. I would recommend 3 people, 1 directing and 2 building. took about 4 hours or so to build but would have been quicker if we didn't have to build one of the metal parts that was missing.also you need your own screws to screw down the base to your platform. overall good quality for the price but wish the roof was thicker as I'm worried about snow sitting on top and sagging it… will update my review if things go south in the winter." – Stephen (Source: Amazon)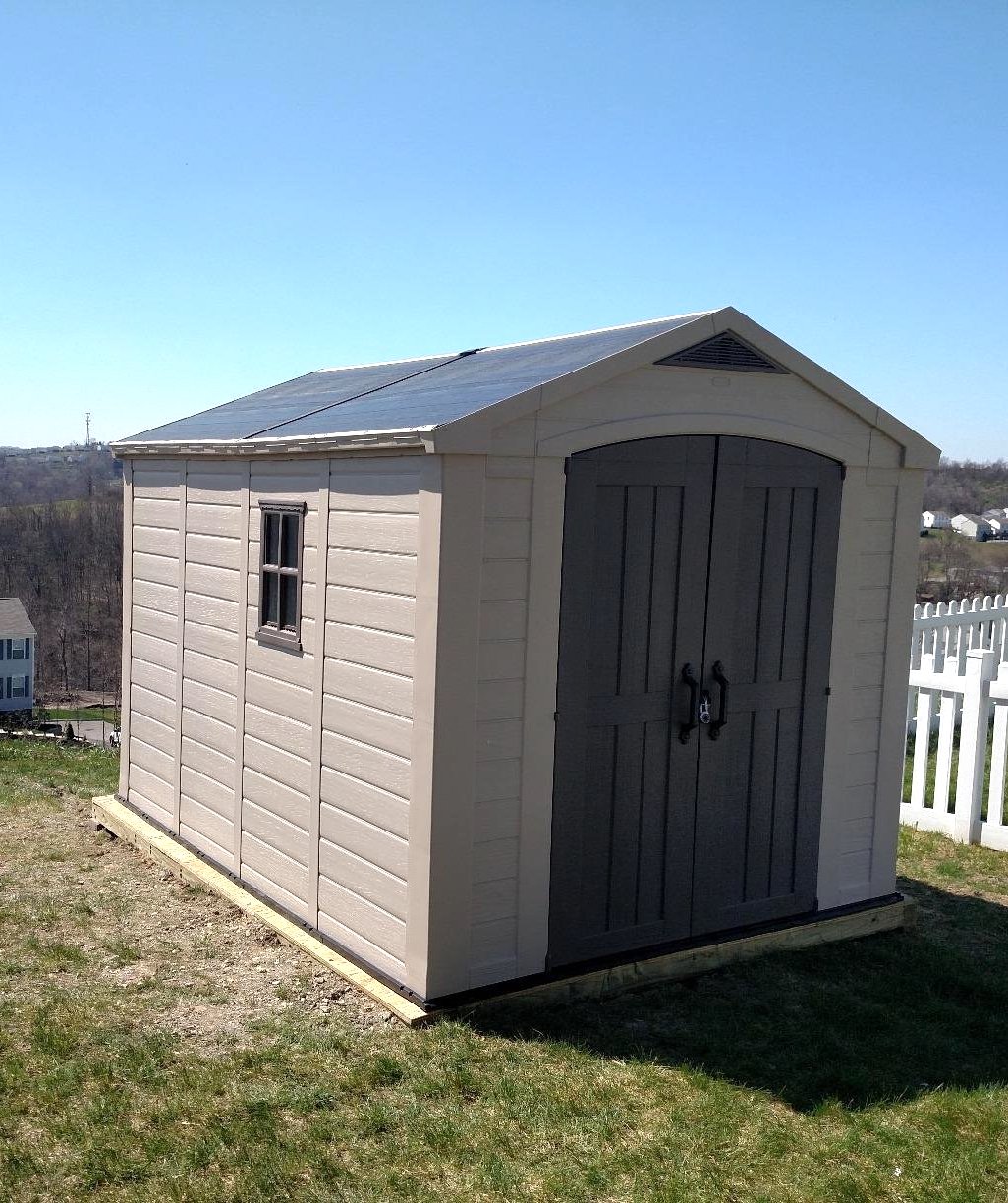 Design Styles that Blend Well With Outdoor sheds
Minimalist – A minimalist shed is all about simplicity and functionality. The focus is on clean lines and uncluttered surfaces. Furnishings are typically sleek and modern, and colors are kept to a minimum. You can't go wrong with this design if you want a shed that looks great and is simple to maintain.
Rustic – A rustic shed is a perfect place to get away from it all. This style is all about cozy comfort and relaxation. Furnishings are typically made of natural wood and stone, and colors are earthy and muted. Those who want their shed to double as a relaxing getaway will appreciate this design.
Eclectic – An eclectic shed mixes different styles, colors, and textures. This style is best for those of you who want their shed to be unique and personal. Furnishings can be anything from antique to modern, and colors can be bold or subdued.
Traditional – A traditional shed is all about classic elegance. Furnishings are typically formal, and features like fireplaces are common. Colors are usually muted, and neutral tones like white, cream, and gray predominate. This design is for you if you want your shed to look timeless.
Coastal – A coastal shed evokes the feeling of being at the beach without ever having to leave home. Furnishings are typically casual and made of natural materials like wicker or rattan. Colors are usually light and airy, with blues, greens, and whites being common choices. This design is ideal for anyone who wants to bring the laid-back spirit of summer vacation to their shed.
Ideas to Decorate Your House with an 8×11 Foot Large Resin Outdoor Shed
Here are some top-notch ideas to get you started with decorating your house with an Outdoor shed.
Use it as a Mudroom – If you live in an area with chilled winters, an outdoor shed can be the perfect place to store all of your winter gear—out of the way and out of the house. Give your shed a mudroom makeover by adding hooks for coats and scarves, a bench for taking off boots, and some shelving for storing hats and gloves. You can add a small rug to help keep dirt and mud from being tracked into your home.
Create an Outdoor Office – If you work from home, an outdoor office can give you the peace you need to focus on your work. Set up a desk and chair in your shed and some shelves for storing files and books. Hang some art on the walls, or add a potted plant to help spruce up the space. And if you're worried about staying connected, don't be—you can easily run an extension cord from your house to power any electronics you need.
Transform it into a Playhouse – Do you have young kids who love to play pretend? If so, they'll adore having their playhouse in the backyard. Paint the shed in their favorite colors, add fun decorations like stickers or wall decals, and fill it with age-appropriate toys and games. They'll love spending time in their special space—and you'll love having them out of the house!