Design & Decor Ideas from Customers
What is a garden shed, and why do you need to have one in your backyard? A garden shed is a small structure that is frequently positioned behind or far from a house. It has a wide range of uses as a sturdy, completely enclosed structure. You can use it to store garden equipment, repair and maintenance tools, garbage disposal bins, and many more. 
One of the things you should think about if you're planning a backyard renovation is a storage area where you can keep your outdoor furniture, seasonal decorations, power tools, and lawn and garden tools and equipment. A movable storage shed is ideal for clearing up and helping conceal the clutter in your backyard. This kind of storage shed is an excellent outdoor storage option for your yard or garden because it perfectly combines modern elegance and functionality. Whether you live in a conventional or modern home, you can include this in your backyard. It can be positioned close to a garden or a suitable distance from a patio deck or swimming pool. Another location where you can conveniently place the shed is near your garage. It can be an extra storage space to store your garage tools and other supplies.
Popular Amazon Reviews
"Nice Shed had to order twice realizing first order was out of Texas and the state was having heavy weather problems. Reordered from California distributor and Delivery was successful.Instructions were clear and assembled mostly alone. I have a few loose/not fully seated spots ('my bad I did not have competent help) overall Great Shed. Works in HOA since it looks good and not obtrusive how ever I have used landscape to help Cover new builds and original owner 20 + yrs" – Kate (Source: Amazon)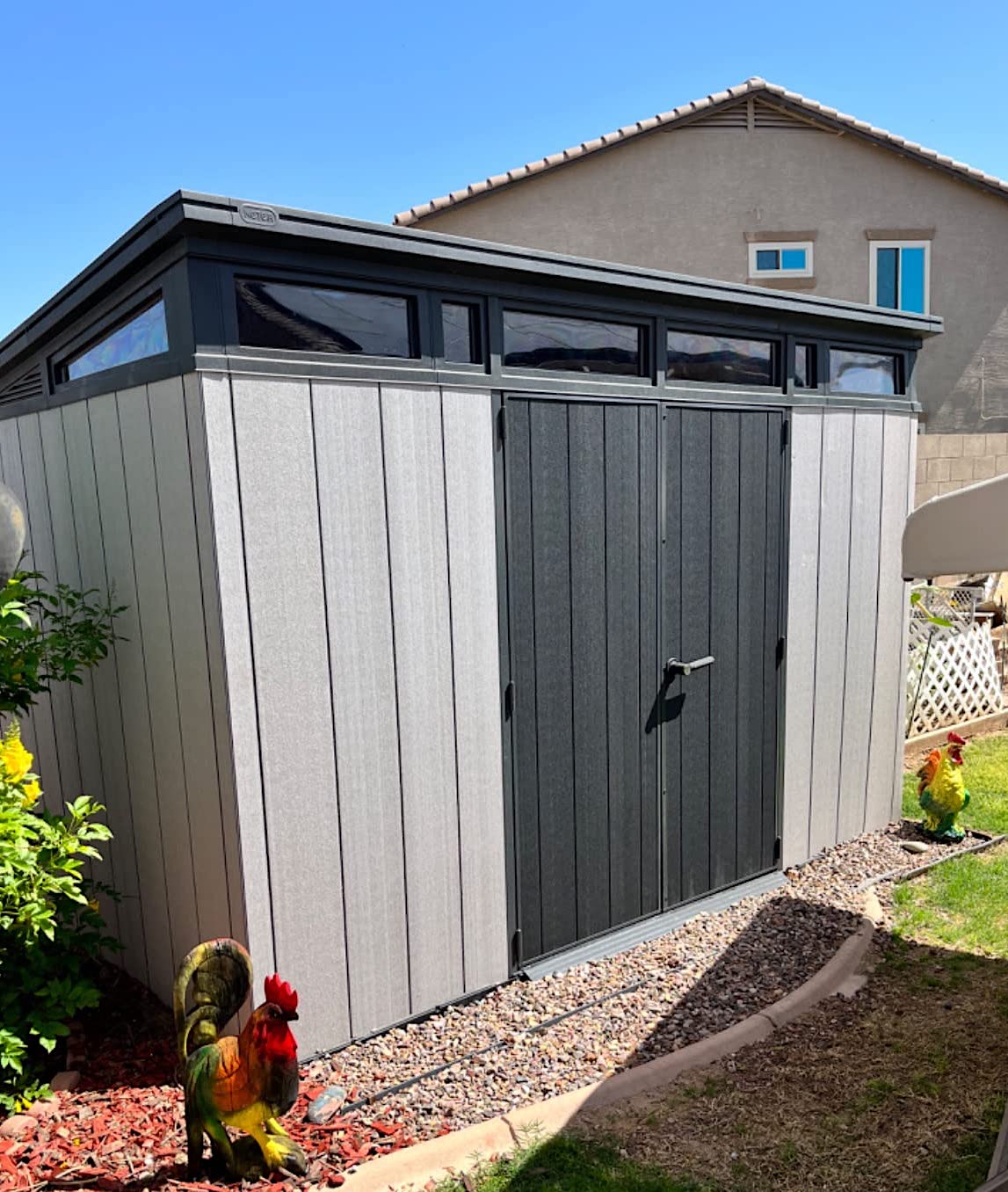 "Looks great, should cost a little less, but looks are what you pay for, i built a level simple wooden base, the instructions are good, only pictures though, roof can be confusing, the small ribs are the top of the roof, i did it alone but roof would be easier with 2, make sure too leave a little room around it for small ladder." – Shailesh (Source: Amazon)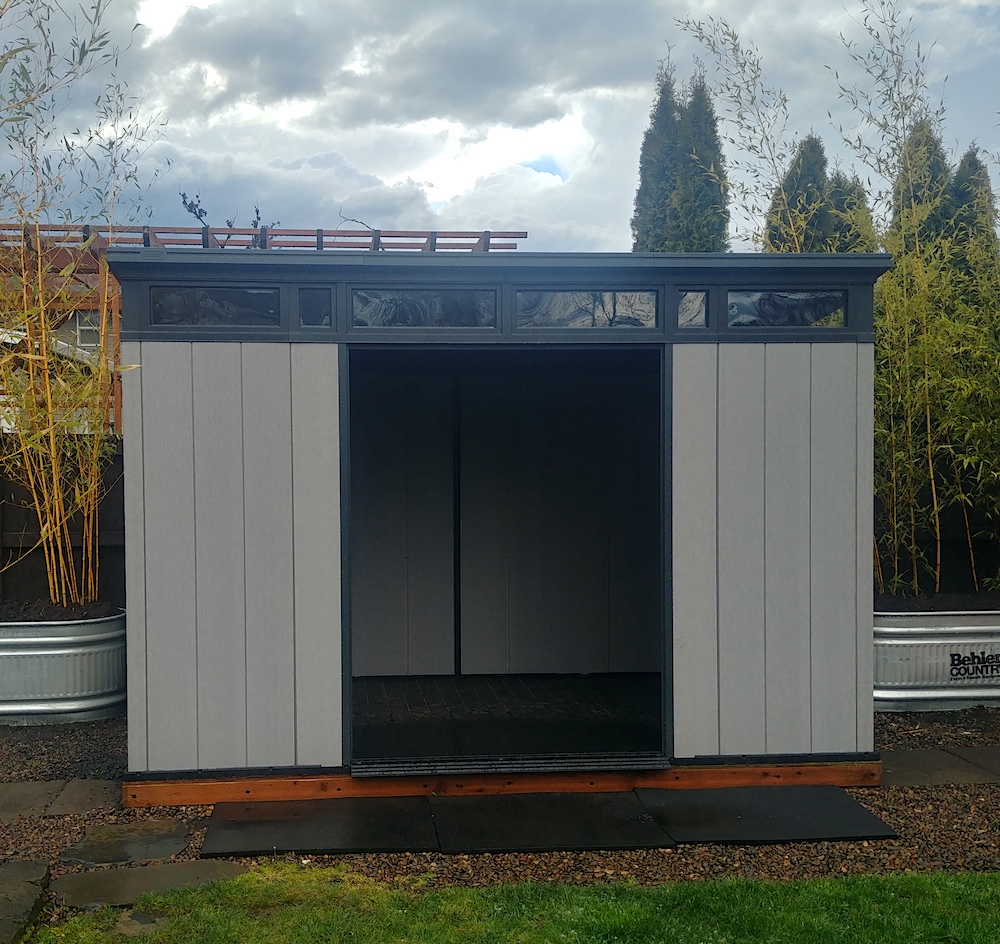 "We LOVE our shed. We took our time over 2-days to assemble it (2-person job with no real building skills). Very easy to do and is a quality shed. I'd definitely recommend taking time to thoroughly read instructions – especially with the windows – if you do this, assembly will be easy. Prepping the gravel pad took longer! Lol!" – J.L. Lim (Source: Amazon)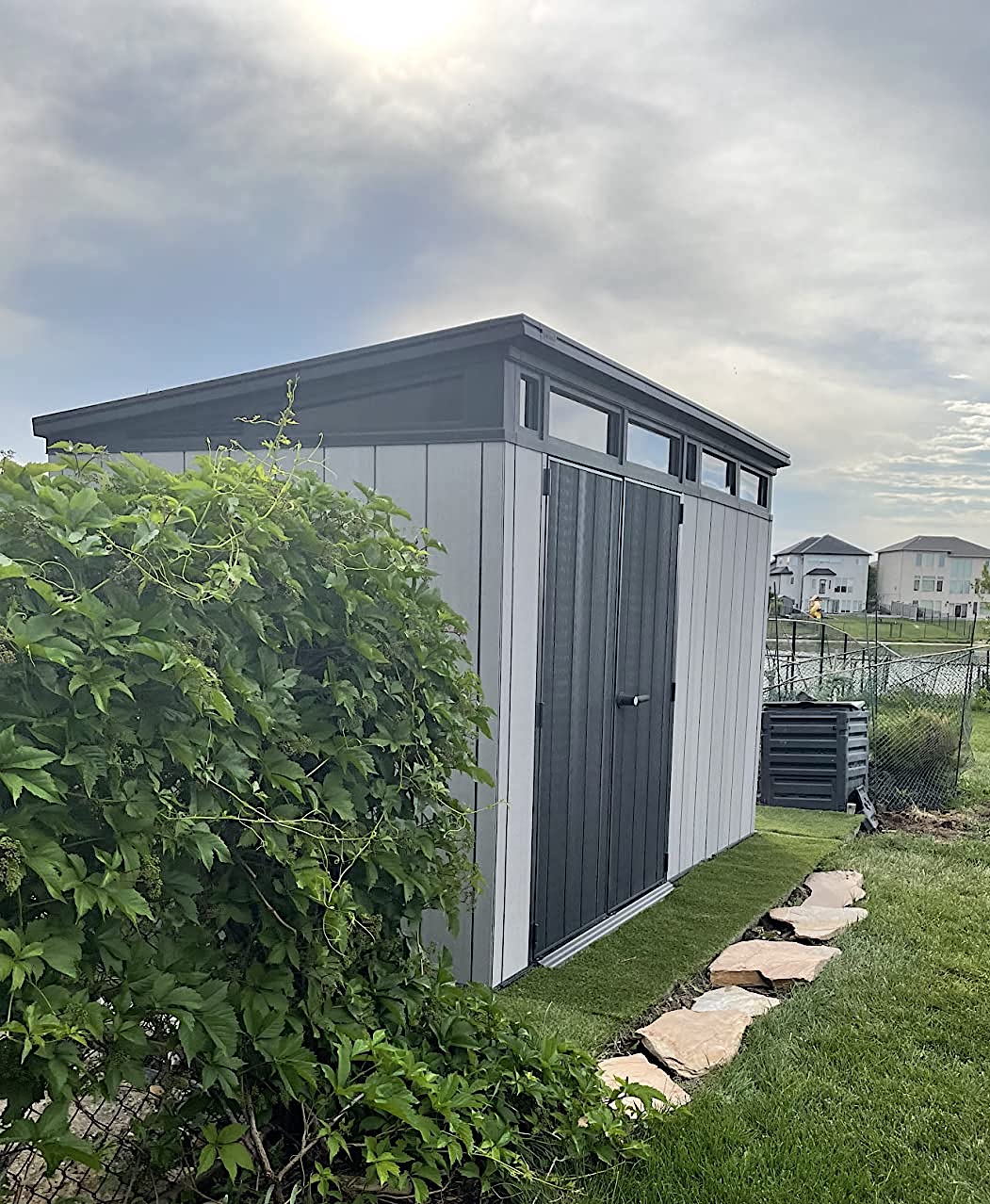 "I'm a visual learner so the photo only instructions worked just fine. I assembled it by myself and took every bit of 5 hours. Don't try to skip ahead if something doesn't seem right.. I thought about it several times and I'm glad I didn't. Every little detail of this shed is well thought out. I'm very impressed on how things aligned. Molded components can be tricky if they aren't of quality, but this shed definitely is. It's a bit pricey but was still cheaper than building something from scratch. I would definitely recommend this product and would buy it again." – JPR (Source: Amazon)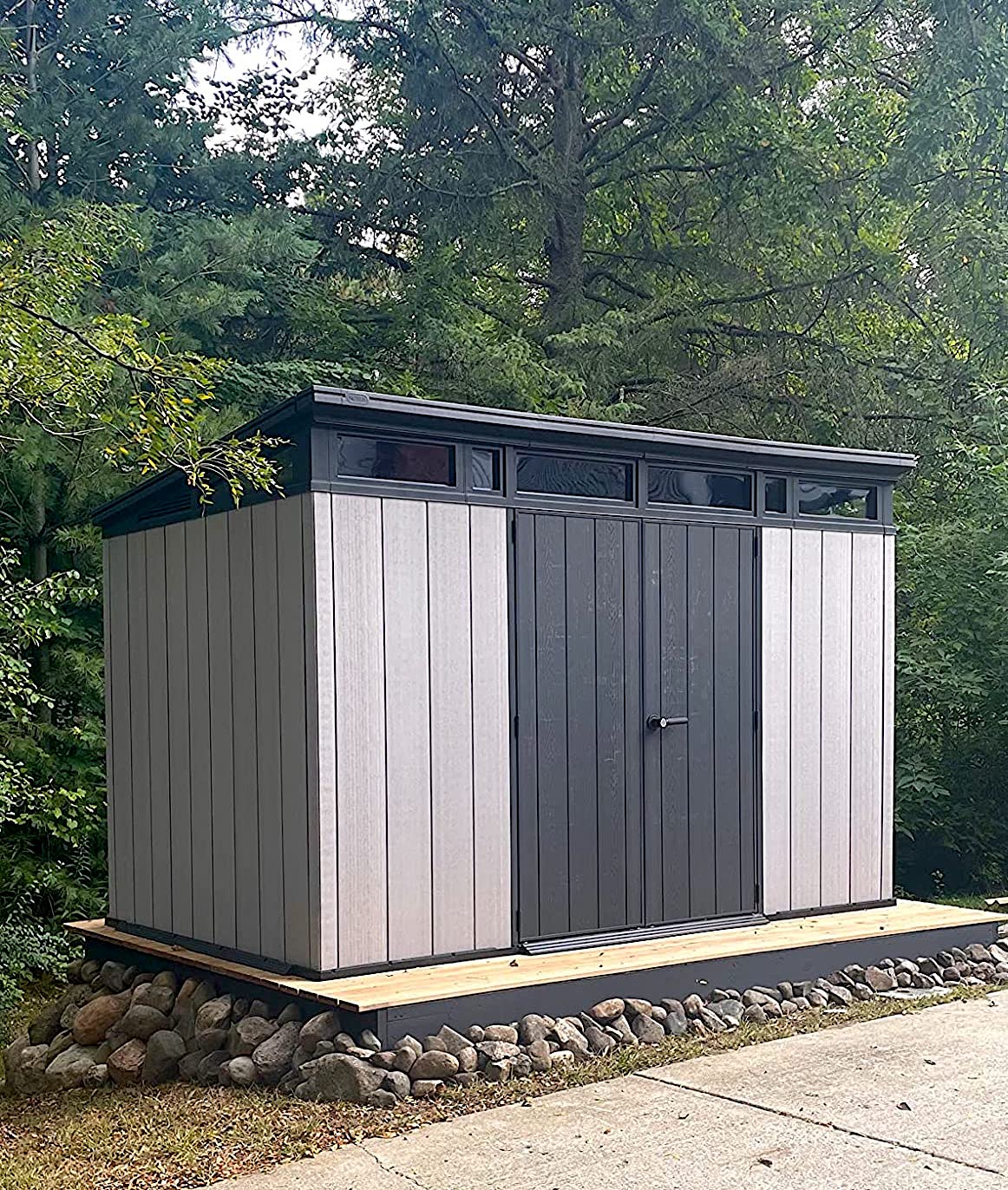 Things to Consider Before Your Shed Purchase
If you are planning to buy a storage shed, there are a few things you need to consider. First is the size. Make sure that the shed you purchase has the right size suitable to the available space in your yard. It should also be big enough to house all your tools and equipment that needs storage space. Another thing to consider is the quality and durability of the shed. Is it built with strong, durable materials that can withstand harsh weather? Keep in mind that your shed will be placed outside.
Therefore, it is vulnerable to harsh weather and other risks. If you plan to use it to store machinery and maintenance equipment, you must ensure that it is secure, strong, and dependable. Lastly, consider the style. Of course, it is important to have an attractive curb appeal. Most of the time, your backyard or outdoor space is your house's biggest asset. You can create a garden or an outdoor lounge area to entertain your guests. It would be distracting and a bit unattractive to have a huge shed positioned in the center of your garden. But this won't be a problem if you properly choose the style and size of the shed. Opt for a shed with a minimal and clean aesthetic that can blend well with modern and contemporary houses. These kinds of sheds are versatile, and you wouldn't have a hard time pairing them with the rest of your backyard décor.
A modest shed in the garden is just charming and amusing in its simplicity. Your backyard might become a little bit more special just by having it, possibly with a few flowers planted around it. Moreover, it can add value to your home, and you'll enjoy a cleaner, more organized, and more pleasant garden in your yard.