Design & Decor Ideas from Customers
"Best standing desk ever. Beautiful, easy to assemble, and so silent that my cat stays sleeping when I switch it from sitting to standing (while he's laying on the desk)" – T (Source: Amazon)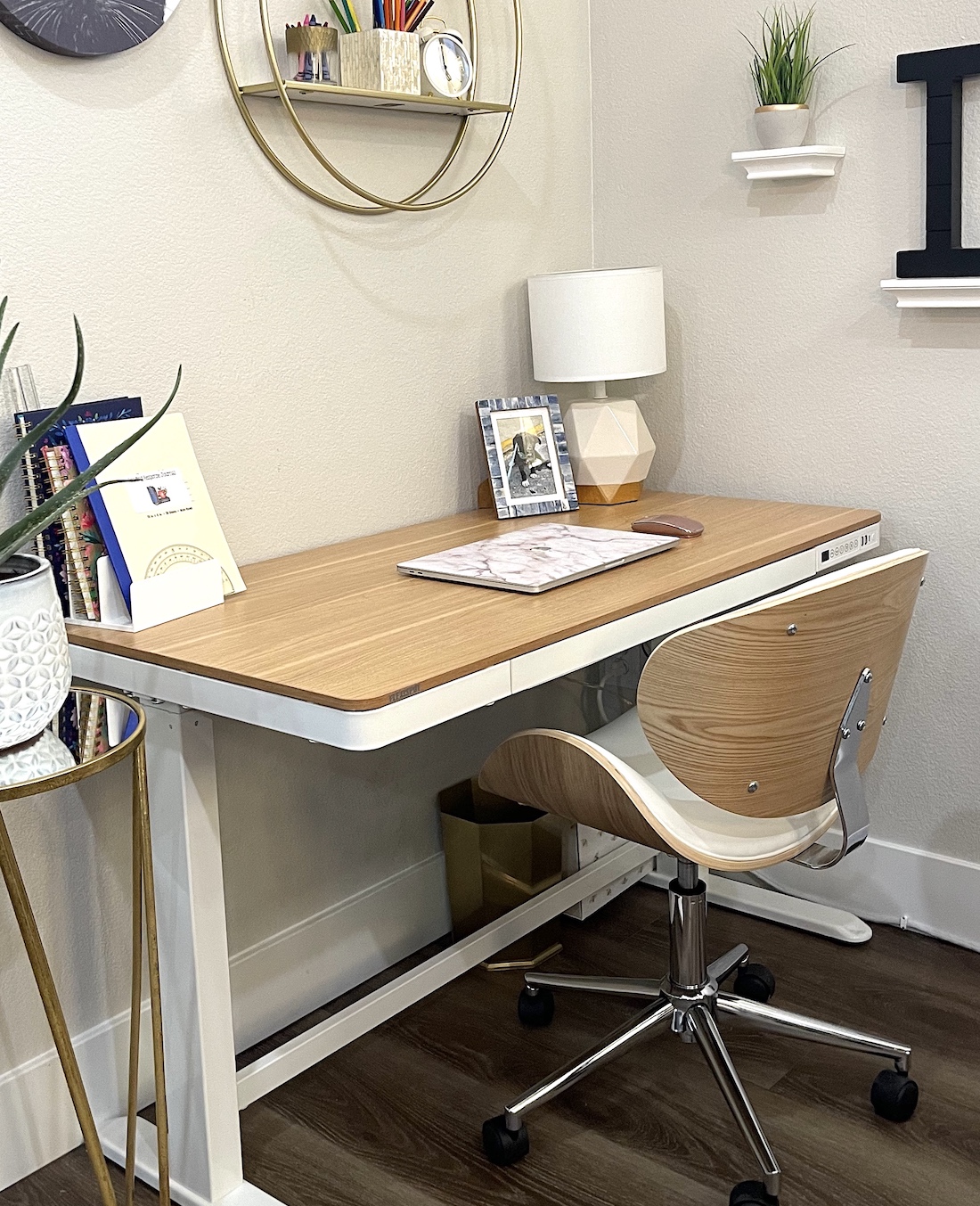 "This desk has been a life changer with working from home! I was having so much back and neck pain and the versatility to be able to sit and stand when needed is amazing. It is so well made, easy to assemble and great quality. The wood finish adds so much warmth to our space. The USB ports are so handy too! This is definitely the best of the best when it comes to stand up desks at such a great cost!!" – Samantha Kaminski (Source: Amazon)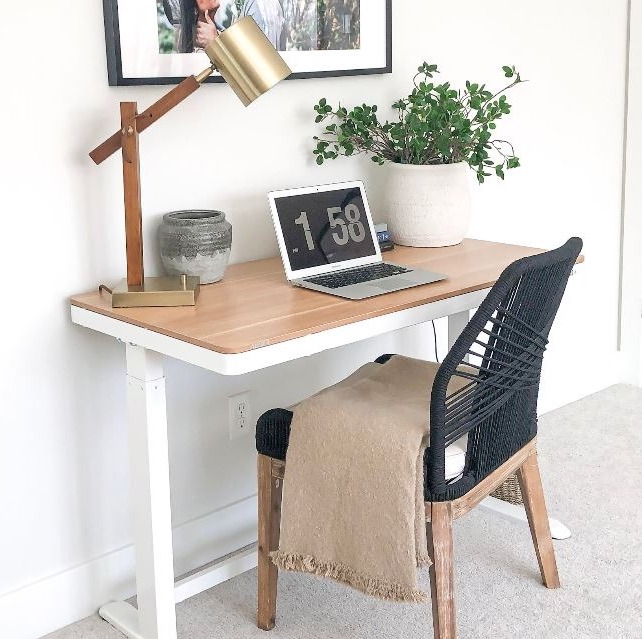 "This desk is everything you need. I already had another flexispot desk and loved it so much that decided to get one for my husband. This one is a newer model, with usb portal and drawer. I love it. It took me less than 5 minutes to put it together. It's simply 3 easy steps and you are done. The quality that flexispot offers is just outstanding and super fast shipping too. I would totally recommend this desk to anyone. Thank you flexispot!" – Camila P. (Source: Amazon)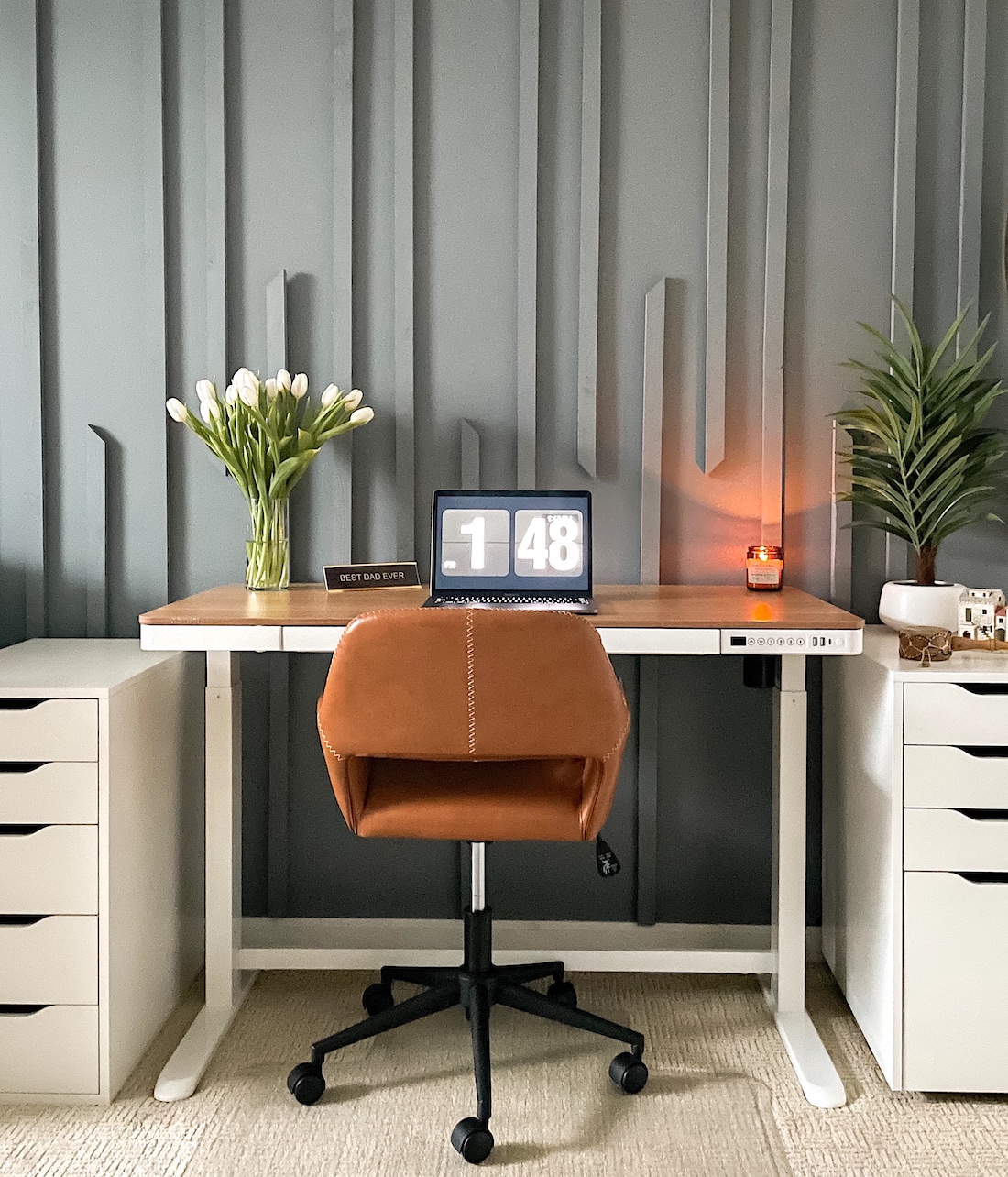 "I've been wanting to get a sit/stand desk for a while and this one was perfect for my home office! It was easy to put together, stylish (love the minimal design & bamboo like top), solid and especially love the smoothness of the way it goes up and down. There are settings you can set up to your liking. The extra usb connections are helpful too. It's not often a table this sleek has any storage, so was happy to find one with a drawer to store all my essentials as well. Highly recommend it!" – Jessica Uzarraga (Source: Amazon)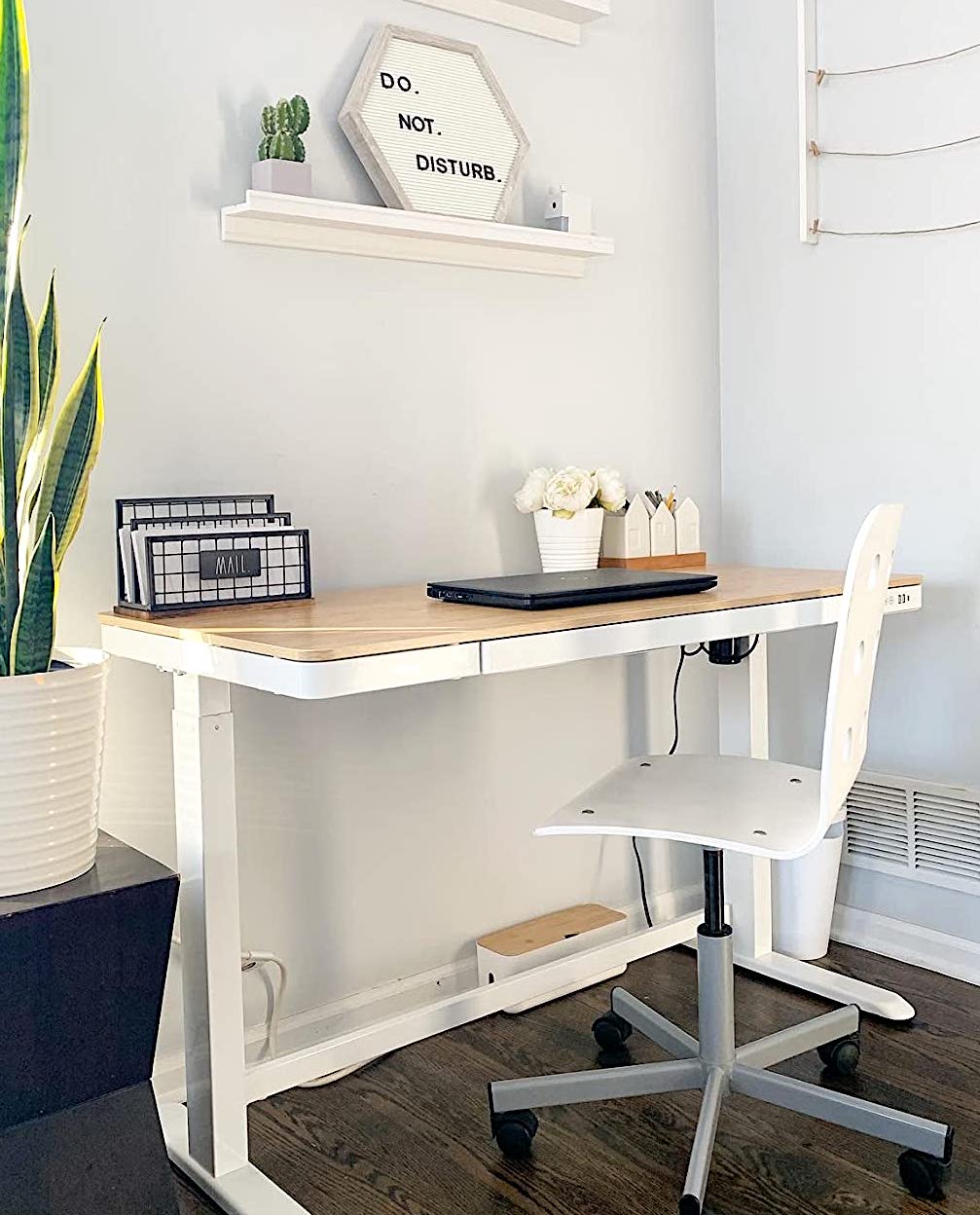 "Once again, Flexispot does it again with this wonderful adjustable desk! Who ever is in charge with the engineering and design for this company is doing a wonderful job. This desk comes 95% assembled already. All you need to do is screw in 8 bolts and that is it! All the materials needed for assembly is provided. I put this desk together by myself in just 10 minutes.Let's talk about the controls on this desk. There are four height presets you can customize, each are numbered 1-4. It moves from the lowest position to its max height very fast. The speed is fast but not to fast where my computer wants to fall over. It will display bot and top when it reaches its lowest and tallest height to let the user know.It's currently holding up my 27" iMac, keyboard, mouse, a table lamp, and pens and whatnot and it still feels very sturdy.I am very happy with this desk. Take my word for it, this is one of the best adjustable desk out there" – Khoa Le (Source: Amazon)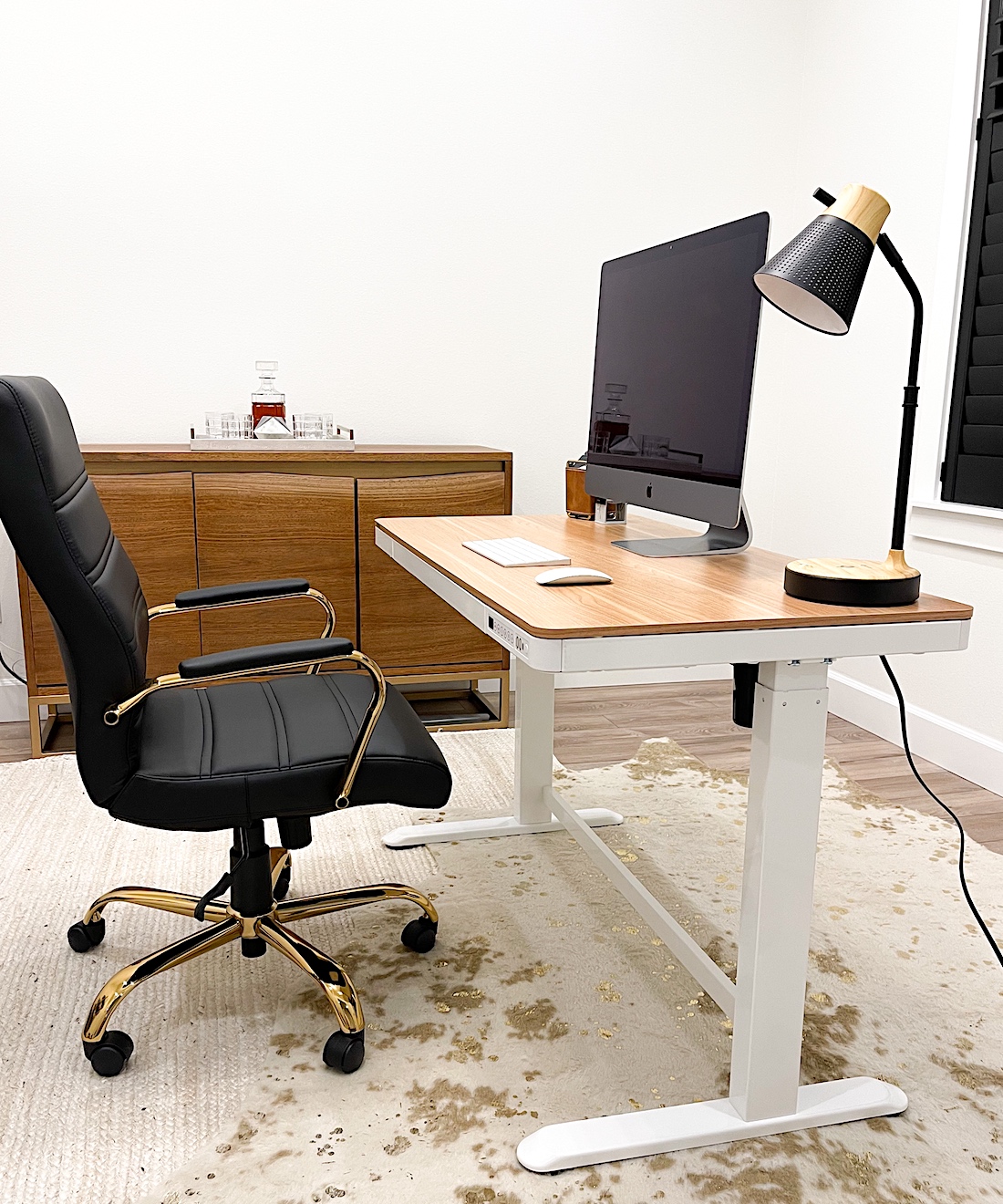 "I looooovvveeee my new desk! My fiancé and I have been looking for a motorized standing desk since we're working from home. lo and behold we found one!I was surprised to see that the desk was mostly assembled for you and all you had to do was add in the desk legs and plug that baby in an outlet!Few features that I love!•the motor is super quiet•desk is clean, sleek and sturdy with high grade steel. It's aesthetically beautiful and goes well with my home decorations•4 different height options or you can manually adjust the height of the desk•the drawer is pretty spacious and I can hide all my pens and papers*built in usb is a huge win for me!If you're still on the fence about buying the desk… DONT! Buy it now! :)" – MN (Source: Amazon)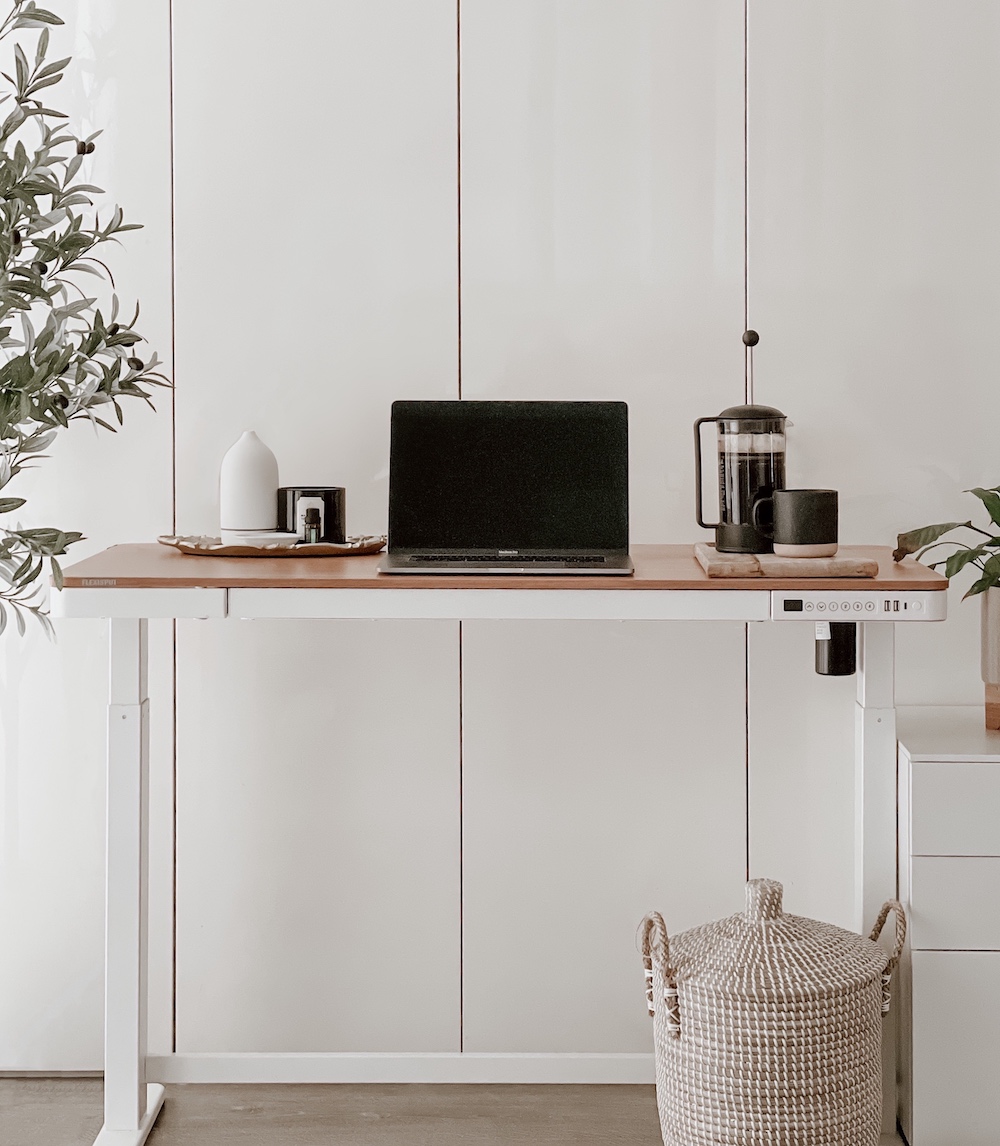 Other Decor Ideas
Minimalist Workspace: Keep the desk clean and clutter-free with a minimalist approach. Choose a white or light-colored tabletop to create a fresh and airy feel. Pair it with white or light gray walls, a sleek office chair, and minimal desk accessories.
Rustic Industrial Vibes: Embrace a rustic industrial style by combining the maple top with a white frame. Add some metal accents such as a wire storage basket or metal desk accessories. Incorporate wooden shelves or a bookcase with raw, distressed finishes for a cohesive look.
Scandinavian Inspired: Create a Scandinavian-inspired workspace by pairing the maple top with a white frame. Add a cozy touch with a faux fur rug under the desk and a plush seat cushion for the chair. Accessorize with pops of pastel colors like light blue or soft pink in the form of desk organizers or wall art.
Boho Chic: Incorporate natural elements and bohemian touches for a relaxed and eclectic vibe. Pair the desk with a bamboo or rattan chair, and add some greenery with potted plants or hanging planters. Enhance the boho style with macrame wall hangings or woven baskets for storage.
Monochromatic Sophistication: Create a sleek and sophisticated workspace with a monochromatic color scheme. Choose a black or dark gray frame to contrast with the maple top. Accessorize with black desk organizers, a black task lamp, and a black office chair for a cohesive and stylish look.
Pop of Color: If you want to add some excitement to your workspace, choose a bold colored desk chair or add colorful desk accessories. Consider a bright red or blue chair to create an eye-catching contrast against the maple and white furniture.