Design & Decor Ideas from Customers
"This bench is exactly what I was hoping for. It's gorgeous, comfortable and sturdy. It didn't take me long to put it together (with no second adult, though the directions specify that you need one) and I'm thrilled with it." – Woody (Source: Amazon)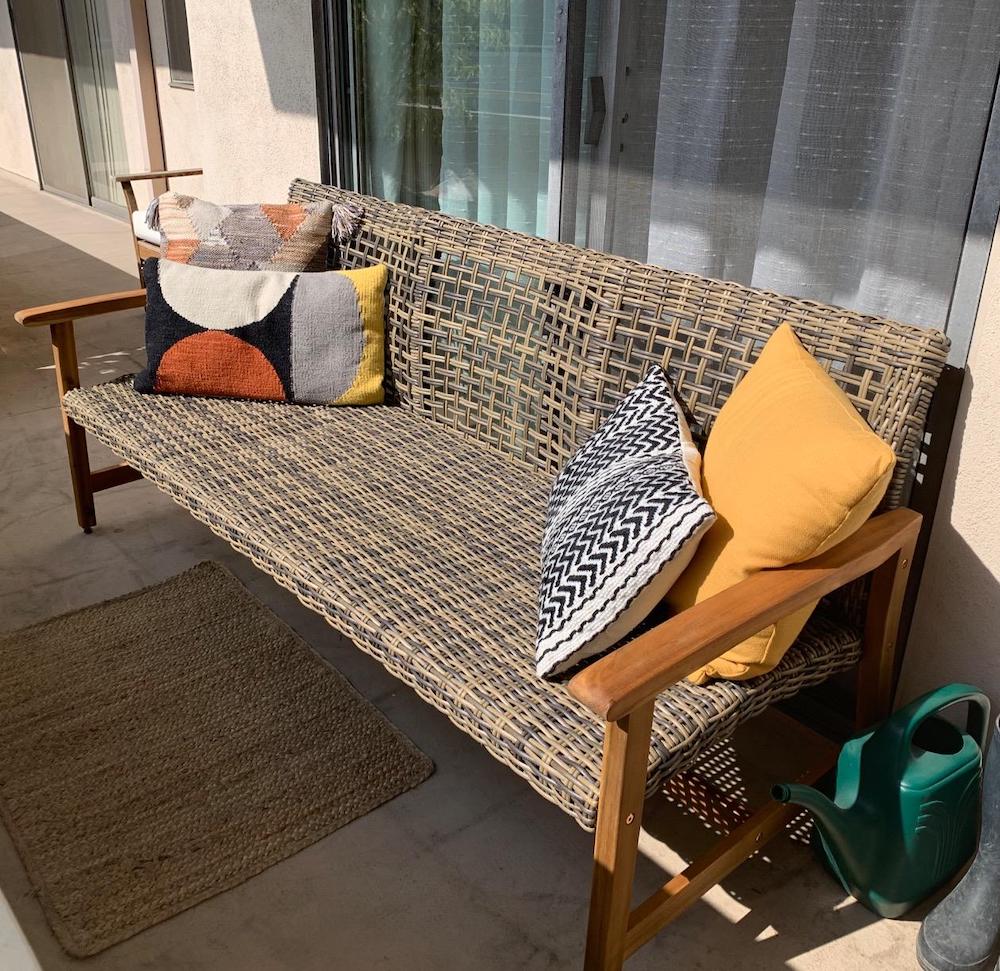 "Love the sturdy construction. It's built better than I expected! This same sofa sales for $1500 on Frontgate!" – Marley (Source: Amazon)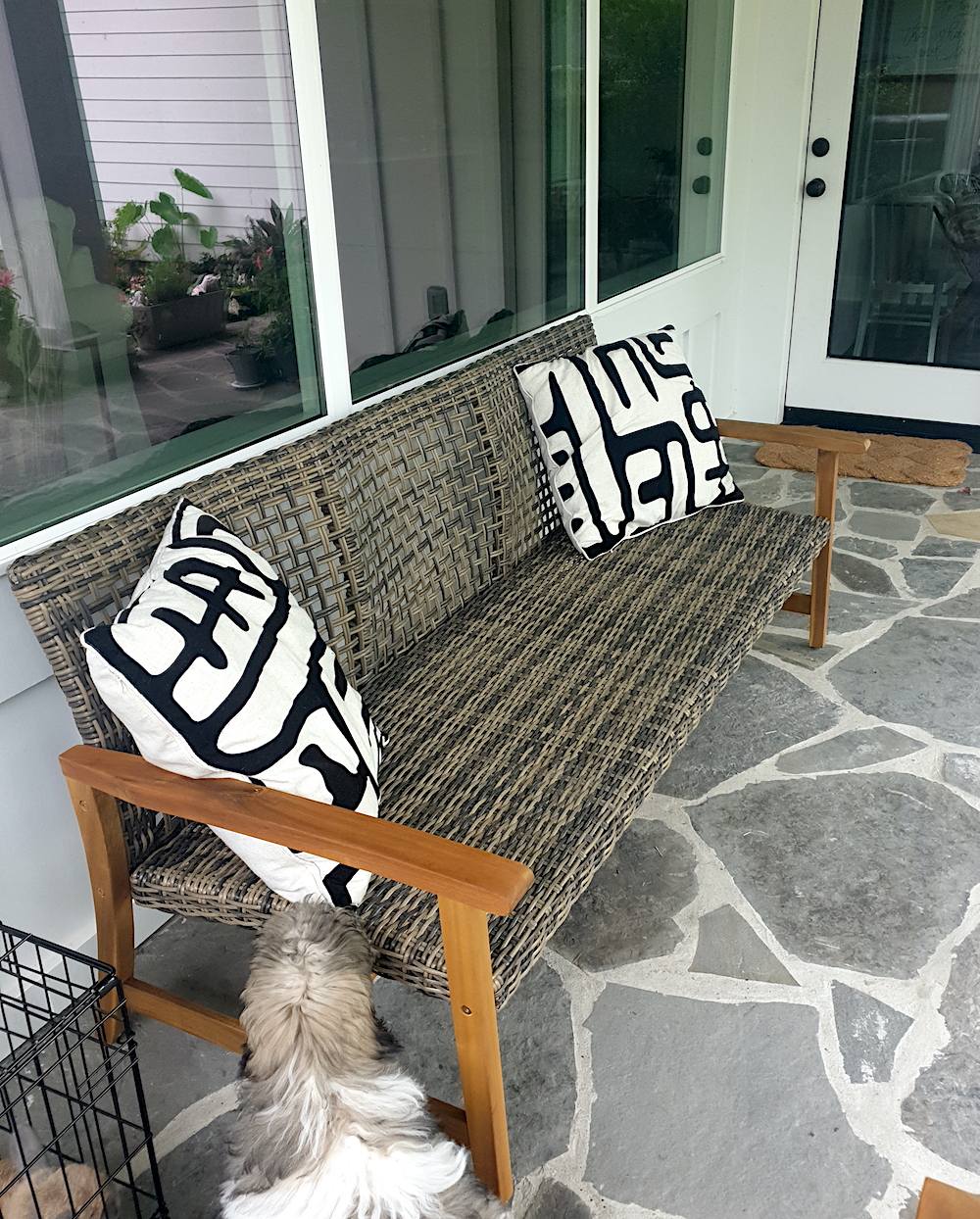 "Needed two people for assembly, but my 17 year old put it together in about 30 minutes with an extra pair of hands just to hold pieces for a moment. Comfortable seat, is fairly low to the ground. Have had it for about a month. Looks great." – Connie K. (Source: Amazon)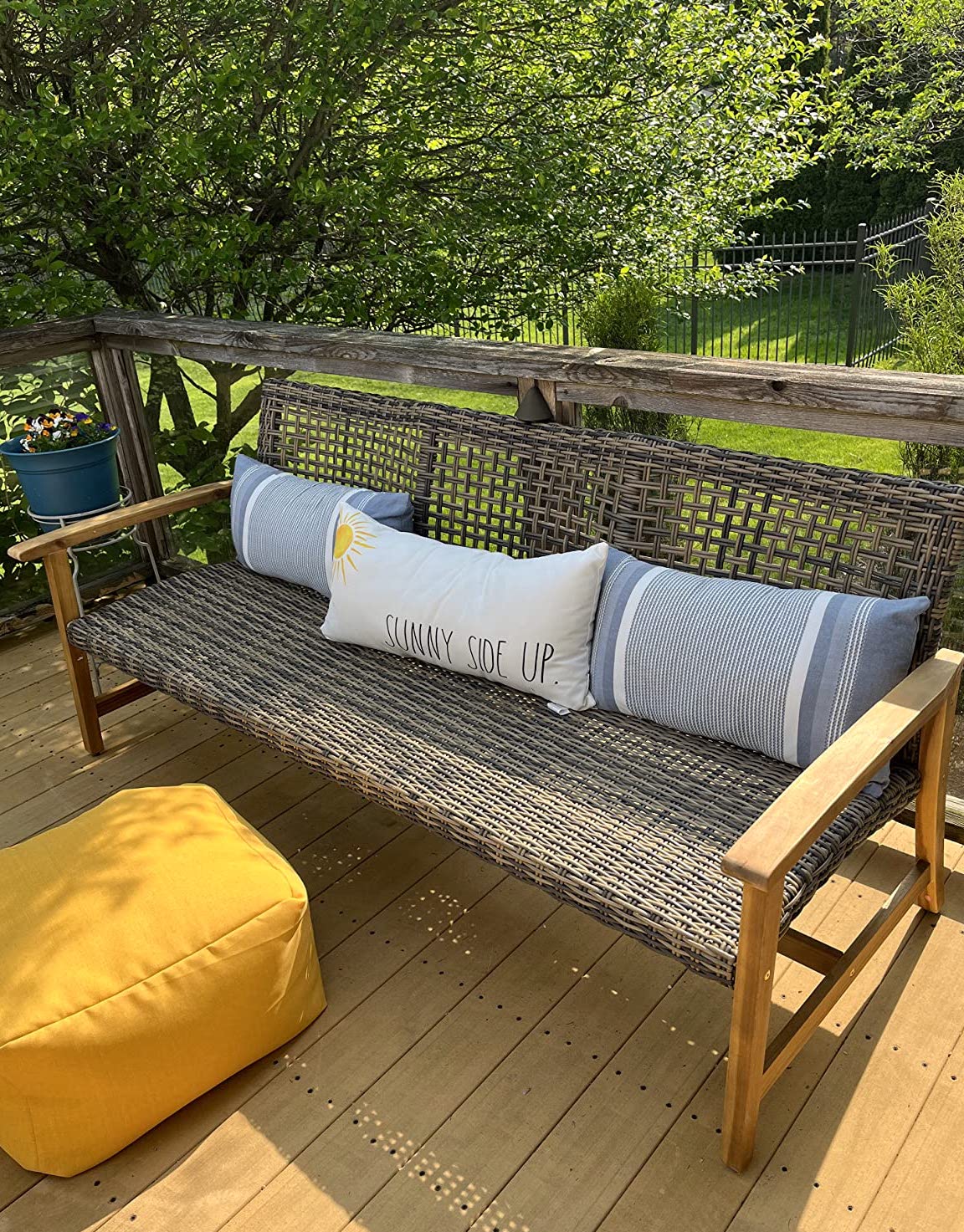 "We got the whole set for our front patio set up. It was pretty simple to put together, and looks so good! I like this because it'll be easy to keep clean, and I will be adding more pillows for decoration changes. Definitely recommend!" – Rebecca Stephenson (Source: Amazon)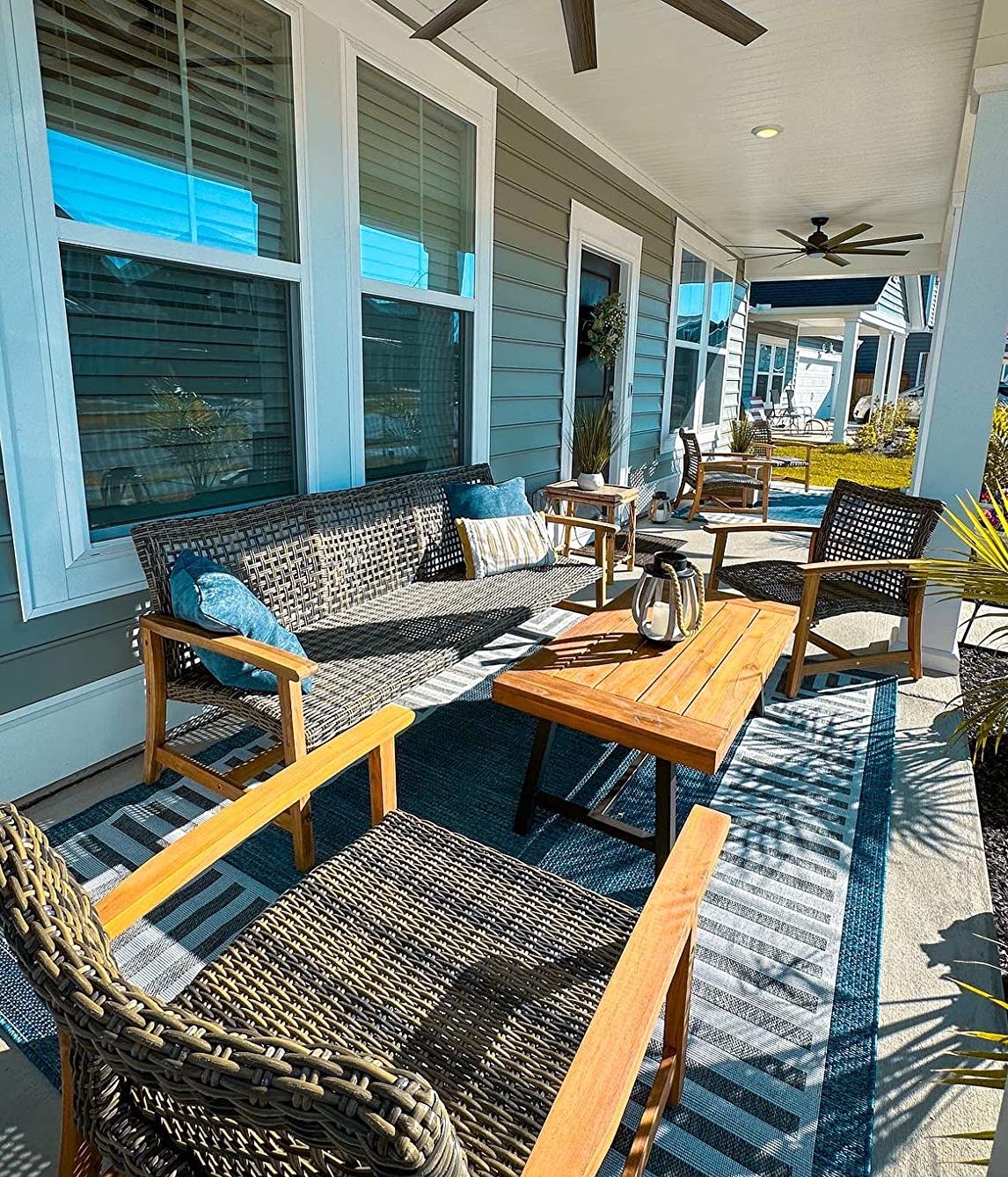 "I love it. So trendy and cute, very durable and strong. Took less than 30 minutes to assemble the sofa on my own. Chairs took a bit longer. I'm so happy with it." – Laurie (Source: Amazon)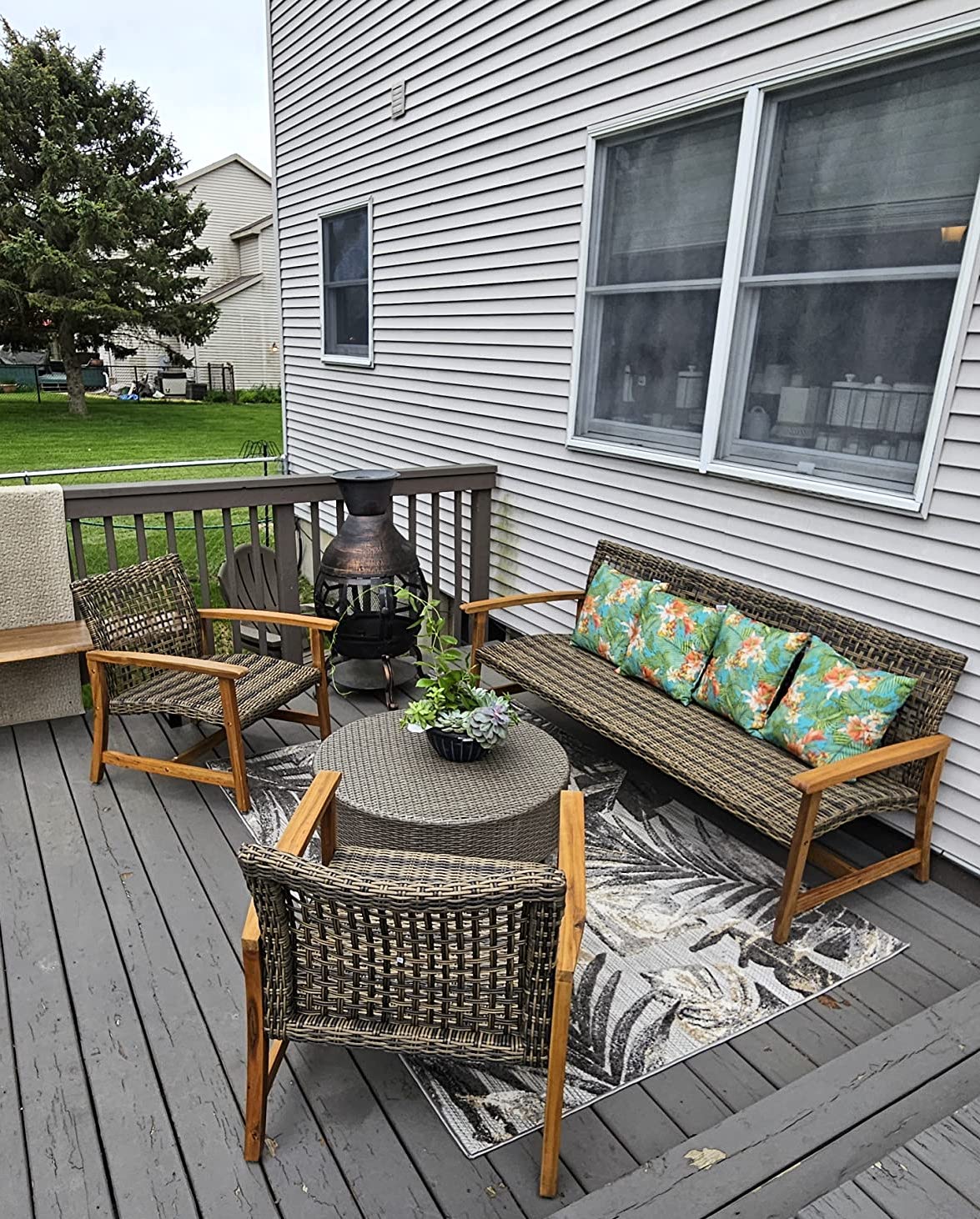 Other Decor Ideas
Under a Gazebo or Pergola: Place the sofa inside a gazebo or under a pergola for a cozy, intimate setting. This would be perfect for relaxing during the day or night. An outdoor rug and a few throw pillows would enhance the look.
Garden Landscape: Incorporate it into a garden setting. It could be positioned in a quiet corner of the garden with thriving plants and flowers, creating an area for rest, relaxation and nature watching. Consider constructing a path leading up to the sofa.
Complement with Lighting: Illuminate the sofa with warm outdoor string lights or lanterns for a soothing, inviting atmosphere suitable for evening get-togethers.
Match Accessories: Match the sofa with other natural materials like wicker, rattan, and wood. Add cushions and throw blankets in natural or muted tones to complement the gray wicker and natural stained finish of the sofa for a consistent design aesthetic.
Coastal Look: For a coastal look, place the sofa in a sand-covered area, add some shells and marine-themed accessories. Blue and white striped cushions.
Rustic Look: Employ the rustic charm of the acacia wood by pairing Christopher Knight Home Marcia Outdoor Wood Sofa with rustic elements like a wooden barrel repurposed as a coffee table, galvanized metal accents, and vintage farmhouse decor for a charming country look.
Modern Minimalist: Create a modern minimalist outdoor space by utilizing the gray color and clean lines of the sofa. Pair it with a sleek, geometric metal coffee table, monochrome cushions, and keep the decor to a minimum for a streamlined appearance.
Greenhouse Setting: Assuming you have a spacious greenhouse, the sofa could be a great addition for seating. Not only would you be surrounded by lush plants and flowers, but the gray wicker and acacia wood would complement the greenery perfectly.
Corner Space: Create a cozy corner in your backyard to read, relax or nap. Consider adding a small garden fountain nearby for a tranquil ambience. Add an outdoor rug, some side tables, fairy lights, and an appropriately sized parasol or a garden canopy for shade.