Design & Decor Ideas from Customers
Whether you use the Esme bench as a stand-alone seating or in combination with a complementary table, it is undoubtedly a fantastic option for your patio. The elegant acacia wood craftsmanship and geometric base of the dominating design offer flair and appeal. This bench is distinctive due to its blend of the farmhouse, modern, and rustic elements. With the aid of this stylish bench, transform your outside area into the magnificently contemporary hideaway you deserve.
Popular Amazon Reviews
"I love this thing so much, I've bought it for two different houses. Everyone comments on how nice it is. It takes about 2 mins to assemble, and the overall quality is pretty good. I've never really sat on it because I always just look at it. Worth the price." – Robasolo (Source: Amazon)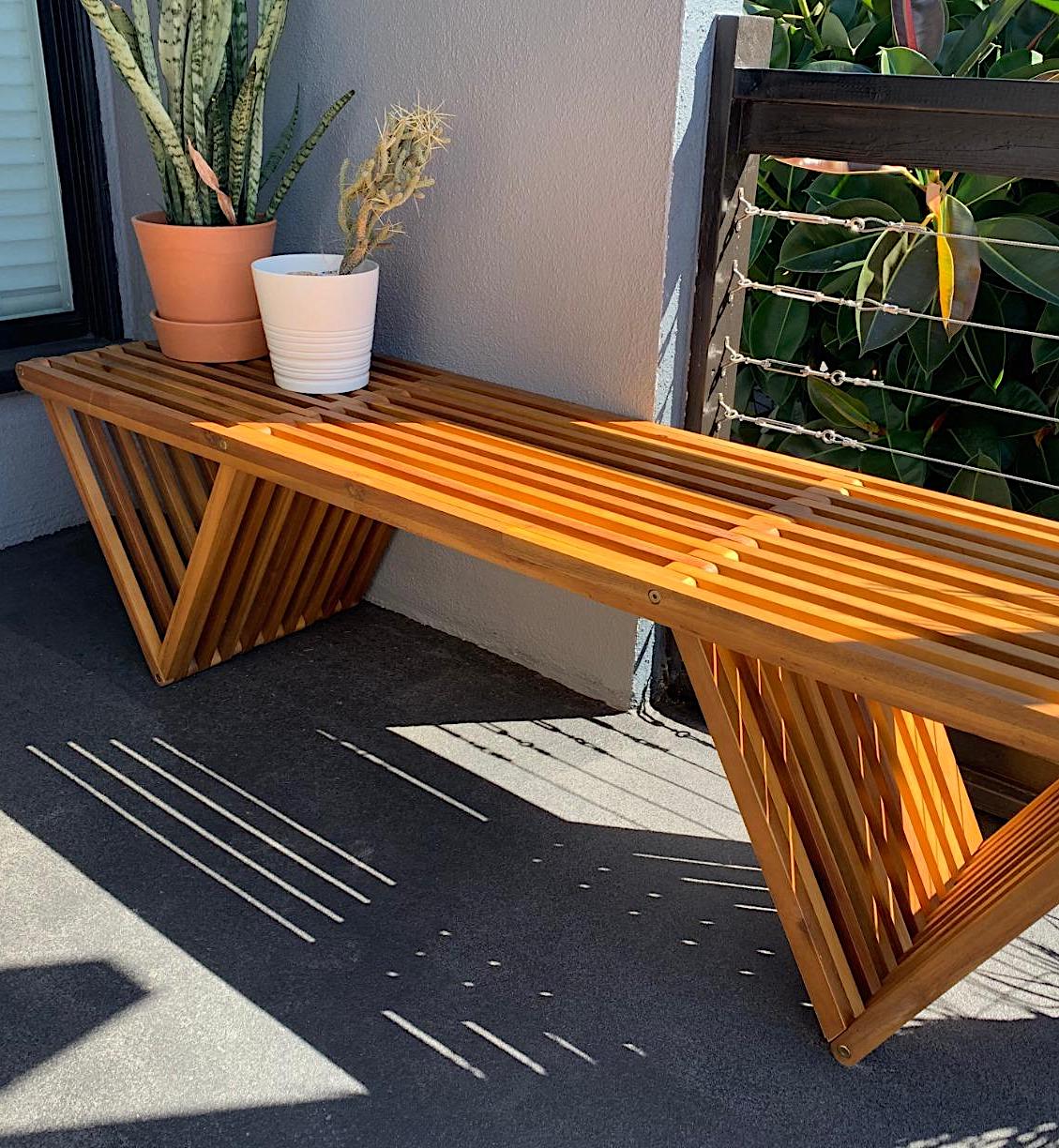 "Great design and very sturdy. Don't sit on the very end or it might tip! But overall, very pleased with this purchase. Just gorgeous!" – Joshua S. (Source: Amazon)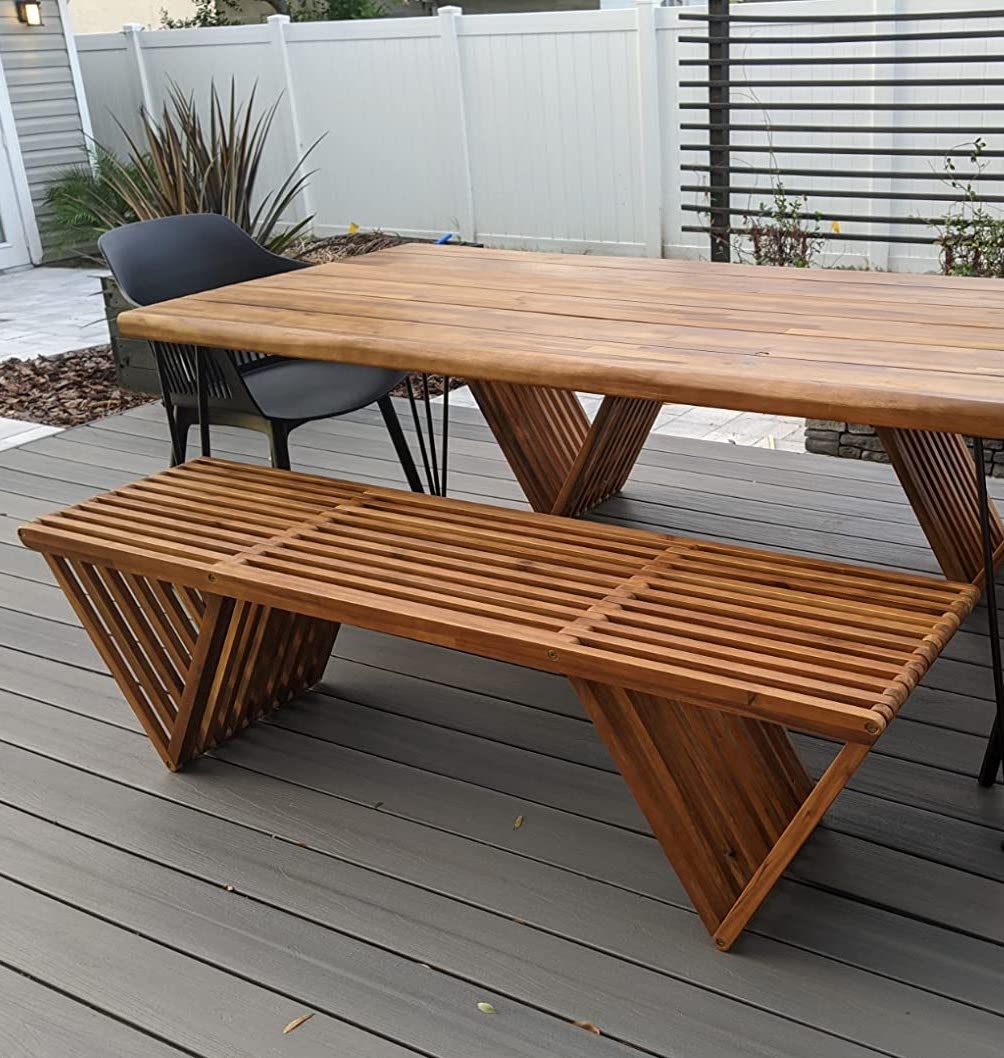 "I had been in search of a bench for a while, one that could actually be placed by a large bay window. I had considered buying a Nelson bench but opted for this one, mainly for the price, but also since this was more unusual, but still had similar MCM design elements. Boy, am I more than happy, just ecstatic by the quality and styling of this one! It's beyond gorgeous and I decided to use it, instead, as a coffee table!" – Hazel U-S (Source: Amazon)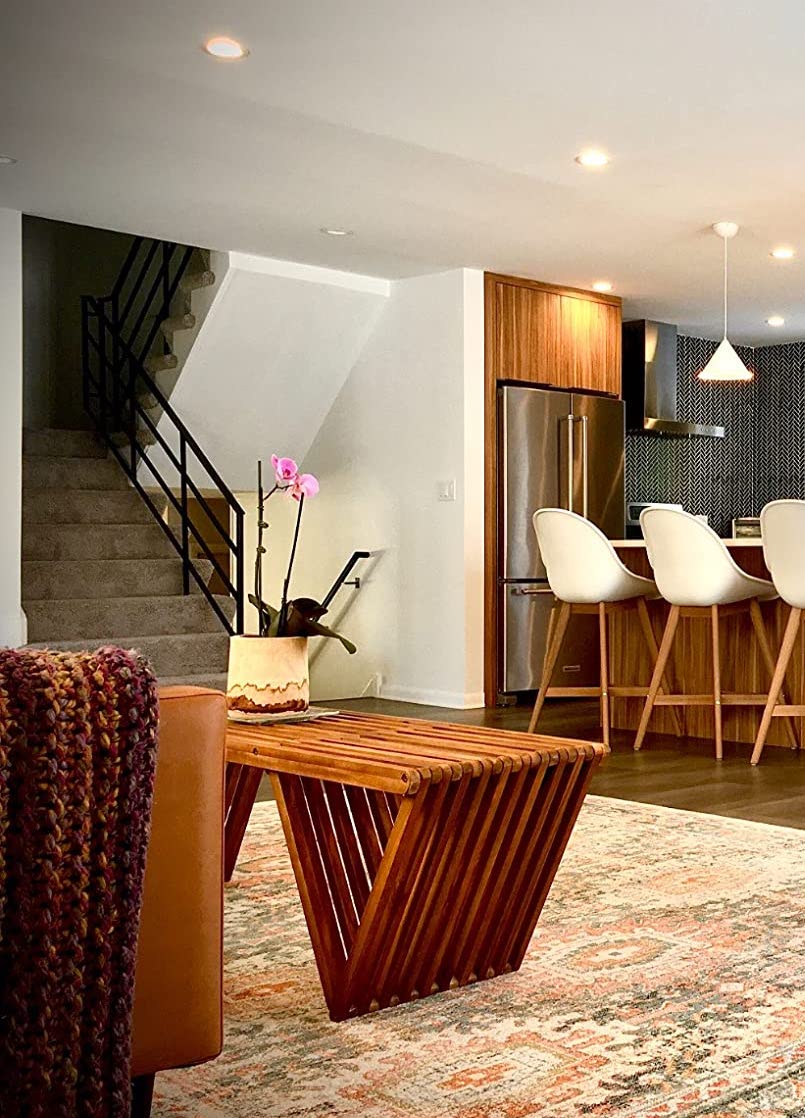 "Love these benches. They are very sturdy and super easy to put together. Plus they just look cool" – Tonyvr (Source: Amazon)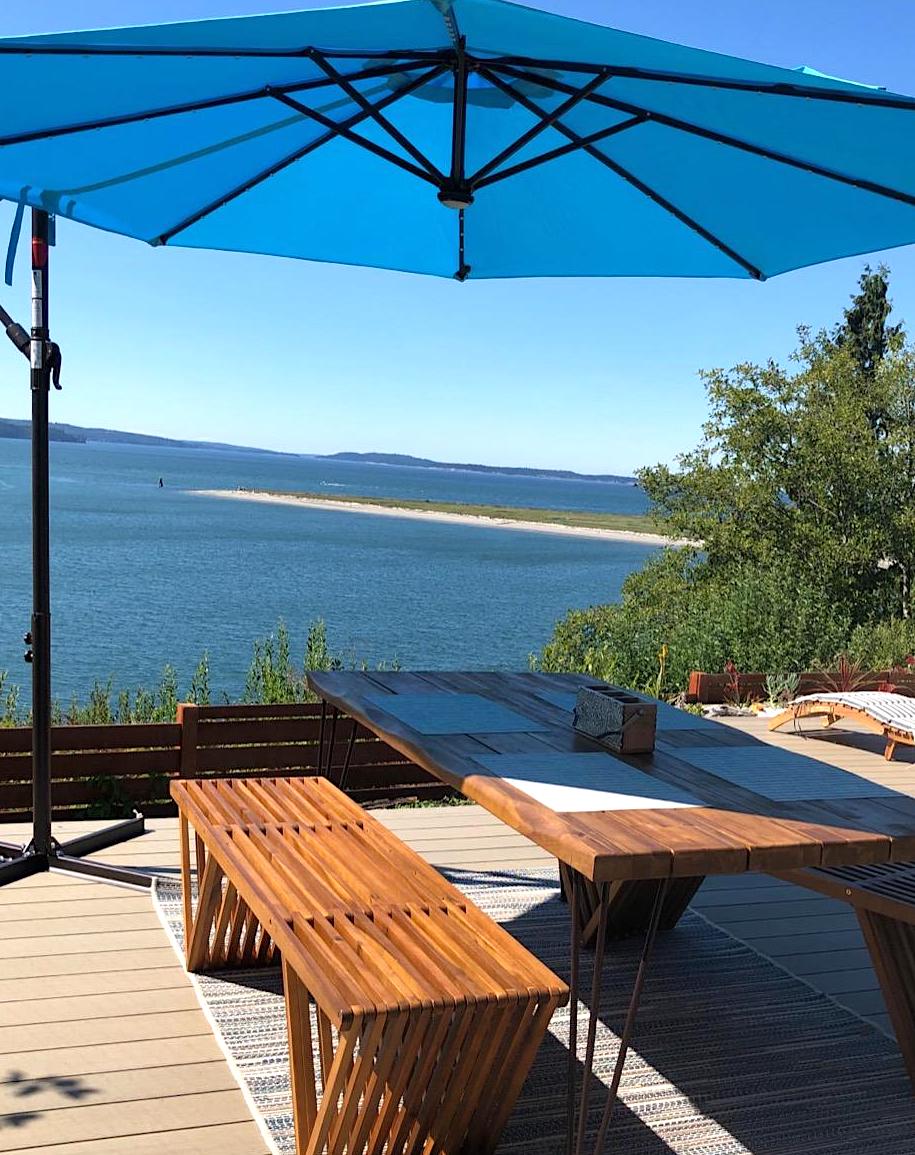 "I had my eye on this bench for so long because I loved it so much. Perfect for my entryway. I love the Modern / Boho look. I have it indoors bringing the outside in. I love home decor and this piece rocks style!!" – Solemate (Source: Amazon)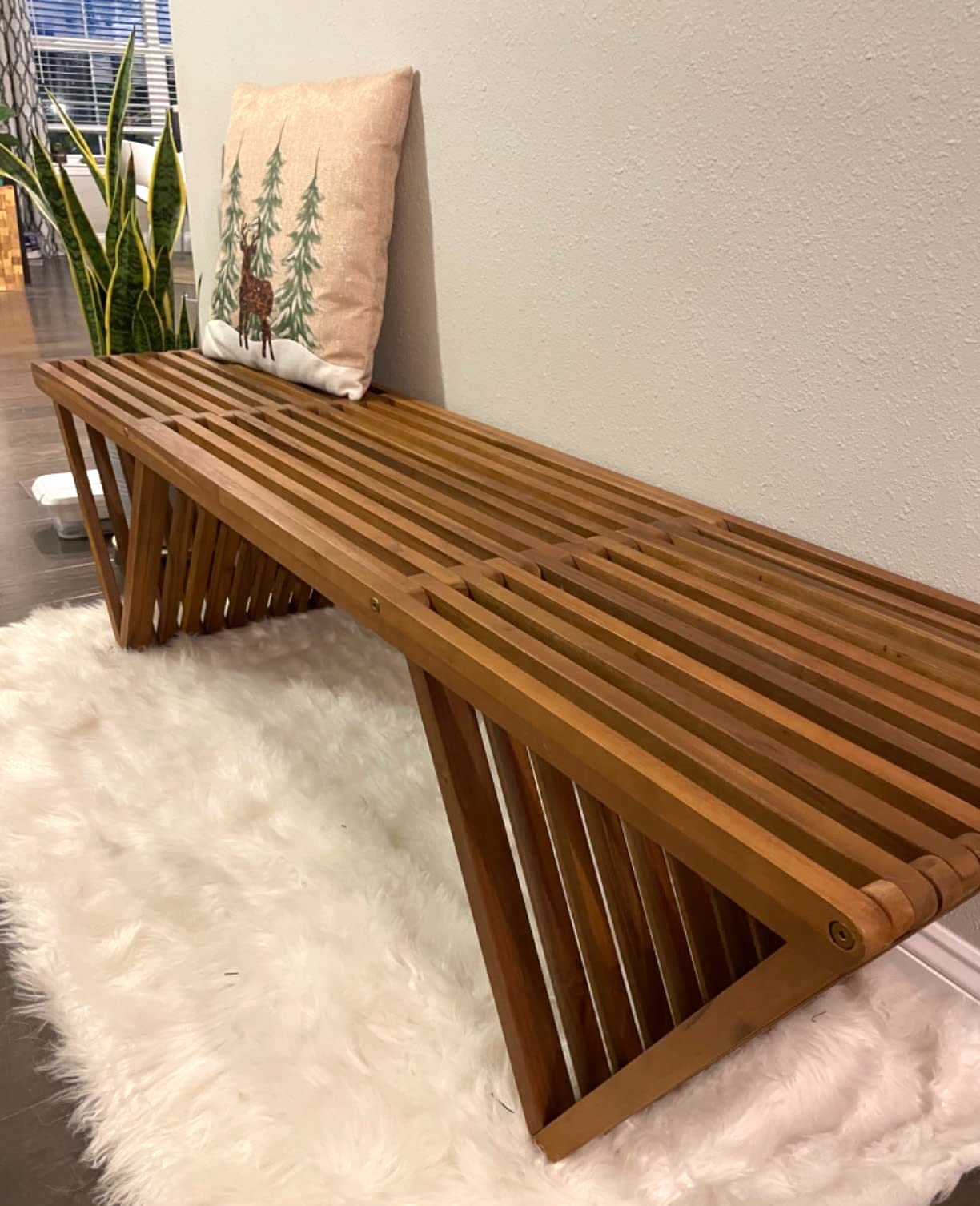 Interior Design Styles That Will Blend Well
Nothing can go wrong with a wooden bench, as it has bold, modern lines which combine well with any design. However, some interior design styles will make your furniture piece more stunning than ever.
Minimalistic Interior Design – As this type of interior style focuses highly on shape and colour, using Acacia wooden bench won't be a bad idea. With its clean angles and geometric design, the bench blends easily with your minimalistic interior design.
Modern Interior Style – Furnitures like a wooden bench has streamlined surfaces and clean lines, which go well with your modern interior design. Modern design is all about keeping the decorations minimum and playing with artistic creation and bold shapes. What's better than our triangular wooden bench to accompany this aesthetically pleasant interior design? Without thinking twice, add Acacia wooden bench to your home and see how quickly you have elevated your interior.
Contemporary Interior Design – The reason behind opting for contemporary design in your house is to incorporate elements from numerous eras to create a space suitable for a lifetime. If you want to add modern yet sleek furniture from the present day into your contemporary interior, an Acacia wooden bench can be the best option so far.
Asian Zen Interior Design Style – Asian Zen interiors have their origins in modern architecture. They emphasise a calm atmosphere, fascinating shapes, and elegant lines. A piece of furniture that can blend with your ultimate zen area must incorporate allusions to nature. Look no further and install an attractive Acacia wooden bench to mix well with your Zen Interior.
Ways to Decorate Your Room with the Esme Bench
Contrary to popular belief, benches are more useful inside the home. They add extra seating for visitors and a dash of individuality to a straightforward setting. Let's find various spots inside your room to use your Acacia wooden bench properly.
In Front of a Fireplace – Adding comfortable seating in front of your fireplace will help you relax after a hectic day at work. To lessen the hardening effect of wood, you can add throws and cushions in aesthetic designs and colours.
Make a Reading Nook – Make a quiet reading nook or a spot where you can enjoy your morning coffee while watching the kids play outside. Put cushions, and don't forget to stuff the bench with pillows and blankets to make it cosy. After using it as a reading spot, you can always remove your comforters to give it a classy look in your room.
Foot Of Your Bed – The area at the foot of the bed is perfect for sitting down or adding character to your bedroom. To display a more stylish furniture piece, you can add this Acacia bench but make sure it also fits your concept for the space.
Things to Watch Out!
There is one thing you should be aware of while adding this classic chic furniture piece to your house. If you often have kids around, I am afraid it won't be the best choice because of its corners. Although the edges are round, the kids are fragile too. To make things more comfortable around your family, try adding throws and cushions and get bruise-free time.